Ladies, this giveaway is going to ROCK — (and we mean that literally.)
We're sending one very lucky local mama to the Bryan Adams concert at the Arkansas Music Pavilion (AMP) on September 19th. With two free tickets, this will make an AWESOME date night or a Girls' Night Out. For a preview of just how amazing this concert is going to be, play the video above to get a quick sampling of some of Bryan's most-loved songs over the years.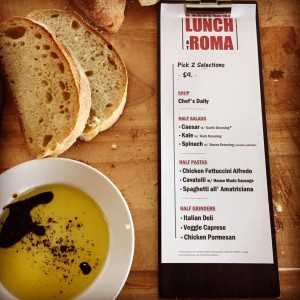 We're pairing the two concert tickets with a gift certificate to the newly opened Roma restaurant in Rogers, which is within walking distance of the AMP. The food is amazing and the atmosphere is fun and not stuffy. Perfect for a fun night on the town.
For many of us who were tweens and teens when Bryan Adams' music was on the radio ALL the time, this concert is like a trip back to some of the most exciting moments of our lives — first dates, high school dances, summer nights, first kisses, first cars, Walkmans, and those awesome "jam boxes" we all just had to have.
For the younger mamas, you have no doubt heard plenty of Bryan Adams' greatest hits because they have quickly become "classic rock" anthems that stand the test of time with lyrics like "I need somebody. Somebody like you. Everybody needs somebody." (And we're not even sure it's possible to sit still when you hear "Summer of '69". That song makes us want to dance!)
HOW TO ENTER: To enter, just click on the words "leave a comment" at the bottom of this post and tell us what kind of memories are associated with Bryan Adams' music in your mind. For example, does the song "Heaven" remind you of your first boyfriend? Does "Run to You" remind you of slumber parties with your best friend in middle school? OR… just tell us why you'd love a date night or girls' night out right now.
You can also email your answer to us at giveaways@nwaMotherlode.com.
INCREASE YOUR ODDS OF WINNING: Help us spread the word about this giveaway by emailing your friends and family about the giveaway. We'll give you an extra chance to win for every person you tell. Just be sure to put giveaways@nwaMotherlode.com on the CC line of your note so we can give you proper credit.
(You can also earn an extra chance to win by signing up to receive the free email newsletter we send once a week. Click here to sign up.)
BE SOCIAL: You can also earn extra chances to win by commenting on our Facebook page, following us on Twitter or following us on Pinterest. If you do any of those, just mention it in your comment or email so we can give you proper credit.
We'll choose a winner on Friday afternoon, mamas! Good luck!