If the amazing photo above makes you hungry, you're going to love our newest website sponsor, Tropical Smoothie Cafe. Now that the weather is warmer, we know many of you will be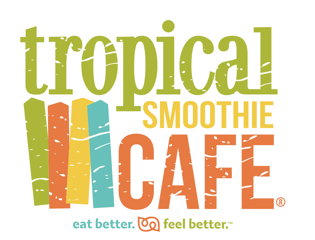 making regular stops at Tropical Smoothie Cafe and there are SO many new things to try. We recently interviewed the owner, Wes Couch, who operates the three Tropical Smoothie locations in Northwest Arkansas (Fayetteville, Springdale and Rogers) to find out more about the new menu, the new look and the kid-friendly options now available.
Tropical Smoothie Cafe is one of the few places where you can get food and smoothies in a hurry and still include some really nutritious ingredients in what you and the kids are eating. Gluten-free eaters and those watching calories have great options here, too. (Who knew that kale and spinach smoothies could be so good?) Read on for more info and be sure to "like" their Facebook page because Facebook fans get info on special discounts.
Tell us why you wanted to bring Tropical Smoothie Café to Northwest Arkansas. What's your favorite thing about running the cafes?
I purchased the Tropical Smoothie in Fayetteville in 2009 because there was nothing else like it in NWA. Working in a corporate environment for 20 years, I had no plans to open more stores until we started experiencing phenomenal growth in Fayetteville. I knew then that opening a location in Rogers Pinnacle Hills was our next step. Rogers has become one of the top cafes in the country. Springdale was our next logical market and we've experienced strong double-digit sales increases since 2013. I love offering a healthy, quick-service menu to our customers.
You're known for your smoothies but some people might not realize that there's plenty to eat at Tropical Smoothie Café. Tell us about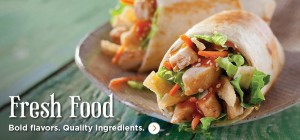 the food and the range of items on the menu.
We make everything to order including our new tacos, flatbreads, wraps, sandwiches, and salads. We recently revamped our menu and now offer fresh, made in-house toppings on most of our food items. Many of our customers now come in just for our food.
What's your favorite thing to eat and drink at Tropical Smoothie Café?
I love all four of our tacos, especially the tilapia. The Buffalo Chicken and Jamaican Jerk wraps are my favorite along with the Spinach Feta breakfast wrap.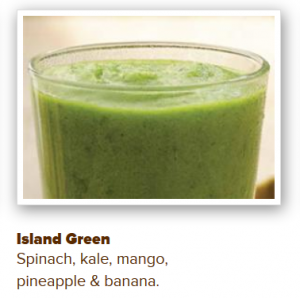 (We open for breakfast at 7 a.m. on weekdays and at 9 a.m. on weekends.)
My favorite smoothie is the Island Green (spinach and kale) and the Peanut Paradise with whey protein.
Are there options for vegetarians, those who are gluten-free, or for people trying to limit their calorie intake?
Absolutely, we have the Hummus Veggie wrap and three types of salads, including the Loaded Spinach salad that has no meat. We also have a meat-free chicken substitute product for vegetarians. Most of our smoothies are gluten-free.
We have a nutritional card at each counter for customers to peruse. All smoothies can be made without our unprocessed, turbinado sugar that dramatically reduces the calorie intake, and we also offer honey and Splenda as alternatives.
How has the look of Tropical Smoothie Café changed since the recent remodeling project? 
The remodel dramatically changed the look and feel of the Fayetteville Crossover café, which was built in 2005. We now have an open, wrap-around bar for customers to sit at so they can watch their smoothie being made while they talk with our staff. We reconstructed the lobby with new wall décor, flooring, and new tables/chairs. We now have three table areas that seat 8 people for dining. It's just a sharp, clean look and feel that I hope our customers will enjoy.
What's the most popular item on your Kids Menu?
We now have cheese quesadillas and also a pizza quesadilla with or without chicken. These are by far our most popular. We also offer ham or turkey and cheese wraps. Our newest addition is a peanut butter crunch flatbread with peanut butter, granola, banana, and honey.
What do you wish more moms knew about what Tropical Smoothie Café has to offer?
For the moms who worry about their family getting enough nutritious greens, you absolutely need to come try our Superfood smoothies. Your family will not even know they're taking in spinach and kale, cucumbers, celery, apples, avocado, etc. Our corporate staff did a wonderful job with the ingredients and taste of these smoothies.
Our thanks to Wes Couch of Tropical Smoothie Cafe for taking some time to answer our questions. And another BIG thank you to Tropical Smoothie Cafe for being the sponsor of this year's Mom Prom Queen, who will be selected (at random) from among the attendees of the upcoming Mom Prom on May 30th. Click here to get tickets to Mom Prom — the ultimate girls' night out in Northwest Arkansas.