Name:
Cheryl Hatfield
Kids' names and ages?
Brock (13) and Zach (11)
How long have you lived in NWA and what brought you here?
I've been here 25 years. I moved here from North Little Rock when I was 18 to be a Razorback at the University of Arkansas and study Advertising/PR in the Journalism department.
Can you tell us about your work with the American Diabetes Association?
I work for The Mars Agency, who has over a decade-long relationship with the American Diabetes Association through candidacies and creative support. We have developed the Kiss a Pig event theme for the past 10+ years and help with creative design and materials, from flyers to decor to the event program. It's a cause that is near and dear to our hearts and Kiss a Pig is a community event that we look forward to supporting each year. At The Mars Agency, we focus on creating impact. So what better organization to support than the American Diabetes Association?
For me personally, I have friends whose son was diagnosed with Type 1 Diabetes the day after his 12th birthday. They had no medical or family history of the disease. No explanation or reason why to point to. Witnessing their battle with the disease over the last two years has really moved me, especially as the mother of a son that age.
We understand you're a Kiss a Pig candidate for the ADA gala. Can you tell us a little about the event?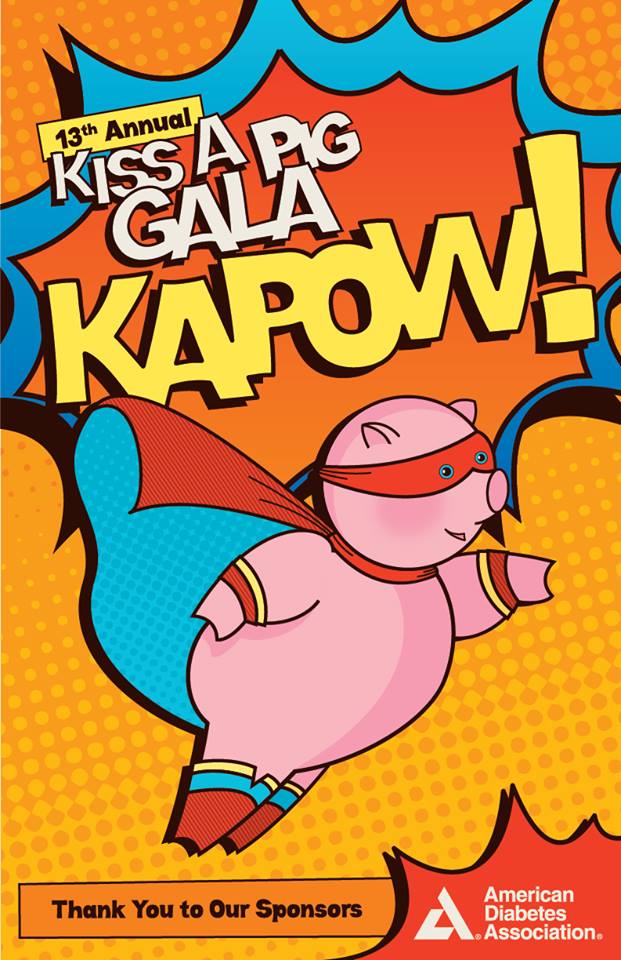 Absolutely! The American Diabetes Association of Northwest Arkansas' 13th Annual Kiss a Pig Gala will be held on March 14th at the John Q. Hammons Center in Rogers. Voted as the #1 Charity Gala by both CitiScapes and Celebrate magazines, and ranked as the biggest gala in Arkansas and nationwide for the ADA; Kiss a Pig is a unique and exciting event with this year's special entertainment by The Wallflowers and themed "KAPOW". The event features community leaders raising funds and awareness for diabetes education and vying for the chance to kiss a pig live at the event to thank it for producing the first source of insulin for people with diabetes.
People can support the KAP campaign by contacting me at cherylh1018@gmail.com to purchase a table or tickets or donate a live or silent auction item. Or by making a 100% tax deductible donation via my personal fundraising page: Diabetes.org/chatfield.
What does a typical day in your life look like?
Oh my…there really is no "typical" day for any mother, is there? 🙂 But I'll describe a usual weekday with the boys. I wake up around 5:30AM to get myself (and our dog, Skipper) ready before getting the boys up and to school. Zach goes to McNair Middle School and Brock to Woodland Jr. High, so the morning drive to school starts early! Then I drive the I-49 commute to Bentonville, where I work at The Mars Agency. My client is Walmart, so the day usually includes several meetings at the agency and at the Walmart Marketing building where we brief projects, brainstorm ideas, develop strategies and review work. Never a dull moment and always a fun challenge! I drive back to Fayetteville, and on Mondays and Thursdays watch my oldest son play basketball for the Woodland Cowboys. Then it's home to help with homework, cook dinner, take care of the dog, and hopefully squeeze in a minimum 4 mile run on the treadmill (I'm training for a Half Marathon in March). Off to bed hopefully by 10pm and then back at it the next day.
What's playing on your iPod right now?
Maroon 5 (V and Songs About Jane), Snow Patrol, and Florence & The Machine.
What's the best part of motherhood for you?
That's a big question. I think the best part is when the boys show kindness, gratitude and love. Last year I spent Mother's Day at a basketball tournament that Brock was playing in. A couple of days later, I came home to find a handwritten card from him saying how much he appreciated me sacrificing my Mother's Day. And he had wrapped (in construction paper) his Cadbury bunny from Easter that he hadn't eaten yet as a belated gift for me. Not gonna lie, I cried. What 13 year old does that?
If you could vacation anywhere in the world this winter where would it be?
Italy with the boys. It's on my bucket list.
What's something you have always wanted to learn?
A foreign language. I've studied French and Italian, but never to any depth. I'd love to be fluent in another language.
What are three things you always have with you?
1. My mother's rings with the boys names on them
2. My mobile phone
3. Black eyeliner pencil 🙂
What's one of your favorite guilty pleasures?
British Cadbury chocolate and red wine. No better flavor combination exists on this earth.
One word to sum me up …
Persevering