If you're going to this year's NWA Mom Prom on May 30, 2015, be sure to snag a few raffle tickets (only $2 each) and toss them into the drawing to win the mother of all prizes — a brand new Maytag Bravos washer and dryer set from Metro Appliances & More. A couple of our handsome celebrity prom dates showed up at Metro Appliances last week to have their photo taken next to the washer and dryer you'll see featured at the Mom Prom charity raffle.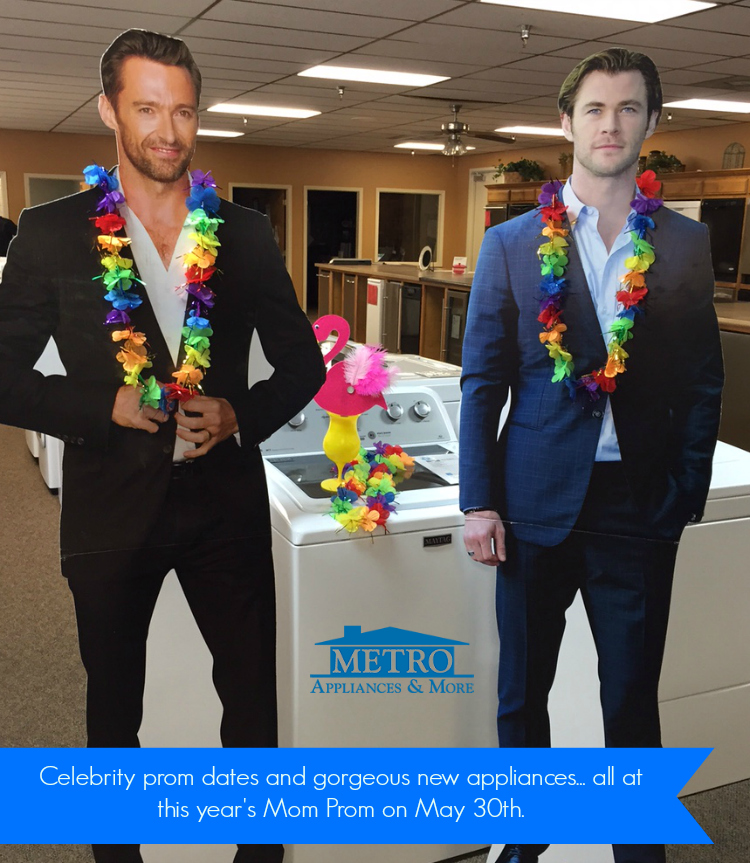 (The only thing that would make this picture better is if Hugh Jackman and Chris Hemsworth weren't cardboard and they were actually folding clothes next to those bright white new appliances. A girl can dream…)
We featured this same set of Maytag appliances at last year's Mom Prom charity raffle and you should have seen how women crowded around these beauties in hopes that their raffle ticket would be the one to be drawn from the bucket of entries. We announce the winner during Mom Prom and the lucky winner goes home pretty overjoyed. (Gwen has this same set of Maytag appliances in her laundry room and she LOVES them. They clean up to 19 towels at one time!)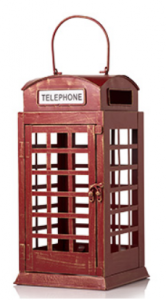 There will be other awesome charity raffle packages at this year's Prom, including a Pink Zebra gift basket of goodies which features this fun phone booth candle holder that we fell in love with the day we saw it. Isn't it cute?
If your favorite room in the house is the kitchen, you'll want to throw your raffle tickets in for the "Guy Fieri Chef's Dream Package" courtesy of Lifetime Brands. This package includes a TEN-PIECE cookware set, cutting board, tongs, knives and more. Out with the old pans and in with the new!
We've also got a great "Date Night" package of local gift cards and event tickets that you can try to win for you and your sweetie. Pictured below is one of our past raffle package winners who took home a big basket of bling on Prom night.
You can buy Mom Prom raffle tickets online or at the event on Prom night. Each ticket costs only two dollars and you can buy them individually or in a pack of 12 for $20 (which gets you two free tickets) or get more chances to win by ordering a pack of 25 raffle tickets for $40 (which gets you five free tickets.)
Click HERE to get more info about Mom Prom or to reserve your tickets online. Last year's Prom sold out the day before the event so be sure to grab your tickets while you can. See you on Prom night!