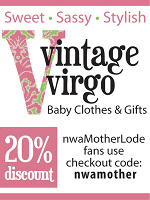 Congratulations to Amber Denny! This lucky mama won the Vintage Virgo $100 Shopping Spree!
Amber has 1-year-old Emma Rose and is pregnant with a baby boy who's due on November 30th. Enjoy your shopping spree, Amber!
We know she'll love cruising Vintage Virgo's online shop because the clothes and gifts are simply adorable.
We wanted to know more about behind-the-scenes at Vintage Virgo, so we asked the owner, mama to two sons, to spill a little in the following Q & A.
(Also, don't forget that nwaMotherlode readers receive a  20% discount when they use the checkout code nwaMother! Click on the ad at right to shop the Vintage Virgo website.)
How did your idea for launching Vintage Virgo develop? I have always wanted to do something creative. I remember growing up and making all of my own Barbie doll clothes, so the idea to have a website that allows me to use some of my creativity was very appealing. I also have always loved clothing and fashion. The idea to create a website that combined nationally recognized brands with handmade and organic items came to me, and I thought other moms would appreciate such a site too. I also think life is too short to not do things that make you happy. That combination is why I started Vintage Virgo.
How did you come up with the name? The name comes straight from the zodiac. My boys and I are Virgos, and I am a very typical Virgo (type A, sensitive, outgoing, overanalyzes everything, annoyingly driven, etc).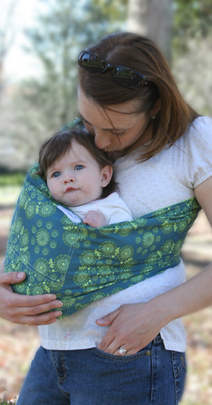 You said your clothing and gifts are 100% homemade with a focus on organic. Why is that so important to you? Our Vintage Virgo line is 100% handmade. It's important to me to offer handmade items that come from moms across the country just like myself, who want to have a creative outlet and have fun making things for their children. Organic is also a focus of ours and will continue to be. What could be better for a baby than clothing and blankets that are good for the environment and amazing on their skin?
And you and your best friend design some of the tees? Yes, my friend and I design and make all of the Vintage Virgo tees. I help design them, and she makes them. It has been so much fun to work on this project together.
What's  the latest, greatest find that you're telling everyone about? Some of the hottest items are our Bella Tunno diaper bags. The bags are so classy, trendy and cute that they do not even look like a diaper bag. Our amazing baby blankets are very popular. The Razzle Baby Blankets are gorgeous and very indulgent. They make the perfect gift. Another hot trend is handmade crocheted toys. (We are getting a shipment soon). They are very popular among new moms, and complete a baby nursery.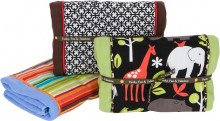 What's your hottest-selling item right now? Our aden & anais baby swaddle blankets are huge. They are 100% organic and are antifungal, antimicrobial and are so soft. Another hot selling item are our BabyJar burpies. They are very popular among the celebrity crowd including Kourtney Kardashian and have been featured in numerous celebrity magazines.
How can we order from Vintage Virgo? It's so easy…just go to www.vintagevirgo.com and start shopping! Don't forget that nwaMotherlode mom's get a 20% discount, just use the
nwamother code at checkout!
What sizes do you have? We carry newborn to 4T
What are some of your most popular brands? We are fortunate to be able to offer some great brands including Pink Chicken, Appaman, BabyJar, aden & anais and Mustard Pie
Tell us about your two little boys. Are they wild men? Wild men is an understatement…they are rowdy boys who love to be active. My oldest is eight and my youngest is three. They are so much fun, but such a handful!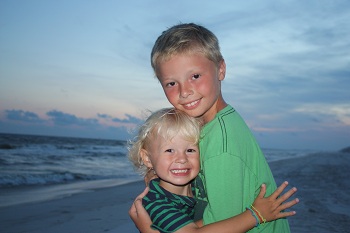 Will you share with us why you support the American Heart Association and St. Jude's with some of the proceeds? The American Heart Association is a very important organization in our lives. Three years ago, my husband caught a virus and instead of his body fighting it off, it attacked his heart. This lead to severe congestive heart failure. This has had a profound impact on our lives. We are uncertain if he will need a heart transplant, and take things one day at a time. The AHA does amazing things to support heart disease. We also support St. Judes because of our love of children, and those we know who have had to deal with a sick child. We will continue to grow our support of these great organizations as Vintage Virgo grows.
How did you and your husband meet? We met in college. He was the older upperclassman who was also a star athlete. I was the dorky college freshman who crushed after him. I always say that I chased him until he caught me.
And he helps out with the business, right? Yes, he handles all of the day to day activity of the website. He loves numbers, accounting, spreadsheets, and all of those other things that make my head hurt, so we make a great team and it works out well.
What do you enjoy doing when you're not working? I love hanging out with my boys. My son
is in youth sports, so that keeps us busy (any mom with kids in sports knows just how busy I am talking about!) I also love tennis and being active.
Click HERE to visit the Vintage Virgo website and start shopping!