Spring has officially sprung, which means it's time for us to spring our BIGGEST giveaway of the year on you — a brand spankin' new Frigidaire front-loading washer and dryer on pedestal stands from Metro Appliances & More in Springdale!!
We picked these beauties because our friends at Metro tell us that this particular set is a brand new model and has been the hottest seller in recent months, which means that lots of our fellow mamas are picking this set when they upgrade to a new washer and dryer. Here's a run-down of all the bells and whistles of this Frigidaire set:
Frigidaire Affinity Series: (These machines are SMART!)
About the washer:
Vibration Control System: Advanced vibration control keeps even oversized loads balanced for smooth, quiet operation. Ideal for second floor installation.
TimeWise: Wash time equals dry time – so you don't wait for clothes to dry.
Energy Saver Option: Further reduces energy use up to 60%.
SilentDesign: for quiet operation.
Stay Fresh Door Seal
Stay Put Door
WashSense Technology: WashSense technology ensures clothes get clean with care.
Express-Select Controls: Easily select options and cycles with the touch of a button.
Add-a-Garment: With just the touch of a button, easily add an extra piece to the washer once a cycle has started.
Save Your Settings: Automatically save your last wash setting so you can save time when doing laundry.
Delay Start: Set your washer to begin washing on your schedule. It can be programmed from 1 to 14 hours.
27″ W x 36″ H x 31″ D
About the dryer:
Ultra-Capacity Dryer: The largest in its class, so you can finish more laundry, even faster.
DrySense Technology: Dries your clothes more precisely, reducing wrinkles.
NSF Certification: Dryer includes 'Sanitize' temperature settings to ensure your laundry will be 99.9% bacteria free.
Fits-More Dryer: The largest capacity dryer in a standard size lets you dry more at once.
TimeWise Technology: With TimeWise technology, wash time equals dry time – so you don't wait for clothes to dry.
Express-Select Controls: Easily select options and cycles with the touch of a button.
Save Your Settings: Automatically saves your last dry setting so you can save time when doing laundry.
27″ W x 36″ H x 31″ D
If you've been a Motherlode reader for a while now, you'll know that the Metro Appliances washer and dryer giveaway has taken on a life of its own in recent years. This is the third time we've had the opportunity to host such a BIG giveaway, and it's so much fun to contact the lucky mama with this kind of good news.
If you're one of those pessimistic people who swears that you NEVER win anything, you should talk to our past winners because they said the same thing up until we sent them an email saying, "Guess what? You won!" Tracy Easterling won the first washer and dryer set in 2009. Dawn Stanford won the second washer and dryer set in 2010. And Elizabeth Dietz won a brand new refrigerator from Metro in 2010. (Click on each of their names to read more about their big win.)
HOW TO ENTER: If you'd like a chance to win the new washer and dryer set on pedestal stands, just click the big orange comment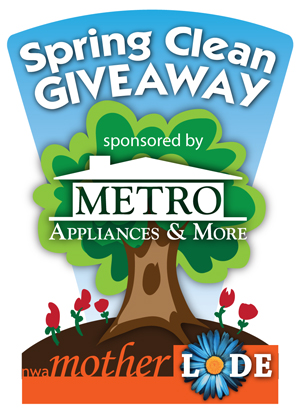 button below and tell us what you like about shopping at Metro Appliances & More. If you haven't been there yet, then you can enter by posting a comment on your best "Spring Cleaning" tip since it is that time of year.
You can also email your comments to us at giveaways@nwaMotherlode.com.
If you're new to the area or haven't shopped at Metro before, we hope you'll go by and check it out. There is a reason why they're so popular with local women. The Metro showroom is HUGE, and it's full of salespeople who know what they're talking about yet they don't make you feel pressured to buy. Also, Metro is the only appliance store we know of that gives local mothers a chance to win a set like this for FREE.
HOW TO INCREASE YOUR ODDS OF WINNING: As you'll see in the coming days, the number of comments on this post will climb quickly. So if you'd like to increase your odds of winning, simply send an email to your friends/family about this giveaway and help us spread the word about the awesome giveaway. We'll give you an extra chance to win for every person you tell. Just be sure to put giveaways@nwaMotherlode.com on the CC line of your note so we can give you proper credit. (Don't worry. We will NOT use or share the email addresses of your friends. That's not nice.)
STAY TUNED: There will be a new twist to this year's Spring Clean giveaway with Metro Appliances, so keep a close watch on the homepage so you'll know about it. We'll be posting updates to the giveaway within the coming two weeks.
Good luck, and start posting your comments!!