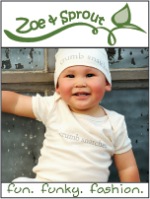 Have you noticed this adorable ad for Zoe & Sprout on nwaMotherlode's home page? The baby model is Joseph, son of Fayetteville mom Helen Urban. Isn't he cute?
Eve McCain has owned Zoe & Sprout for about 1 1/2 years and if you've never clicked on this local website, you're missing out on some great "fun funky" fashion!
We asked Eve a few questions about her local, mom-owned business:
What is your focus as Zoe & Sprout? To offer affordable, simple, high quality items that make people smile and laugh!,  Right now my focus is organic. Doing what we can for the environment just by buying organic is something people need to really look at. I want to offer an organic line that isn't so expensive that people don't even look at it.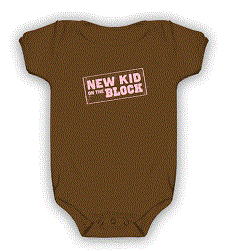 What's your favorite t-shirt/bodysuit right now? "new kid on the block" for babies and "headbanger" for toddlers.
Zoe & Sprout clothing is in stores all across the nation, right? How many states are represented? About 10 actively and also Singapore and Canada.
And you also sell through a lot of online retailers, too? Yes, online retailers love Zoe and Sprout. We have over 20 online retailers.
Where do you make the t-shirts/onesies/hats? I have a room dedicated to Zoe and Sprout in my house.
Tell us about your family (pictured below): I am married ( 16 yrs) and have 3 children: Hailey-13, Lucas-10, and Chloe-7. My husband is Rick – he works at Land-o-Lakes in Bentonville. We are an active family. Cheerleader, baseball and basketball player and gymnast. So, as most moms know- we do a lot of running!
What do you enjoy best about running your own business? I love the flexibility that comes along with it. Having 3 kids, there is lots of running around to activities and this allows me to do those things as well.
Do you have time for any personal hobbies? Yes, I work out, but I must admit I am not as dedicated as I used to be. If  I don't get a workout in  in the morning, I don't do it.
I love taking walks in the evenings with the kids and our dog. I like working in the yard also.
What makes Zoe & Sprout stand out in the marketplace? Simplicity, organic, and clever sayings that just flat out make you smile or laugh!