Molly Meredith is the owner of a brand new website just for canines: Haute Dog Inc. We asked her a few questions about how the business came to be and how the new online store is "giving back" to doggies who need it most.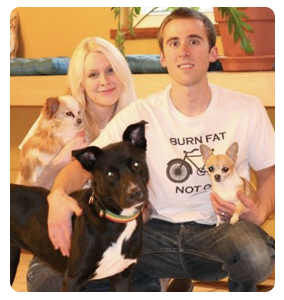 How long have you had the Haute Dog shop?
a:  Haute Dog just launched THIS month! However, it has been in the works full-force since January this year (and in my head for quite some time!).
Do you have a storefront or is the shop online only?
a:  Haute Dog is an online web store only: hautdogshop.com. We do wholesale our products to retailers with storefronts –coming soon to NWA!
What inspired this new business?
a: Dogs (animals, really) are my biggest passion in life, always have been. I craved a creative outlet and really desired it to involve what I love most. I said from the beginning, I wouldn't do this if I couldn't find a way to make it benefit dogs. Being able to provide people with fun and healthy products for their dogs, while having charitable giving programs just really makes my heart smile. 🙂
Tell us about your own furry "babies":
a: Oh goodness, I lovingly refer to our house as "the zoo".  We have two Chihuahuas, Mackenzie Jo and Taber, they're the "first born" babies of the house, then there's Nyla, a Pitt Bull mix and she's a pretty fantastic big sis. Can't forget the cats- there's Savannah, Cleopatra, Bentley, Tig, and Sophi.  The first four were adopted as adults from the Fayetteville Animal Shelter, and Sophi, my husband found in a parking lot when she was just 5 weeks old. I love the crazy dynamic all the animals bring to the house, it's kind of amazing how everyone gets a long, but they're very individual with their own personalities. Animals make my life complete, I certainly wouldn't feel whole without them.
You mention in your 'about' that you were in the medical field of skin care for humans for years. How did that translate into canine care?
a: Professionally speaking, the health and beauty field is my familiar stomping ground. I really love the mix of chemistry to creation and applying it to each individual, so it was quite interesting taking that from the human aspect to dogs. Probably the most interesting thing is that it's all so similar. And that being the case, why would we use sub-quality products on our dogs?
The biggest difference in translation is pH balance and ingredient knowledge.  That, and the common conditions that need attention: For example, I'm not worrying about patients with acne, instead I'm figuring out how to naturally combat fleas! But still, it's really just an applied science. It's fun. Saying that probably makes me a geek, but it's true.
What makes your products unique?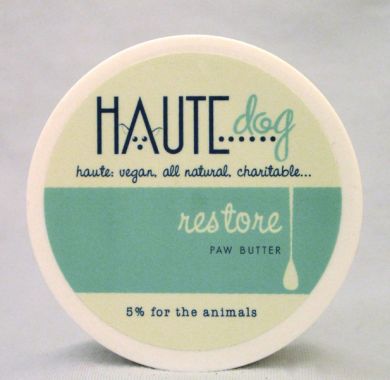 a:  Haute Dog products are 100% vegan and all-natural. Yes, if you do some searching, you can find other natural, vegan products, but you can't find the expansive collection that Haute Dog offers! People like choices and variety is the spice of life, no? It's also important to know that our ingredients are selected from high quality (human) spa suppliers here in the USA. My experience in researching the field of dog grooming products is that you either get cute packaging but crappy ingredients, or great ingredients but limited selection. Haute Dog is committed to never cutting corners!
What are some of your best-sellers?
a:  Since we just launched, it may be TBD. But, based on the events, samples and surveys we've done, people really enjoy the Puppy Love and Yin & Yang collections (shampoos and aromatherapy tonics). Their scents are captivating. Also, the Between Bath Powders (in Fresh, Flea Free, or Brilliant Blanc) have been a hit because they're super easy!
Tell us more about how you "give back"?
a:  My favorite part!  We have two charitable giving programs. "5% for the animals" gives 5% of Haute Dog proceeds to non-profit animal charity. "Forever Home First Bath" gives a shampoo to every dog adopter at the Fayetteville Animal Shelter, ensuring their dog's first bath to be the best ever! I am really so excited about these programs. On a different note, I think it's important to mention that we only provide carbon neutral shipping and use recyclable packaging- let's give back to the earth, too.
I couldn't help but smile at the "facial & pedicure" category on your website menu. I bet you'll get a lot of clicks on that one!
a:  It's fun, right? But, here's the deal, some people say, Oh, I don't have the time or money to indulge in silly things like that for my dog". I get it, I totally do. When something is ridiculously expensive or difficult to use, it kinda sucks the fun out of it. Haute Dog is about being accessible to everyone. The reality is, some dogs require special eye, ear or paw care, and we want to make sure we provide that, at a user-friendly, reasonable cost.  Why not make it fun while we're at it?
Is running this business great fun or what?
a:  TONS of fun. Seems like "fun" has been the theme of this interview, but it's so true. I get to do all the things I love. I research and get inspired in so many ways, channel my creativity daily, and hopefully make a difference for dogs and their people. Running a business has challenges that I wasn't aware of until I faced them, but it's really empowering at the same time. I'm fulfilled and happy. So are my dogs. Couldn't really ask for more.