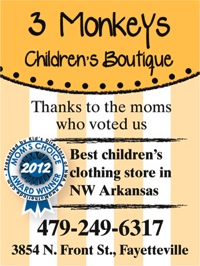 Do you have those first-day-of school outfits picked out for your kids, yet?
What about some awesome shoes?
Or maybe some fabulous hair accessories?
3Monkeys Childrens Boutique, at its (much larger!) new location in Fayetteville, has all that and more. And their stuff is way cute. (We know you mamas agree since you voted them right into the winner's seat for Best Children's Clothing in our 2012 Mom's Choice Awards!)
Well, we have great news for you shoppers: FOUR mamas will each win $50 gift certificates to spend at 3Monkeys!
They have lots of Toms Shoes to choose from, which kids love.  And remember that Toms gives a pair for every pair purchased … so it's a win-win! They also offer a variety of awesome kids' brands like Andy & Evan for Little Gentlemen, Aden + Anais, Little Giraffe, Juicy, Tea, Under Armour, Desigual, Diesel, Boss, Kicky Pants, Sevens, Buffalo, Lemon Loves Lime, Scotch Shrunk, Paper Wings, Stella McCartney, just to name a few!
HOW TO ENTER: If you'd love to win one of four $50 gift certificates to 3Monkeys (and what mama wouldn't?!), just click on the orange comment button below and tell us what's left on your back-to-school shopping list. Those weird folders with brads, pointy scissors, or an awesome new outfit? We have not finished our shopping yet, maybe because we're in denial that school really starts in a week. (Truthfully, there's a big small part of us that's ready for the routine again.)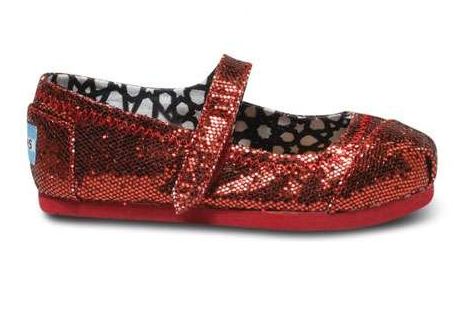 About 3Monkeys: This fabulous children's clothing store carries a wide variety of clothing, shoes and gifts. Their sizes range from newborn to 14/16 for both boy and girl. 3Monkeys recently moved to Fayetteville, near Panera Bread, 3854 N. Front St.

IF YOU REALLY, REALLY WANT TO WIN: We know this one will probably go viral. If you'd like to increase your odds of winning one of the four gift certificates, simply share the exciting giveaway news with others. We'll give you an extra chance to win for every person you tell. And we're pretty sure the people you send it to will be happy you did. Then they can enter the giveaway, too!
Check your inbox over the weekend because we'll choose a winner on Friday at 5! (Winners are always chosen by Random.org. We wish you luck!)