Editors' note: Congrats to 3 Monkeys, one of our website sponsors who recently earned a Mom-Approved Award in the "Best Children's Boutique" category. Get to know the business a little better with today's featured profile.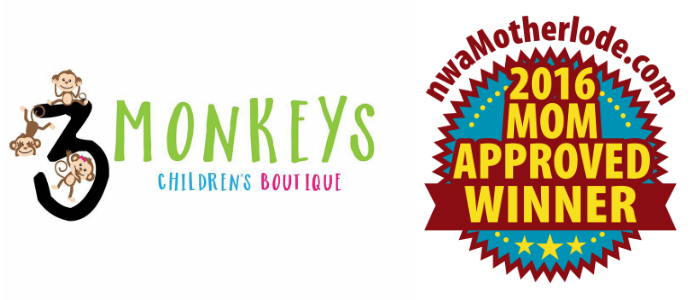 Voted as a 2016 Mom-Approved Award Winner in the
"Best Children's Boutique" category
Winner: 3 Monkeys Children's Boutique
Location: Newly relocated to 5001 W. Pauline Whitaker Parkway, Suite 120, Rogers, Arkansas, 72758
Phone: 479-372-4241
Hours: 10 a.m. to 7:30 p.m. Tuesday through Saturday; noon to 5 p.m. on Sundays; By appointment only on Mondays
Known for: Wide variety of boys and girls clothing, shoes and gifts, featuring brands including Stella McCartney, Kate Spade, Minnetonka, Frankie and Sue, Native Shoes, Billie Blush, Eleven Paris, and more
Owner: Cait Shemin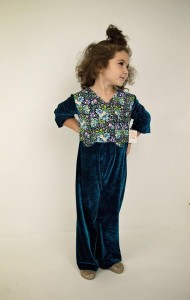 Owner's favorite item in the store this month: "First, I want to personally thank everyone in Northwest Arkansas and beyond for their support! It has been such a pleasure getting to know so many amazing families! My favorite piece? As a mom of two preschoolers, I personally love the velvet and floral jumpsuit by Frankie and Sue (pictured right). The color matches kiddos' vibrant personalities, it's easy to put on and clean, and it allows my daughter to freely move about!"
What a local mom says about 3 Monkeys: "The lovely ladies that own and work at this store have been such a blessing to me! Our life has been a roller coaster over the last 6 months, and their kindness and customer service went above and beyond. And the clothes… out of this WORLD cute!!! Head to toe, top to bottom, best shop in the state!!!" — Sarah Fisher Baber
Congrats to the staff at 3 Monkeys Children's Boutique!
Click here to visit their website.