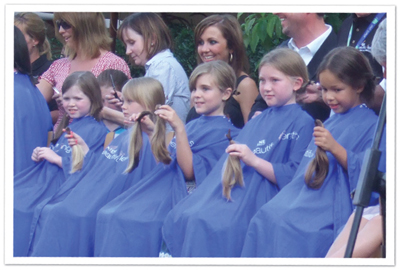 Mamas, it's giveaway time and you're gonna love this one! You can win a basket filled with top-selling Procter & Gamble beauty and health brands — think Cover Girl, Olay, Pantene, Crest, Gillette, Secret … !! It's a $200 value, girls!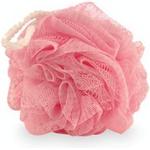 And this giveaway is especially awesome because it's tied to a wonderful event that helps women who have lost their hair due to cancer treatment. Please note that you don't have to donate hair to put your name in the drawing for the gift basket, but we wanted you to help us spread the word about Procter & Gamble's Pantene Beautiful Lengths event on Wednesday, Sept. 8. The event will be held during the P&G Beauty Northwest Arkansas LPGA Championship.
If you – or your daughter – have long hair, you can help by donating your locks! If you've been considering a cut, this is the perfect opportunity. As a thank-you for donating your hair, you'll receive a free hair style by some of NWA's most talented stylists. And LPGA players will be there to support the cause! Sign up to donate your hair at the Sept. 8 event by emailing nwaBeautifulLengths@yahoo.com.
The donated hair will be used to craft beautiful wigs with P&G's partner, HairUWear. It takes at least SIX ponytails to make one Beautiful Lengths wig, and the wigs are given free of charge to women who have lost their hair during cancer treatment.
A few key facts about donating your hair:
Donated hair must be a minimum of eight inches long (measure your hair just above the elastic band of the ponytail to the ends).
Hair may be colored with vegetable dyes, rinses and semi-permanent dyes. It can't be bleached, permanently colored or chemically treated.
Wavy/curly hair is fine!
Learn more at www.beautifullengths.com or by calling P&G at

 

479-571-5400. If you know you want to donate your hair, sign up by e-mailing nwaBeautifulLengths@yahoo.com. They'll let you know when to be there!
Now, on to the giveaway details!

HOW TO ENTER: Throw your name in the hat to win the $200 health and beauty basket from Procter & Gamble! It's simple to enter — just click on the orange comment button and tell us about your own personal battle with cancer or about someone you know whose life has been touched by this disease.
You may also enter via e-mail at giveaways@nwaMotherlode.com.
HOW TO INCREASE YOUR ODDS: As always, we reward those mamas who help spread the word about our giveaways. And since this one is linked to SUCH an important cause we'd love for you to tell your mom friends and their daughters about the Beautiful Lengths event.
Send your friends an e-mail about the $200 basket giveaway (and the Sept. 8 Great Lengths event) and we'll give you an extra chance to win for every friend you tell. Just be sure to put giveaways@nwaMotherlode.com on the CC line of your note so we can give you proper credit.
Thanks in advance for helping us spread the word about this important event, mamas! Good luck winning the great basket of health and beauty products from Procter & Gamble!