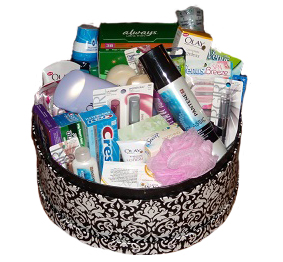 Congratulations to … Melissa Pope! Melissa won the basket filled with $200 worth of top-selling Procter & Gamble beauty and health brands like Cover Girl, Olay, Pantene, Crest, Gillette and Secret.
Melissa said in comments, "My MIL battled a cancerous brain tumor. We miss her and wish she could have gotten to know her 10 granddaughters (no grandsons!!). Her children are a beautiful reflection of her."
As you may recall from last week's story about the giveaway, it's tied to a wonderful event that helps women who have lost their hair due to cancer treatment. We knew all you mamas could help us spread the word about Procter & Gamble's Pantene Beautiful Lengths event on Wednesday, Sept. 8. The event will be held during the P&G Beauty Northwest Arkansas LPGA Championship.
A REMINDER ABOUT THE EVENT: If you – or your daughter – have long hair, you can participate by donating your locks. If you've been considering a new look, this could be the perfect time since you'll receive a free hair style at the event. And LPGA players will be there to support the cause! Sign up to donate your hair at the Sept. 8 event by emailing nwaBeautifulLengths@yahoo.com. It's important for them to know how many will be there.
The donated hair will be used to craft beautiful wigs with P&G's partner, HairUWear. It takes at least SIX ponytails to make one Beautiful Lengths wig, and the wigs are given free of charge to women who have lost their hair during cancer treatment.
A few key facts about donating your hair:
Donated hair must be a minimum of eight inches long (measure your hair just above the elastic band of the ponytail to the ends).
Hair may be colored with vegetable dyes, rinses and semi-permanent dyes. It can't be bleached, permanently colored or chemically treated.
Wavy/curly hair is fine!
Learn more at www.beautifullengths.com or by calling P&G at

 

479-571-5400. If you know you want to donate your hair, sign up by e-mailing nwaBeautifulLengths@yahoo.com. They'll let you know when to be there!
Thanks for helping us spread the word, mamas!