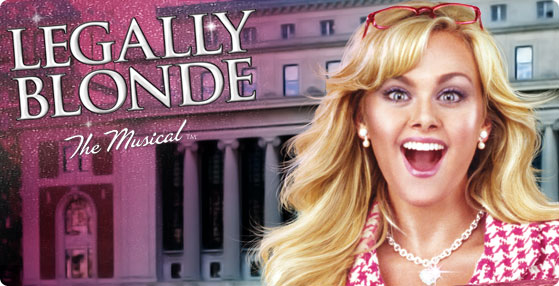 We've got a great night out on the town for one of our readers today. It's dinner at one of our favorite Dickson Street landmarks – Bordinos Italian Restaurant – AND two tickets ($60 value) to the summer's hottest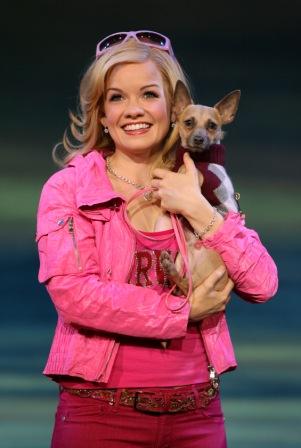 show at Walton Arts Center – Legally Blonde The Musical! The show is on Tuesday, July 7th at 7 p.m.
You could use the evening as a night out with your sweetheart, but we think it would also be the PERFECT event for a girls' night out. Let's face it: Elle Woods, the central character in Legally Blonde, is definitely a girls' girl. Remember that scene in the movie when she teaches her manicurist friend how to do the "bend and snap"? Hilarious.

And Elle Woods would certainly approve of having dinner at Bordinos. She would probably order a round of chocolate martinis or maybe the creme brulee dessert. (Hungry yet?) Our winner will have a 50-dollar gift certificate waiting on her at the restaurant on the night of the show. (To see the Bordinos menu, click on the logo or the

photo of the chocolate martini on the right!)
HOW TO ENTER: So, if dinner at Bordinos and tickets to Legally Blonde sound like a good time to you, here's how you throw your name in our pink hat. Click the word "comment" below the dotted line at the end of this post and tell us about one of your favorite memories with a girlfriend. Crazy night on the town? Fun trip with just the girls? College roommate adventure? We want to hear your fun stories! Or just tell us what you love most about your BFF. You can also e-mail your comments to us at giveaways@nwaMotherlode.com, if you like.
To increase your chances of winning, simply e-mail your friends/family to let them know about the giveaway and be sure to put giveaways@nwaMotherlode.com in the CC line of your note. We'll put your name in the hat again for every friend you tell. Spread the word to 10 friends, and you get 10 extra chances. That's how it works. We'll choose a winner AT RANDOM on Friday.
About the show: Broadway's new smash hit musical follows the story of sorority star Elle Woods. People underestimate this blonde who doesn't take "no" for an answer. When her boyfriend dumps her for someone more "serious", Elle puts down her credit card, hits the books and sets out to go where no Delta Nu has ever gone before – Harvard Law. Along the way, Elle proves that being true to yourself never goes out of style.
If you are one of those "I never win anything" kind of people, be sure to throw your name in the hat anyway because even those who don't win the tickets will receive a special Motherlode discount if you wish to purchase tickets for this show. So there's no way you can lose!
Performance times are Tuesday, July 7th at 7 p.m., Wednesday, July 8th at 7 p.m., Thursday, July 9th at 7 p.m., Friday, July 10th at 8 p.m., Saturday, July 11th at 2 p.m. and 8 p.m., and Sunday, July 12th at 2 p.m. and 7 p.m. Tickets start at $30 each. You can purchase tickets at the Walton Arts Center Box Office by clicking here or by calling 479-443-5600.