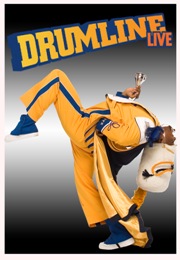 As a self-professed "band geek," I can tell you that the drummers were always the coolest people in the room. Ask any band geek, and I bet she'll agree. So just imagine how cool it would be to see a stage full of drummers at the Walton Arts Center's musical spectacular DRUMLine Live on Thursday, January 22nd at 7 p.m. We're giving one Motherlode reader a pair of tickets to the show (valued at more than $40) plus a gift certificate to help buy dinner at Jose's Mexican Restaurant, just steps away from the theatre on Dickson Street.
HOW TO ENTER: If you'd like to throw your name in the hat for the show tickets and restaurant gift card, all you need to do is post a comment here by clicking the word "comment" below or send us an e-mail at mamas@nwaMotherlode.com. We'll choose a winner at random and announce early next week who'll be enjoying free "tacos and tickets" on Thursday night.
DRUMLine Live brings the black marching band tradition to the theatrical stage for the first time. (Anyone ever see the movie Drumline? If you haven't and you loved band growing up, it's a definite must-see. The same music team who did the movie created this show!) Tickets range from $20 to $45 and can be purchased by calling the Walton Arts Center Box Office at 479-443-5600 or you can order them online by clicking here: www.waltonartscenter.org.
Featuring a large cast of performers from America's top historically black colleges and universities, DRUMLine Live presents the rhythmic sounds of the great brass past, including Earth, Wind and Fire and Tower of Power, side by side with the hottest contemporary hip hop and R&B.
Rhythm, speed, precision, choreography, athleticism, steppers, dancers – this show will have you on your feet. Incorporating original compositions and soul-infused interpretations of Top 40 hits, group performances will range from choreographed routines to drum riffs and cadences. (If you, your husband or kids like to play the "air drums," this is the show for you!)
We'll draw a name out of the hat early next week so be sure to post your comments or send your e-mail today. As always, we'll give you additional chances to win for every person you e-mail about this website and/or the giveaway. Just be sure to put mamas@nwaMotherlode.com in the CC line of your note so we can give credit where it's due. Good luck!