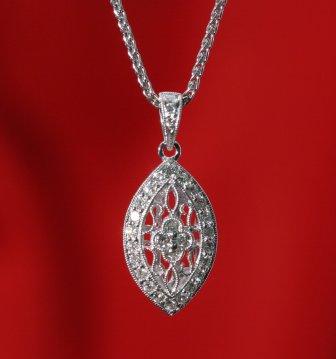 Smack in the middle of the sparkliest, twinkliest time of year, we've got a giveaway to match the season. In case you didn't notice the huge picture above, let us spell it out: IT'S AN UNDERWOODS DIAMOND NECKLACE, MAMAS! And we're giving it away! Can you believe it?
Retailing for more than ONE-THOUSAND dollars, this marquise-shaped filigree pendant has 29 round Underwood diamonds on it.  (Yes, that really does say 29 diamonds. No typos here.)
The filigree design gives it a look of feminine, classic lace but it has all the strength of 14 carat white gold. The lace design carries through to the back side of the pendant as well. And it hangs on an 18-inch white gold wheat-design chain — the strongest chain Underwoods carries.
Some of you may remember that the very first giveaway this website ever did was with Underwood's Jewelers, located in Fayetteville on Dickson Street. We chose Underwood's as our debut giveaway because, when it comes to fine jewelry, its name has become synonymous with luxury, beauty and quality in Northwest Arkansas. And nobody does diamonds like Underwood's does diamonds. (Click here to visit their website and see some of their most stunning pieces of jewelry. You will swoon. We did.)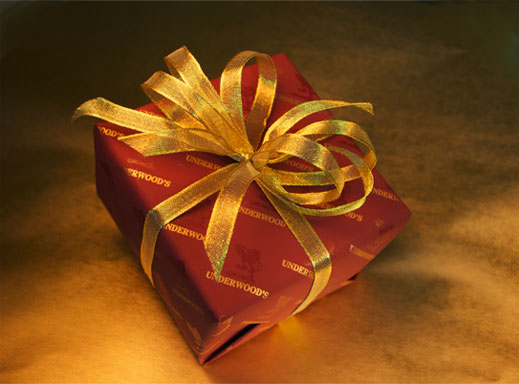 If you're shopping for something sparkly to give as a gift, you should definitely cruise down Dickson Street to Underwood's because there is nothing quite like seeing it in person. Or, if you're hoping for something sparkly from your husband, send him the link to the Underwood's website and maybe he'll take the hint. 🙂
In a few weeks — before the big holiday — this diamond necklace will be hanging around the neck of a nwaMotherlode mama. And that mama can be you because this is, as always, a random drawing. All you need to do to have your shot at the diamonds is to throw your name in our diamond-studded online hat.
HOW TO ENTER: Entering for this giveaway will be easy, as always, but it's also going to be fun. Because we're asking you to go on a little virtual shopping trip inside the newly redesigned Underwood's website. The website has a brand new look and layout that just went live, and the Underwood's owners want a few opinions from us ladies on what we like or don't like about it.
So cruise around the website and pick out your favorite piece of jewelry. When you roll over each photo, it will enlarge so you can get a closer look. When you do, you'll notice that a serial number pops up beside the item. Just jot down the serial number of your favorite piece of jewelry and then click back to nwaMotherlode to post a comment and vote for your favorite piece. Click the word "comment" right below this post to vote for your favorite. You can also e-mail your vote to us at giveaways@nwaMotherlode.com.
CLICK HERE OR ON THE PHOTO ABOVE TO ENTER THE UNDERWOOD'S WEBSITE.
HOW TO INCREASE YOUR ODDS OF WINNING: As usual, we will reward those mamas who exercise their ability to "spread the word." If you e-mail your friends/family about this giveaway, we'll give you an extra chance to win for every person you tell. (Tell 10 buddies, and get 10 extra chances to win. That's how it works.) Just be sure to put giveaways@nwaMotherlode.com on the CC line so we can give you credit.
We'll pick a very lucky, very sparkly winner on December 18th, so watch your inbox on that day because we will notify the winner via e-mail. Good luck, and Happy Holidays!