And the winner of the $1,000 diamond Underwood's necklace is … DENISE BONANNO!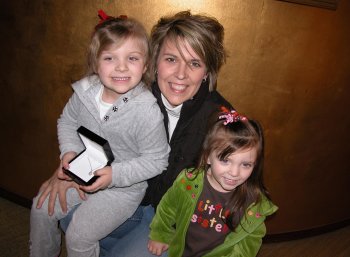 Merry Christmas to Denise, huh?!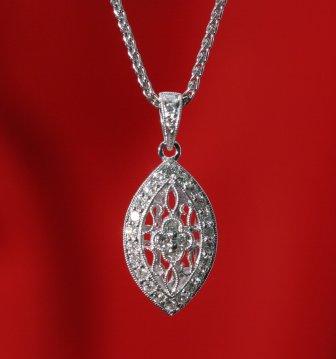 This marquise-shaped filigree pendant has 29 round Underwood diamonds on it. The filigree design gives it a look of feminine, classic lace but it has all the strength of 14 carat white gold. The lace design carries through to the back side of the pendant as well. And it hangs on an 18-inch white gold wheat-design chain — the strongest chain Underwood's carries.
Denise, mom to 4-year-old Brooklynn and 2-year-old Bella, was so excited about her new necklace that she went to pick it up just a few hours after finding out she won.
Denise and her husband, who works for Tyson, moved to NWA nearly four years ago from South Dakota. She's a volleyball coach who's taking her Ozarks Juniors team to nationals in Reno, Nevada next year. She travels with the team quite a few weekends a year and she also teaches private volleyball lessons.
Denise requested jewelry from her husband for Christmas this year, but in the end, they decided to buy a combined gift they could both enjoy: a digital camera.
"I love jewelry, but it's not usually something we spend our money on," she said.
Denise wanted to pick up her diamond necklace so she could have it before heading out of town for the holidays. She wants to be sporting her new diamonds when they visit family in Nebraska and Dallas.
"I'm so excited!" she said. "I don't think I've ever won anything."
Well, this was certainly worth the wait!
Denise said in comments that all the Underwood's rings are beautiful, but her favorite is this platinum ring with a 3.6 carat fancy yellow radiant diamond (it got quite a few votes!):