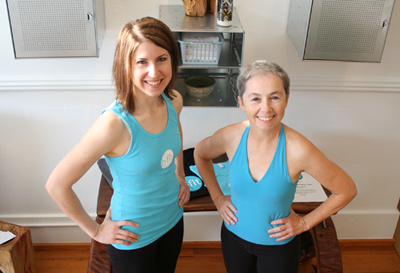 Bfit is a brand new pilates-influenced fitness studio in downtown Fayetteville. And my abs can tell you from experience that owners Claudia Smith (pictured right) and Tara Kelsey (left) know how to work it. The truth is, though, the workouts are so much fun and so unique that it doesn't feel like work.
My first visit, I started out on the Pilates machines and moved to the barre. Yes, as in a ballet barre. It was different from other exercises I've tried and the little hip sashaying that Claudia showed me offered an extra twist. While it's Pilates influenced, they mix in all kinds of exercises to keep your workouts fresh.
I really loved how both ladies made sure I was doing the exercises in the best way to receive maximum benefit. Some of the moves were really small but have a huge impact (I think I already mentioned my abs). Tara and Claudia were also great about giving me visual cues to help do exercises correctly ("Imagine you have a block between your knees," for example)
You can try bfit out for yourself on Saturday! They'll have a workshop "Introducing Bfit" on Saturday, Oct. 9, from 9-10:15. It will be a great time to see the studio and find out more about what they offer by actually trying out some of the equipment! It's free if you're a first-timer, but CLICK HERE for info on reserving a spot. If there are more people than can fit in the studio at once, they'll keep forming groups so you'll have a spot, no worries.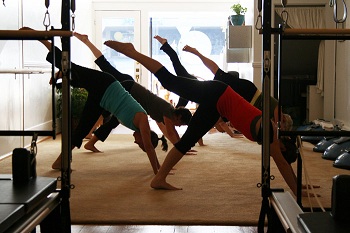 As new sponsors at nwaMotherlode, we wanted to know more about bfit and its owners, so we asked owners Claudia and Tara a few questions which they answered here: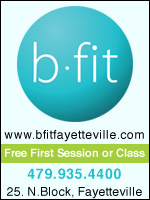 We love how your sessions are strongly Pilates influenced, but integrate various other elements into the exercise mix. Tell us about that: Pilates is a valuable discipline that we've both taught for years, but, with that experience, we've come to see it as just one piece of the overall picture.
In creating bfit, we didn't want to limit ourselves to one discipline, but to be able to choose whatever exercise style is most appropriate to our client's individual needs and abilities. Blending movement styles enables workouts that not only adapt to every individual, but can also evolve to a much more challenging level as that individual gets stronger.
Are private classes available? Private sessions are available. Many of our clients prefer the chance to work one-on-one with a trainer. Not only are these sessions programmed to be ideal for each individual, they also provide the opportunity to learn at an individual pace. Private clients often learn more, faster, so they progress faster as well. Some of our clients take a private session once a week along with classes. This is a nice way to get the benefits of private instruction, while getting multiple workouts with less expense.
What if moms want to join an existing group? Moms are more than welcome to join an existing class. We offer a variety of classes at all levels of fitness and encourage new students to listen to their body's needs/limitations. For smaller group training, duets and trios, we keep a list of individuals looking for partners to share the expense. In the past, it's been fun to see clients make new friends this way. Also, we can form a class from a group of moms wanting to train together. The first session or class is always free.
We noticed a brochure at your studio for a "grit" class.  What's that all about?  Grit is the most advanced class we offer. It's a class designed to push mental and physical limits with a blend of movement incorporating core strength, barre work, resistance training, bosu balls, and more. Claudia keeps the work challenging, but encourages everyone to take a break whenever needed and to, above all else, have fun! Grit is offered three times a week: Sunday evening, Wednesday noon, and Friday morning.
Who can benefit from taking classes at bfit? Everyone can benefit from taking classes at bfit. Our clientele ranges dramatically in age and fitness level. We work with men, women, and teenagers from rehab to professional athletes. What we offer is completely adaptable to the needs of every individual, which is what makes it beneficial for everyone despite differences in age, gender, or fitness level. (You can get a sample of this by reading the stories under "clients" on our site, www.bfitfayetteville.com)
How long has bfit been open? We opened bfit on August 1st this year, so about 2 months.
What prompted you to open this type of studio? bfit is the combined result of wanting to share the type of fitness we love most and our ever-expanding knowledge and experience.  We are unique in what we do and maybe that is what makes it hard to describe sometimes! Overall, we created bfit to help people get stronger and have fun!
The studio is so intimate and inviting. Did you seek out this type of space? Yes, we love the space – high ceilings, clean lines, and an open, airy feel to it. Clients have remarked that bfit feels welcoming and non-intimidating. A great addition is the artwork we display from time to time in the studio, most recently the woodwork of Johnnie Adkins. We wanted it to be inviting for anyone who walks through our door, but we also love the history and energy of downtown. Our clients can come take a session and then walk to the Farmer's Market on the square, get a massage at IM Spa, or shop at unique local businesses like Good Things Boutique.
Tell us more about yourselves, Claudia and Tara. Are you native to NWA?
Tara – I consider myself a Fayetteville native. My parents moved here when I was 9 to start up their chiropractic business. I grew up around anatomy books and spine models and am thankful for how much I picked up from that experience. I thought I wanted to study art at the end of high school, but took a year off to think about it and ended up a biochemistry/nutrition major instead.  I took my first pilates class when I was 18 and knew it was only a matter of time before I became an instructor. (I have scoliosis and I found pilates helped me stabilize and strengthen against hypermobility.) In college, I would take class and study all week, then drive to Springfield on the weekends to train.  I graduated college, certified six months later, and I've been teaching ever since.
Claudia – Originally from Pennsylvania, I married a native Arkansan and have lived in Fayetteville most of my adult life. I have a wonderful daughter, Nell, who works next door to our studio at IM Spa. My background is in dance, but I also have a masters degree in Child Development and worked for many years at the Infant Development Center on campus. Working as pilates instructor for the last 10 years has brought me full circle, back to my love of movement, although human development in all its forms, whether caring for infants or assisting adults at bfit, is endlessly fascinating to me. 
What are you hearing from clients so far? First of all, our clients are wonderful. They are and have been so supportive. We've had lots of great feedback.  You can read the posts on our facebook page, www.facebook.com/bfitfayetteville, and then the client stories under "clients" on our website, www.bfitfayetteville.com, to get an idea.