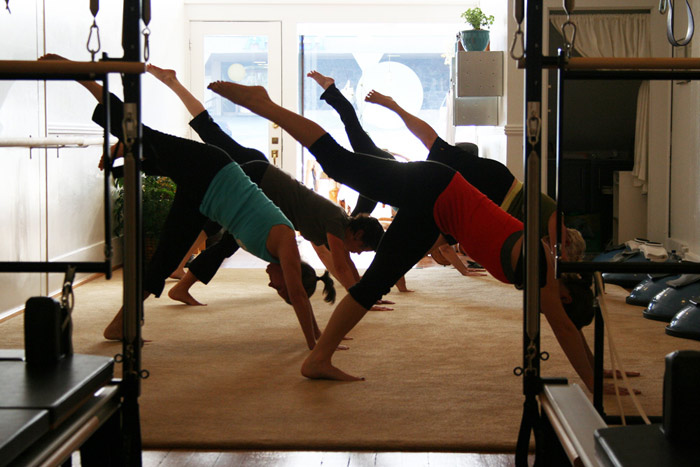 By Claudia Smith, Bfit Studio co-owner/instructor
Hard to believe, but it's almost time for those New Years resolutions.
For better or worse, our health is often at the top of the list. If that's the case for you, congratulations for making a wise choice. Our bodies forgive us over and over again, and it is never too late to make significant and lasting changes, no matter how big or small.
We start out the year with goals, determination, optimism, and ruminate on how to sustain our focus after the confetti falls.    Instead of thinking about exercise or even making time to exercise this year, consider just being active, maybe taking on physical challenges, or indulging in pleasurable physical activities that are good for us AND make us feel good.
Inside, outside, alone, with others, quiet, with music, hard core, gym-oriented, meditative, fun, competitive, mentally challenging, playful – you name it! The best part about this is that there are so many options and new ones all the time.
Northwest Arkansas is lucky to have a smorgasbord of gyms, fitness centers, yoga studios, recreational sports, outdoor classes, running programs, dance studios, cycling trails, etc. Check out what they have to offer. A fitness-related gift certificate on your wish list can give a boost to your plan of action.
Considering the many options, the focus today will be on new and unusual fitness classes. A recent phenomenon is classes which blend movement disciplines: Piyo, a blend of yoga and pilates, is an example. Jazzercise, with its blend of music, dance, weight training, and cardio activity, has been around for eons, but it's still going strong, because it's fun, offers variety, and fits the bill for many people. Hot yoga has had a recent surge of popularity.
At Bfit, a unique, local fitness studio in downtown Fayetteville, barre classes are now offered. These classes provide a stimulating combination of dance-influenced barre exercises, combining the grace and postural emphasis of ballet-like movements with strong muscle conditioning.  Gather your friends and create your own small-group class time!
Many places offer free initial classes or introductory rates – a great way to see if a class is a good fit for you before making any financial commitment. Bfit also has monthly Saturday workshops to introduce a variety of classes for those who might just want to sample a single class or a one-time event.
For instance, a recent weekend workshop highlighted the athletically-intense "grit" class. Bfit will also be bringing back its workshop with I.M. Spa in early 2011 – what better combination is there than a good core conditioning class followed by a massage?
When March arrives, though, if one type of class, sport or activity isn't your cup of tea, try something else.  With so many options, you are bound to find the right fit for you. When it comes to movement, it truly is all about you. Instead of having a resolution to do a certain activity, resolve to be adventurous and experience something new.  In 2011, give to yourself on a daily basis and move to your heart's content.
Cool event alert from the mamas: Coming up in January and following the example of a popular yoga studio in New York City, Bfit will be offering a one-of-a-kind midnight workshop in early January, which will pair live music and refreshments with a class, blending pilates, yoga, and bodyweight conditioning. Fun!
From modern dance to motherhood to a degree in human development, Claudia Smith has come full-circle by recently opening Bfit, a unique fitness studio on Block Ave. in downtown Fayetteville.
Along with co-owner, Tara Kelsey, bfit offers personal training and small classes, pulling from a variety of movement disciplines, including pilates and bodyweight training. With a passion for movement and a desire to unleash this in others, bfit offers unlimited opportunities for physical development, increased body awareness, and good old-fashioned fun. Get the details @ bfitfayetteville.com.