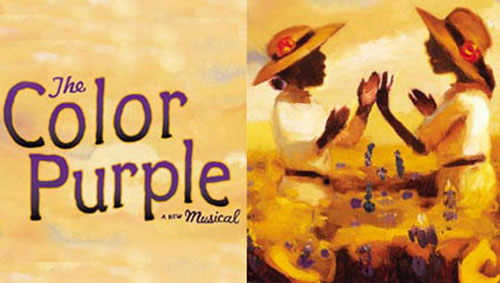 We're betting you've already heard that one of the best musicals on Broadway — The Color Purple — is making its way to Dickson Street in Fayetteville later this month. What you haven't heard until now, however, is that we're giving away two tickets to see it on opening night October 19th at the Walton Arts Center! Can you say "date night" or "girls night out"? And here's another word we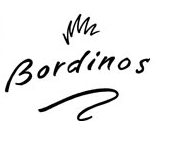 like: Bordinos. The winner of this giveaway will also score a $50 gift card to the always wonderful Bordinos Italian Restaurant, just steps away from the theater on Dickson Street. (Click here to see their menu!)

The Color Purple will have eight performances at the Walton Arts Center from October 19 – 24. (Click here or call 479-443-5600 for info on ticket availability.) Tickets range in price from $39 to $73 per ticket, so this giveaway package which includes the dinner gift card at Bordinos will save you more than 150 buckaroos!
Speaking of saving money, if you need four or more tickets to this show, you should know that you can get a 4-pack of tickets for HALF OFF, if you choose a performance on Wednesday, Thursday or Sunday. If you have a group of 10 or more, you can get 25 percent off the cost. For either of these options, call the ticket office at 479-443-5600 for all the details. Also, keep in mind that students get tickets at half-price for any performance of the show, and you can use a student code when ordering tickets to get the savings. Call the ticket office for info.
ABOUT THE SHOW: The original Broadway musical of The Color Purple originally opened in December 2005 and it was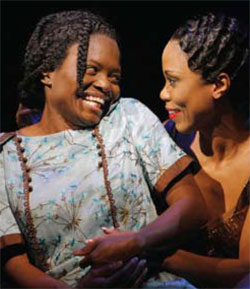 nominated for 11 Tony Awards, including "Best Musical". It ran on Broadway for over two years and then did a three-year First National Tour.

The musical is based on the Pulitzer-Prize winning novel by Alice Walker

and the hit movie by

Steven Spielberg which starred Whoopie Goldberg, Oprah Winfrey and Danny Glover . It's one of those powerful movies that stays on your mind long after the final credits roll. It tells the story of a woman named Celie, who overcomes abuse and adversity and discovers her own voice in the world. The musical score features gospel, jazz, pop and the blues. Elysa Gardner, a critic from USA Today, described this show as "Pure heart! It celebrates the inspiring relationships of faith and love, a Broadway hit!"

HOW TO ENTER: In the book and the movie, the main character gets through tough times with the help of a friend and the hope of seeing her sister again. To throw your name in the hat, simply click the big orange comment button below and tell us about a special relationship that helped you with something important in your life. (Your workout buddy helped you stay on track to lose that baby weight? Your mother helped coach you in the delivery room? Your co-worker helped you finish a huge project on deadline?) Here's your chance to give a special shout-out to the people you appreciate in your life. You can also e-mail your entry to us at giveaways@nwamotherlode.com.

We'll kick things off by sending our own shout-outs to special women in our lives:

From Gwen: "Right before we launched nwaMotherlode.com, I had one of those days where I doubted everything and thought maybe starting a business was a bad idea. So I called my mother and she told me that we could do it, that it was important and that she knew it would be successful. Thanks for believing, Mom! And also to my always-fabulous business partner and fellow mama, Shannon, who makes the job SO MUCH FUN. You rock!"

From Shannon: "No, you rock, Gwen! No, you do! In all seriousness, it really is awesome how a business partner can become such a close friend (against the advice of some business books :). When people meet us in person, they often want to hear the back story of how we started Motherlode. They expect to hear that we were best friends who decided to go into business together. The truth is we had done some PR work for the same firm and attended a few meetings together as freelancers, but we were really just acquaintances.

In fact, Gwen and I had not seen each other in YEARS until we had a phone conversation one day in December 2007 about what a great idea it would be to start a website for moms in Northwest Arkansas. Now, I say all the time that I wouldn't want to do this thing with anybody else. Thanks, Gwen. You are so creative, smart … and hilarious! (I'd also like to send a shout-out to "Tulsa Christy" who has encouraged me to become a "runner" as we go through the Couch-to-5K plan together. My calves are SORE.)

TO INCREASE YOUR ODDS: As always, we reward mamas who help us spread the word! So e-mail your friends or family about this giveaway and we'll give you an extra chance to win for each person you tell. (Plus, you'll be giving them a chance to put their name in the hat, too!) Just be sure to put giveaways@nwaMotherlode.com on the CC line of your e-mail so we can give you proper credit.

Good luck in the giveaway!