OK, mamas, I can vouch for Learning Rx because my 8-year-old is in one of the programs right now and is doing really well. It's been so great to see how much more confident she is in the classroom. And? She's been doing really well on her spelling tests. Hallelujah!
The "Brain Lady" — as Dr. Suzanne Miltich is called around Northwest Arkansas — will have some opportunities for you to see what they can do at Learning Rx during a seminar called Brain Building for School Success.
If your kiddo is struggling in school, you really should go meet Suzanne and see some of the cool exercises they do. My daughter really enjoys it and it's very different from what she does at school all day.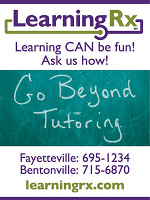 The seminar is for parents and their school-age children. You can stop by one of the Learning Rx centers and learn about the benefits of cognitive skills training while your child tries out some "brain games." Seminars are 4-5 p.m. To reserve your place, call 695-1234 or 715-6870. Here are the dates:
 October 5 & 18, 2301 Green Acres Road, Fayetteville
October 12 & 25, 1501 S.E. Walton Blvd., Ste. 201, Bentonville