Shaw Family Park in Northwest Arkansas (Springdale/Elm Springs area), reviewed by April Wallace, Early Childhood Editor for nwaMotherlode.com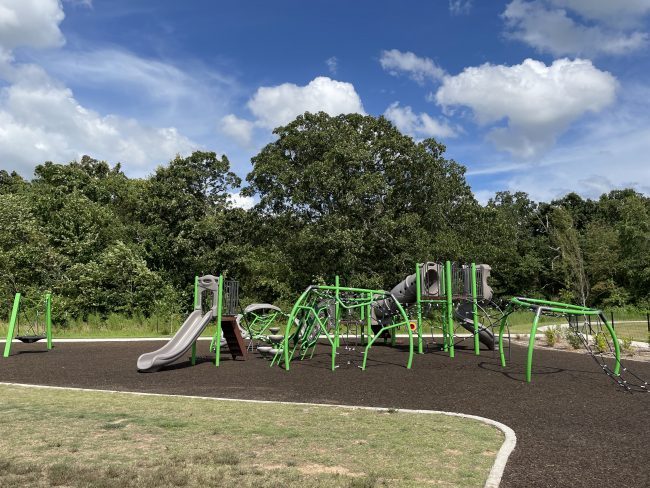 Park name: Shaw Family Park
Location: North entrance is at 7293 Charlotte Ave. right next to the brand new fire station and the west entrance is 7341 W. Downum Rd. Springdale (technically Elm Springs, I believe)
How big is it? So big we had to visit it twice to make it all the way around to see everything!
Main features: Swings, trails, three play structures: one for small children, one for bigger kids and one designed for teen/adult level exercise; a splash pad (hours of operation are 9 a.m.-9 p.m. except for Tuesday, 11 a.m.- 9 p.m.), tennis courts and a few ponds, one of which is for fishing.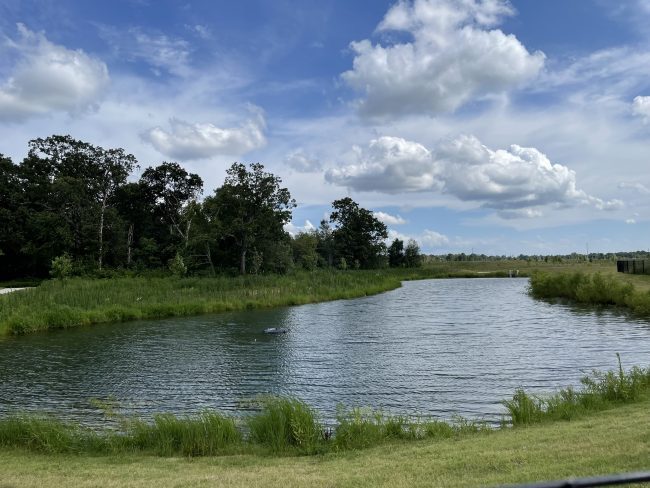 Stroller-friendly? Yes, paved sidewalks and a flat, wide trail go through the place.
Covered areas for picnics? The north entrance has two pavilions, one with four picnic tables, and one without seating. They are in between the playground and the splash pad. I didn't see any picnic tables at the west entrance.
Shady areas? The pavilions are the only shade out here, aside from a playground umbrella on one of the play structures on the west side.
Special needs features? The swing set at the north entrance has one swing designed specifically for children with disabilities. It's the tan, chair-like one with a brace that goes over the front, not unlike what you would see on a roller coaster. Children may not understand that these swings are the only equipment that some kids will be able to play on, so you may have to recognize this equipment yourself and encourage them to do other activities on the playground if the swings are in high demand that day.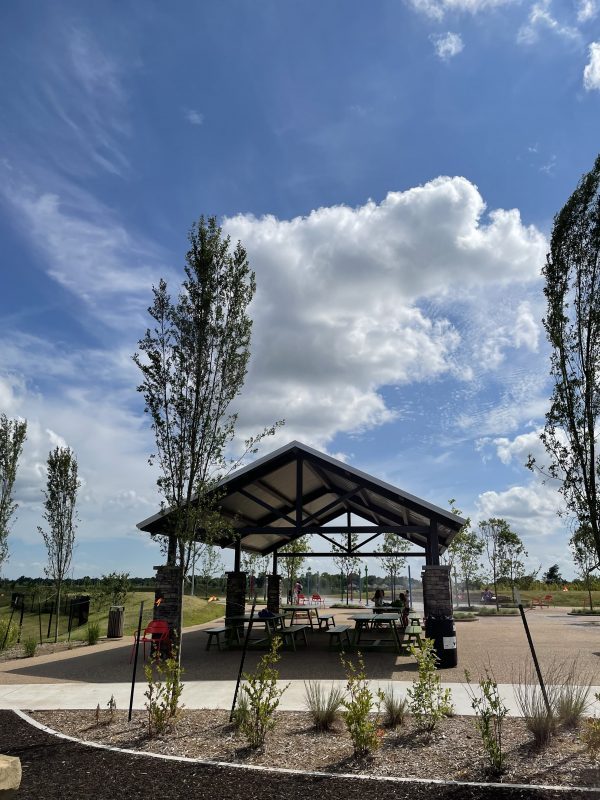 Restrooms: The restrooms at each entrance are clean and large enough to be ADA accessible, I believe, but there are no changing tables or kids' stools. The one at the north entrance is right in the middle of everything, between play spots. The one at the west entrance is closer to the tennis court than to the playground and frankly a bit of a hike.
Notes from the Mom Park Correspondent:
Shaw Family Park is so big that when I pulled up to the enormous parking lot I literally could not see all of it and I had no idea! That parking lot is bordered by tennis courts, a playground for kids ages 5-12 and adult exercise grounds—each with large amounts of space between them and a large field and ponds beyond. My kids were on the playground at the west entrance for nearly half an hour before we realized that there was a part of this park more suited for younger kids at the north entrance (thanks to the fellow mom there who clued me in!)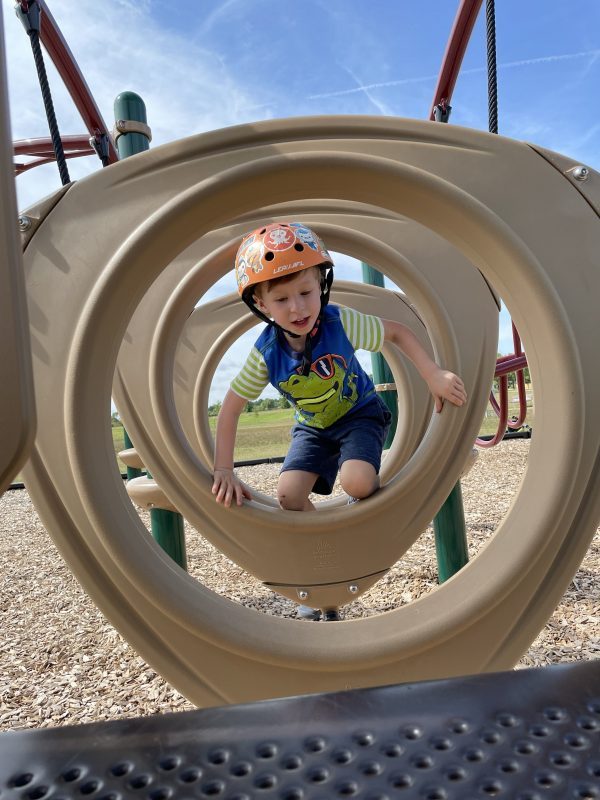 Henry, my 4-year-old, was able to manage some of the climbing, bars and slides of this playground but there wasn't much that my 2-year-old felt all that comfortable trying. So instead we spent time watching the ducks at the pond and a tractor mowing the grass (highlights for little boys). Obviously once we got to the adult exercise "playground," there was even less that they could do, but that blow was softened by the large expanse of trail at their disposal.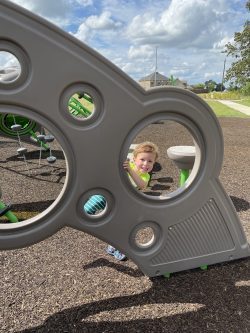 At the north entrance park they found plenty of things to climb on, slide down, swing and a wonderful splash pad to run through. Henry liked the spider web swing and especially loved the unique geo dome climber that has round yellow windows because they reminded him of a rocket. The tall slide gave Elliott second thoughts, but he really enjoyed the tunnel that leads up to it on the play structure. It has holes in the sides for him to play peek-a-boo, and it can be taken as a much smaller slide if you change your direction at the top.
There's not much shade here, so I kept my crew slathered in sunscreen and donned in UPF shirts. And of the three ponds on the grounds, only one of them had any kind of barrier around it and even that one did not fully enclose it. Luckily with the park being so large, I didn't feel like my kids would make it all the way over to the ponds without me noticing.