Osage Park in Bentonville, Arkansas, reviewed by April Wallace, nwaMotherlode Early Childhood Editor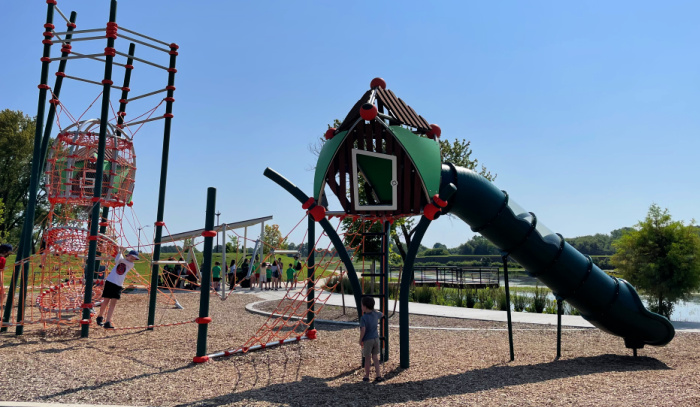 Park name: Osage Park
Location: 700 SW 16th St, Bentonville
How big is it? The native wetland ecosystem is about 12 acres, and the park also extends around Lake Bentonville. It's a great big place!
Main features: Food trucks, a modern pavilion, pickleball courts, cherry tree groves, fishing areas and a wetlands boardwalk. The playground is around Lake Bentonville, at a different entrance next to Thaden Fieldhouse.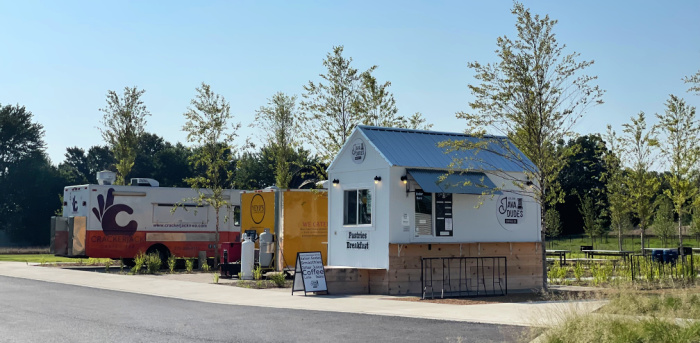 Stroller-friendly? Yes, paved sidewalks and boardwalks are a major feature here and would be easy on a stroller.
Covered areas for picnics? The pavilion has a decent amount of seating and is next to both the food trucks and the pickleball courts. Half a dozen picnic tables are out past the pavilion but in direct sunlight. At the playground near Thaden Fieldhouse, there was only one small covered area with a picnic table or two that I saw.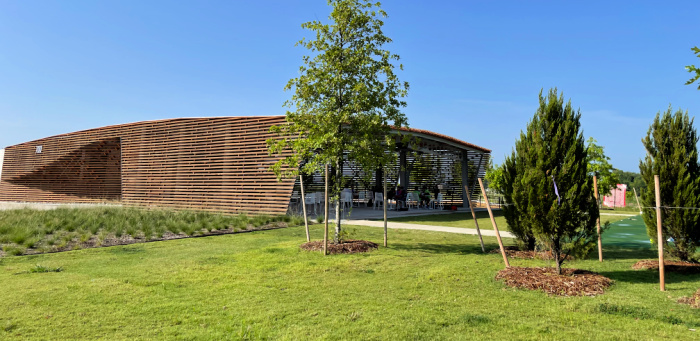 Shady areas? Unless you're in the pavilion, there's not much shade here. Once my boys and I were deep into the wetlands area, we did have some shade from the nearby trees, but it was a good half a mile from the main entrance of the park.
Special needs features? The smooth walks that surround the park are suitably wide to accommodate a wheelchair comfortably. Inside the restroom, the largest stall is at the very back.
Restrooms: The pavilion has a nice, big and clean bathroom with several stalls, a couple sinks, a hand dryer and yes it even has a changing table! I noticed another set of restrooms closer to the wetlands boardwalk at a different entrance, which cuts through a neighborhood.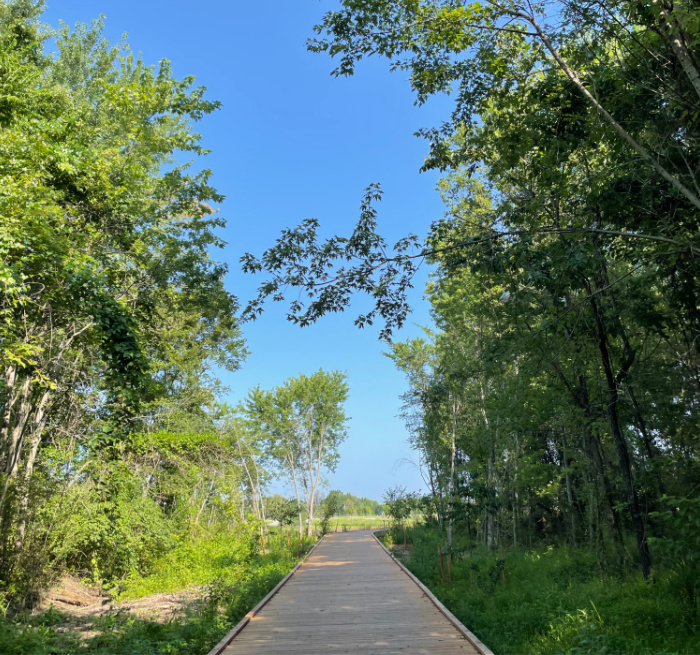 Notes from the Mom Park Correspondent:
When I turned on the street that would take us to the park entrance, it took us behind several businesses we had passed before. Being in such an urban area, I was not expecting the wide expanse of native wetlands that we found.
Past the pickleball courts, in one direction, took us through a large, grassy field lined with mature trees and down to 14th street. When we doubled back and took the main paths leading from the pavilion, we saw all the natural views it had to offer, including the large expanses of wildflowers, the variety of sculptures on the grounds and we spent lots of time exploring the wetland boardwalks.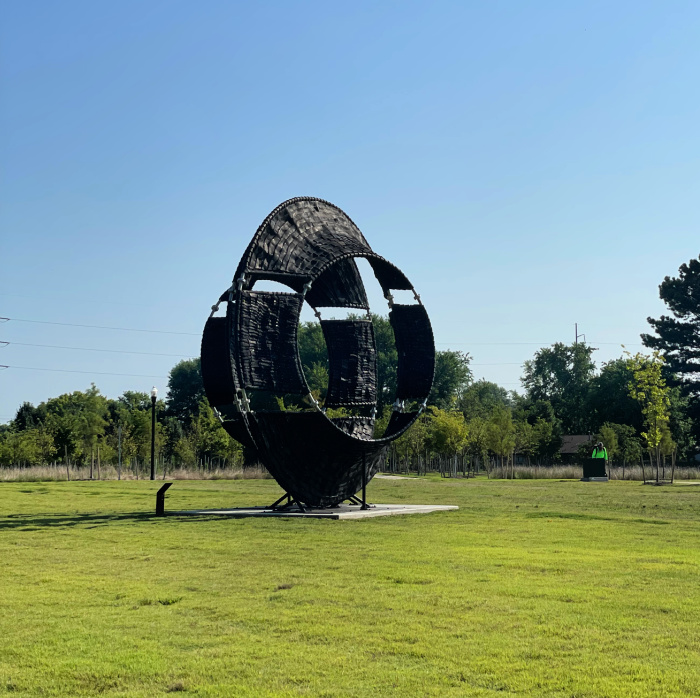 Henry and Elliott were fascinated by the fishing piers. They are pretty and nicely built, but they made me nervous because it would be so, so easy for my little ones to fall in while searching for a fish. There's nothing between them and the water. If you're interested in fishing here, you can find catfish, trout, bream and largemouth bass in the lake, but a sign reminds us that you need a fishing license (for age 16+), a hand-held pole only and a trout permit.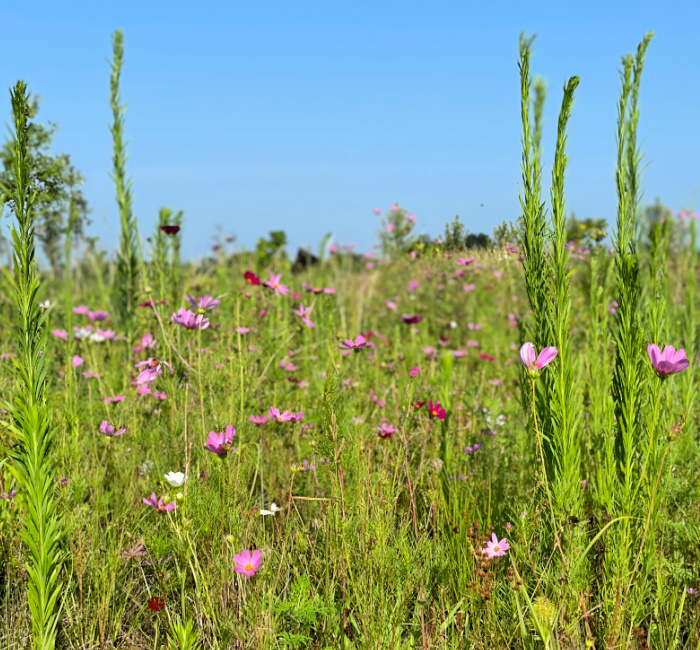 I liked that the boardwalk was able to provide us with the views of nature without my boys having to get too far into tricky or dangerous-to-them places. What they liked about it was its proximity to Thaden Fieldhouse—all the planes and the one helicopter they got to see land while riding their bikes.
We admired a group of pre-teens kayaking on the lake, and it made my boys want to try it out too.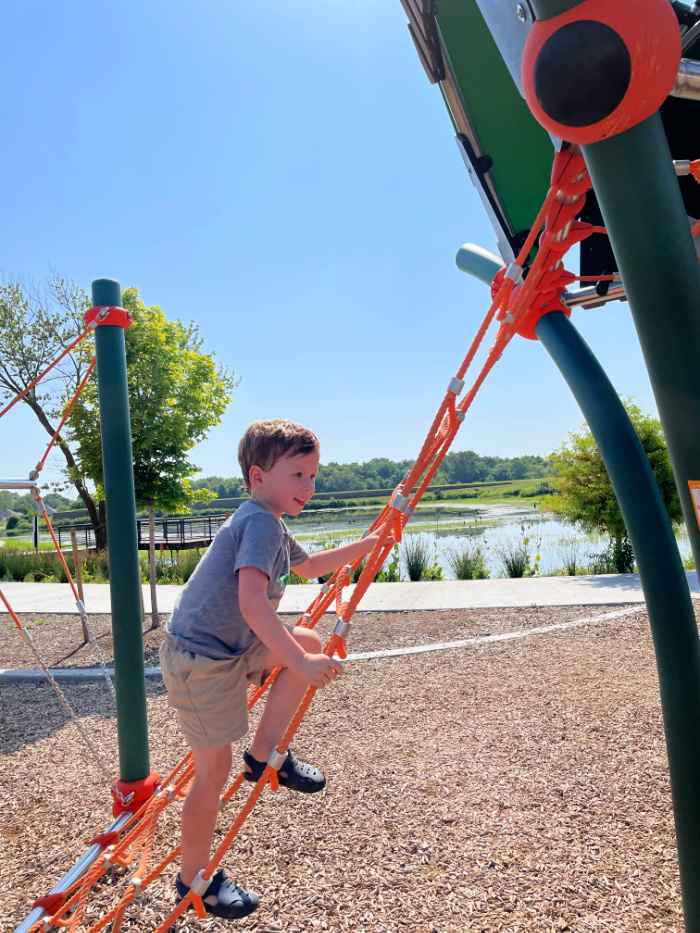 The central feature of the playground is climbing. Want to slide down the slide? You have to climb a rope ladder or  the rope net on the other side. To get to the top of the series of spider web equipment, you have to climb from one to the next, of course. To get through the rope bridge, it requires careful balance and concentration that are great precursors to climbing.
At age 4, Henry would happily get halfway up most of these elements and suddenly be overwhelmed by the height. Elliott, age 2, preferred to stick to the rope bridge, but I can see this playground being a favorite of theirs one day when they're older.
If you'd like to plan a trip to Osage Park, check out their Facebook page for community gatherings and shows, like Shakespeare in the Park: https://www.facebook.com/osagepark.