Hey mamas, it's time for a new park review so you can find the parks that work best for your family in Northwest Arkansas. Or you might want to add park hopping to your summer bucket list! It's always fun to discover a new, fun place for the kids to play.
As we mentioned earlier this month, our new writer April Wallace will be reviewing some of the busiest parks in Northwest Arkansas with the help of her 1-year-old son, Henry, and friends!
Click here to read April's first review of the C.L. "Charlie" and Willie George Park in Springdale.
This time, April and Henry visited Dave Peel Park in Bentonvile. Here's the scoop:
Location: 206 E. Central Avenue, just off the downtown Bentonville square
How big is it? Small, two acres. The play area is fenced in.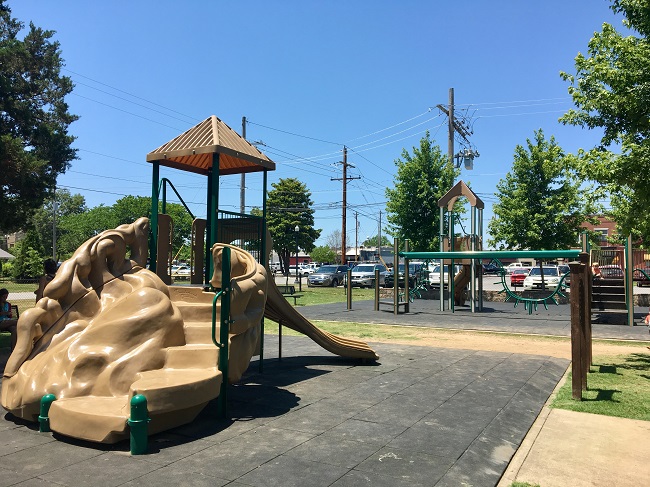 Main features: Swings for infants and children, two play structures: one for ages 2-5 and another for ages 5-12, picnic tables and pavilions and a wooden stage.
Stroller-friendly? There aren't many paved portions to this park, but the ground is consistently flat and the grass kept short.
Covered areas for picnics? Yes, there are three pavilion areas. Two are for individual picnic tables and the third can fit roughly a dozen or so people under it. The largest pavilion is near the play area. The smaller two are further and outside of the fenced portion.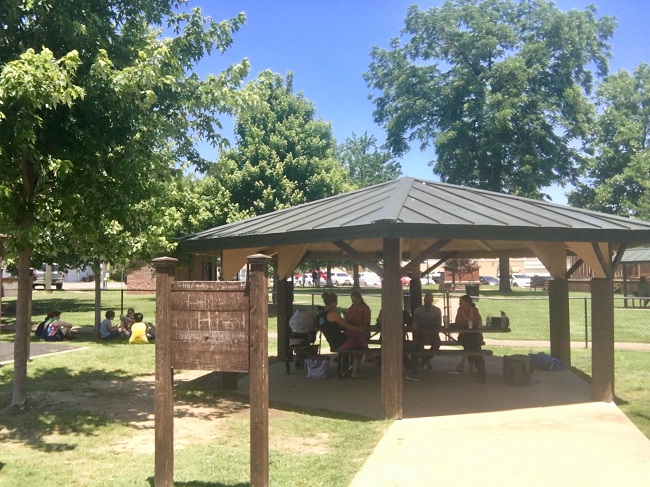 Shady areas? The park has some trees on its edges that lend nice shade for the baby swings in the morning and through part of lunch time. You can still count on your kid getting some sun.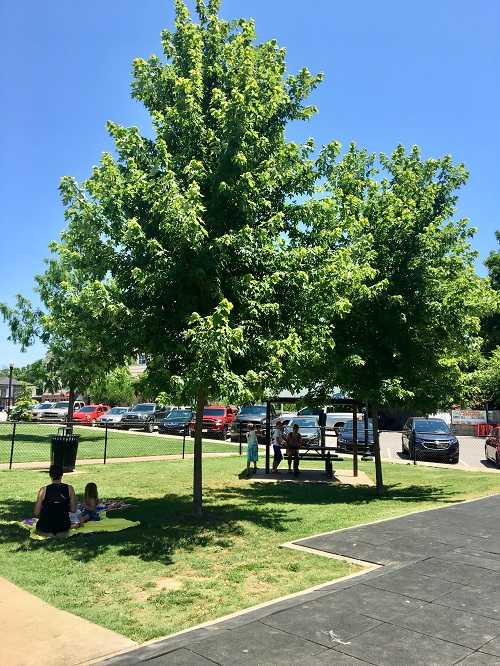 What's the restroom situation? There's a small building with two restrooms just a few paces from the fenced playground. While I was there, only one of the two were operating. It had a changing table and it was clean, but very much a park bathroom in the sense of venting, no mirror, small trash can, and hard concrete floors.
Extra notes from our mama Park Correspondent: This is a popular park, especially at lunchtime when it's used by a variety of age groups—preteens from nearby summer camps, personal trainers coaching clients, professionals wanting a change of scenery for lunch and more.
The individual picnic table gave me some space from the crowd while I fed my baby, and I appreciated that they had infant swings. I also love that it's easily walkable from restaurants and other things to do downtown, such as strolling a nearby trail.
The downside to having so many age groups attracted to the park means you might have to run more interference than at other park locations. For example, during our visit several teenagers were playing a game of capture-the-flag and I had to block a couple of them from running too fast and close to my baby and toddlers present. You might also be aware that you're never that far from the road in this busy part of town.