Looking for a new park to visit?
nwaMotherlode writer April Wallace has been reviewing some of the busiest parks in Northwest Arkansas with the help of her 1-year-old son, Henry, and friends!
Click to read April's reviews on: C.L. "Charlie" and Willie George Park in Springdale and Dave Peel Park in Bentonville,
Here's her review on Rotary Park:
Park name: Randal Tyson and Rotary Adventure Park
Location: 4303 Watkins Ave. Springdale, AR 72762
How big is it? Very big!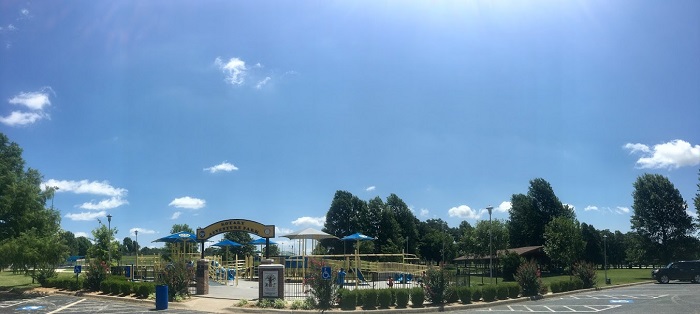 Main features: Tyson has two play structures in addition to baseball/softball fields, a soccer field, a basketball court, a tennis court, volleyball pit and trails that wind through each feature.
Stroller-friendly? Yes, the park trails are paved and easy to navigate.
Covered areas for picnics? Tyson park has two pavilions with picnic tables, one near each of the playgrounds. The pavilion next to the Miracle League fields covers roughly 15 picnic tables and has a couple of camping-style grills.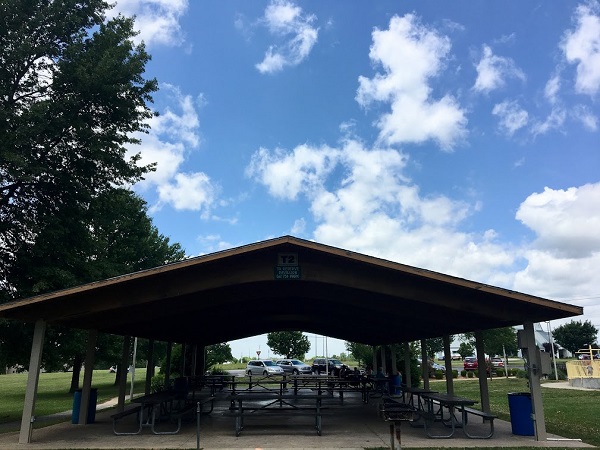 Shady areas? The Rotary Adventure park has canvas umbrellas stretched over a big portion of the play structure, but the other playground does not. The pavilions are large enough to provide a nice shady area for parents to sit, though you might be aware that they're rentable, so someone may be having a birthday party there as you go by. (Rentals are $12.50 an hour with a two-hour minimum.)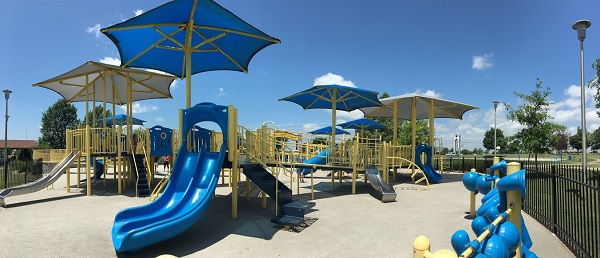 Does the park have any special needs features? ADA accessibility is a huge feature of the Rotary Adventure park. Both sides of the play structure have an easy, wide slope to enter.
Several of the swings here are ADA accessible as well. The swing set near the play structure has two swings specifically designed for children with disabilities. They're often blue, chair-like and have a yellow guard that braces them in front, not unlike what you would see on a roller coaster. Children may not understand that these swings are the only equipment that some kids will be able to play on, so you may have to recognize this equipment and encourage them to other activities on the playground if the swings are in high demand that day.
Another swing set off to the side of the play structure, closer to the restrooms, has a swing specifically made for wheelchairs.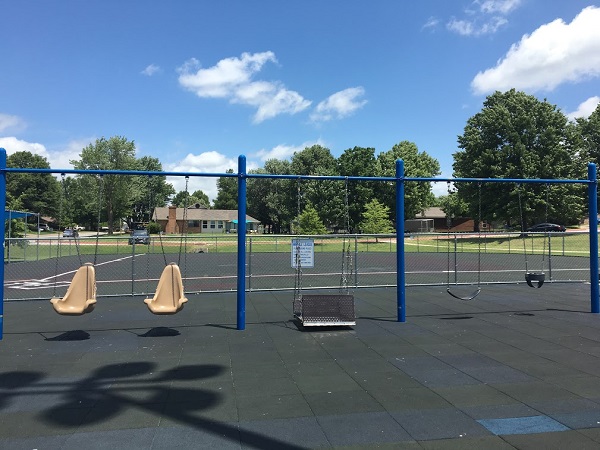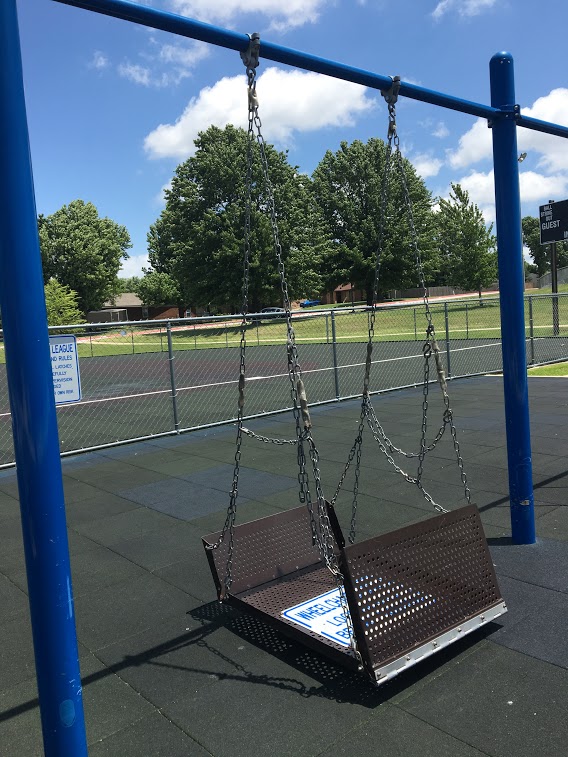 How are the restrooms? The playground area is large enough that you may not immediately see the restrooms depending on where you are, but they are very clean and well lit. The ones at the Rotary Adventure park do not have a changing table.
Notes from our Mom Park Correspondent: My 1-year-old son loved this park because he could walk up the easy slopes to the play structure on his own. I was glad that the playground had several features that appealed to his age, such as things to touch, spin and rattle, in addition to the usual monkey bars and slides. I saw a wide age range of children using the park, and it's no wonder. The structures have a variety of activities that can entertain kids up to pre-teen age (one look at their slides will easily reveal that.) It's large enough that having toddlers and 12-year-olds on the same structure doesn't worry me.
Click HERE to see a list of other reviews of parks in Northwest Arkansas.