Mamas, it's too hot to be using the oven, right? I don't even want to see a stove burner on lately.
So we've rounded up a couple of fast, easy and fun recipes from the Produce for Kids website that are healthy, pretty and don't require a bit of extra heat in the house.
We've partnered with Produce for Kids, which provides easy, fun recipes and encourages healthy eating. Through partnerships with produce and grocery stores, the organization has also donated more than $6.4 million to charities that benefit kids and families. (Since 2015, Produce for Kids has been donating to the Feeding America charity.)
We LOVE a great Greek salad any time of year but especially during the summer, so this recipe for a layered Greek dip sounds perfect. It serves 4 people and only takes about 10 minutes to prepare. (This would be great for a cookout, and you could even divide up the dip into individual cups.)
When you make this recipe, pick up the Organic Girl Romaine Heart Leaves because it's one of the many companies sponsoring the Produce for Kids initiative.
Gluten-free tip: To make this recipe gluten-free, you can use vegetable sticks or cucumber slices to do the dipping.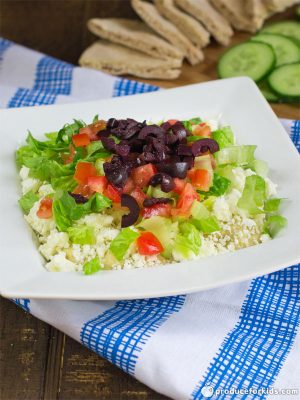 Ingredients
10 ounces hummus
1/2 cup feta cheese
1/2 cup chopped Romaine lettuce
1/2 cup chopped tomatoes
1/2 cup Kalamata olives, chopped
Directions
1. Spread hummus in single layer in serving dish. Crumble feta on top of hummus. Sprinkle with lettuce, tomatoes and olives.
2. Serve with cucumber slices, celery sticks and pita bread.
And now for something sweet minus the heat…
July and August are the perfect time to make these Pomegranate Watermelon Pops. Let the kids help you with this one because it's easy, fun and they're going to love the taste. It only takes 10 minutes to get them ready and then 2 hours in the freezer.
Ingredients
1 small watermelon
1 cup pomegranate juice
Directions
1. Slice watermelon into 1-inch thick rounds and then cut into triangles.
2. Insert a popsicle stick through the rind to make the popsicle.
3. Dip into pomegranate juice and lay single layer on parchment-lined baking sheet. Freeze 2 to 4 hours or until frozen.
For more fun recipes: If you're always on the hunt for new recipes that are kid-friendly, follow Produce for Kids on Facebook, Instagram, Pinterest and Twitter.
How you can help: In Northwest Arkansas, you'll find Produce for Kids signage at area Harps stores. When you see the signs, consider buying some of the brands (shown below) which are part of the Produce for Kids program. By supporting those brands, you'll be helping this organization give back to local Feeding America food bank programs, which help thousands of people in Northwest Arkansas.