Railyard Park in Rogers, Arkansas, reviewed by April Wallace, Early Childhood Editor for nwaMotherlode.com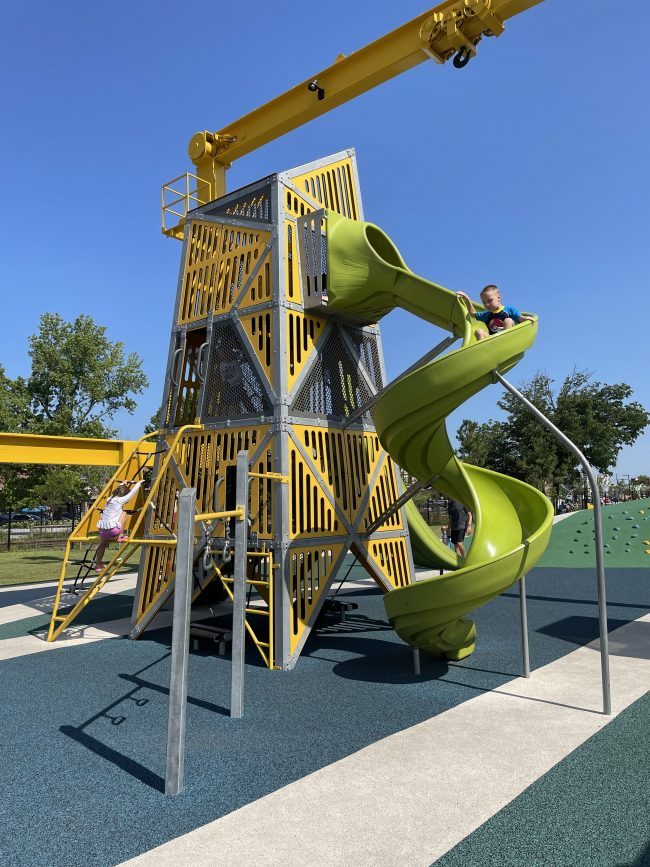 Park name: Railyard Park (not to be confused with Railyard Bike Park), formerly known as Frisco Park
Location: 201 S. First St. Rogers
How big is it? When it was Frisco Park, I always felt like this was a tiny little space nudged up to the train tracks. This new place, Railyard Park, is quite big. It leverages space on the other side of the tracks.
Main features: shaded areas, benches and picnic tables in Frisco Plaza (where the Downtown Rogers Farmers Market takes place), the Water Stop: a splash pad area under three artfully decorated water towers; and the Play Yard that has several tunnels, climbing elements, slides and play structures.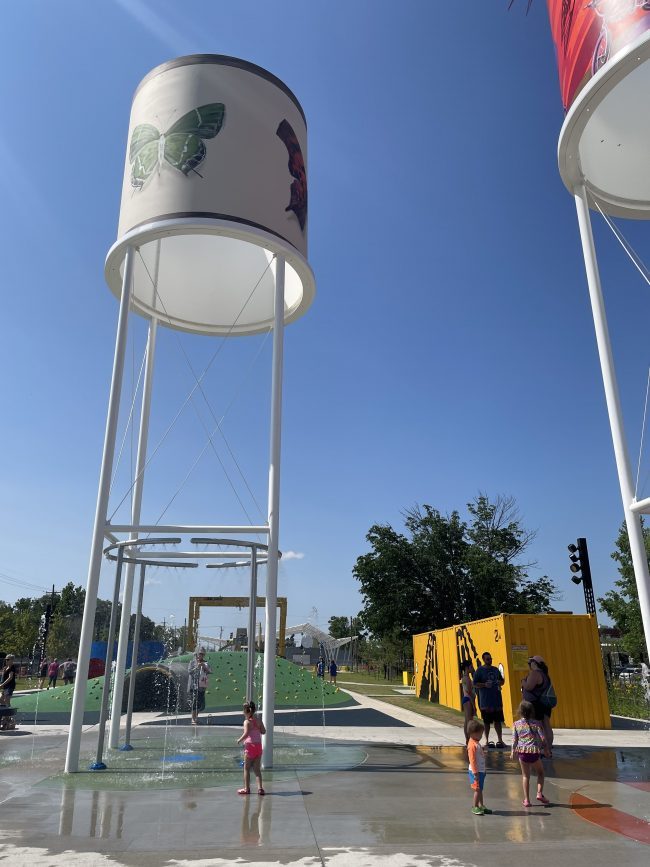 Stroller-friendly? Generally, though you do have to cross the train tracks and a few steps to enter the park, which I imagine makes for a little bit of a bumpy ride, but it's smooth on the other side.
Covered areas for picnics? Yes, there are picnic tables in Frisco Plaza.
Shady areas? There are shade structures all along 1st Street.
Special needs features? I don't think so.
Restrooms: The restrooms are right next to the Water Stop and main entrance to the park. They are brand new, clean and pretty, but there is no changing table or kids stool, and my children were terrified of both the toilet and the eco-friendly hand dryer, which are stainless steel and very loud.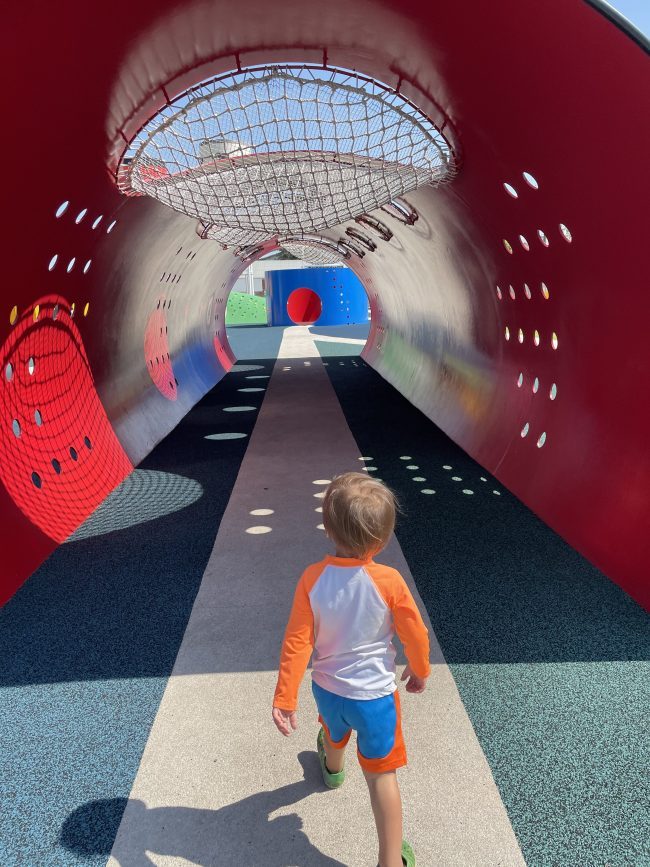 Notes from the Mom Park Correspondent:
My boys were ALL ABOUT this park, which has tons of things to climb on, in and over. Many of the structures are tunnels, but they come in many different forms. Some are traditional concrete tunnels, while others are more like cylinders with views of the sky. The most interesting ones in my opinion have footholes in the sides, encouraging climbing up and onto the top where there are a few hammock-like nets to lounge in. At 4 and 2, my boys weren't comfortable doing that this time, but they did lots and lots of running and climbing.
Even the man-made slopes have footholds like a climbing wall, which gave my toddler such a sense of accomplishment to get to each summit without any help. There are a number of fun slides throughout the place: the ones attached to the play structure at the end are incredibly tall and steep, but the ones built into the climbing hills were just right for my 4-year-old.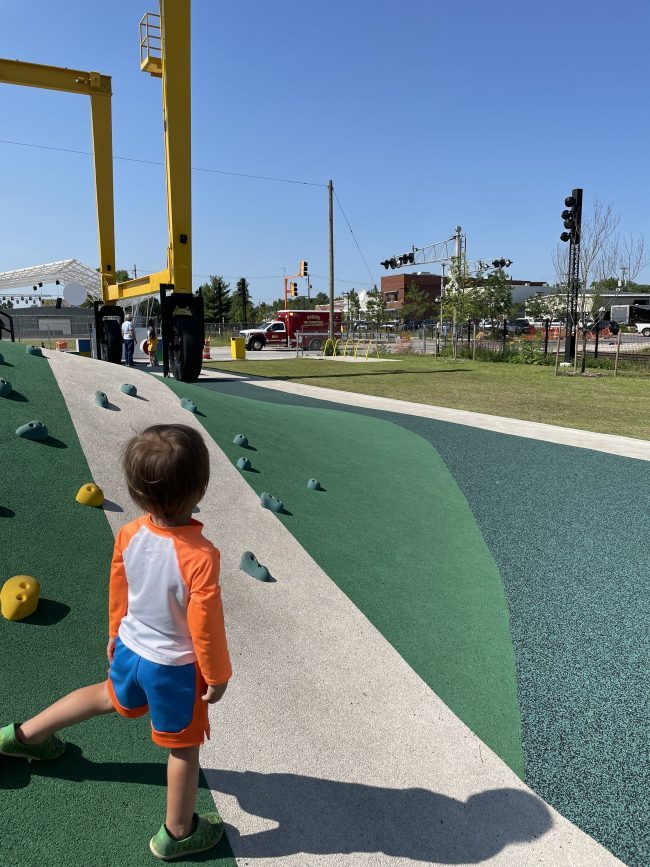 As a mom, I appreciated that my two boys could find two separate activities to do that just happened to be right next to each other, it was a win-win-win!
Even before we came to visit the park, it was on Henry's radar because of the Mi-Jack crane operator that frames the Play Yard. (If you haven't been reading tons of construction or vehicle books to your children lately, that's a piece of heavy duty equipment commonly seen at shipping yards.) This enormous thing draws the eye, and it's why my boys request going to the "construction park." That's not a bad name for it, given all the construction that's happening to the roads in downtown Rogers right now.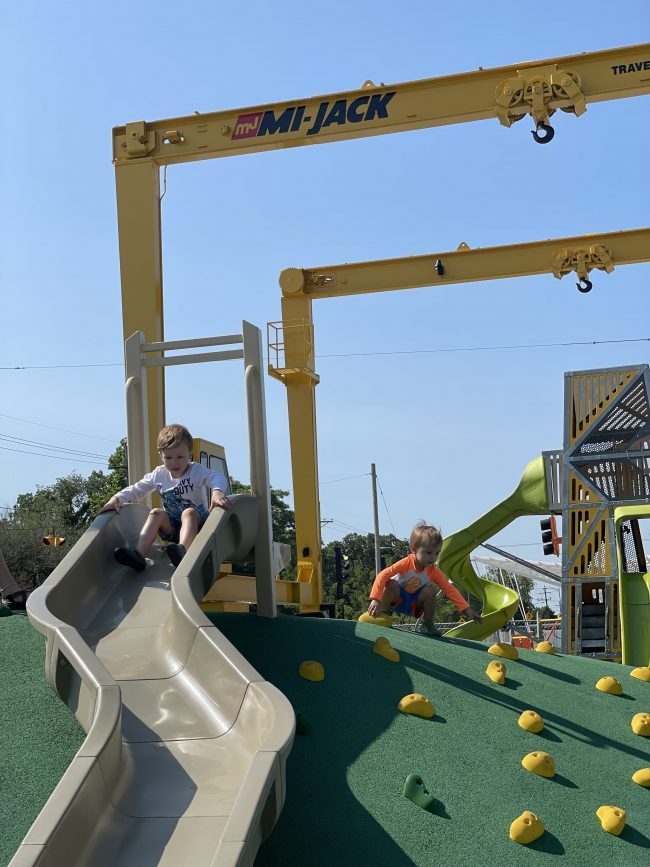 While in the Play Yard, my boys were able to watch a digger and a dump truck that were working just on the other side of the fence. It's also just a quarter of a mile from Rogers Fire Station 1, so my emergency vehicle obsessed boys were on cloud 9 when an ambulance and fire truck raced by in full view.
It's so nice that this park is downtown within a short distance of two wonderful coffee shops, restaurants and other fun things, but that means it comes with the street parking of downtown, so I kept little hands in mine. I appreciated that the park grounds are entirely fenced in with only one entrance, which I assume keeps it a bit safer, but this is no place to lose track of your little ones since it is quite literally next to the train tracks.
Click HERE to see a list of other reviews of parks in Northwest Arkansas.