Cambridge Park in Rogers, Arkansas, reviewed by April Wallace, nwaMotherlode Early Childhood Editor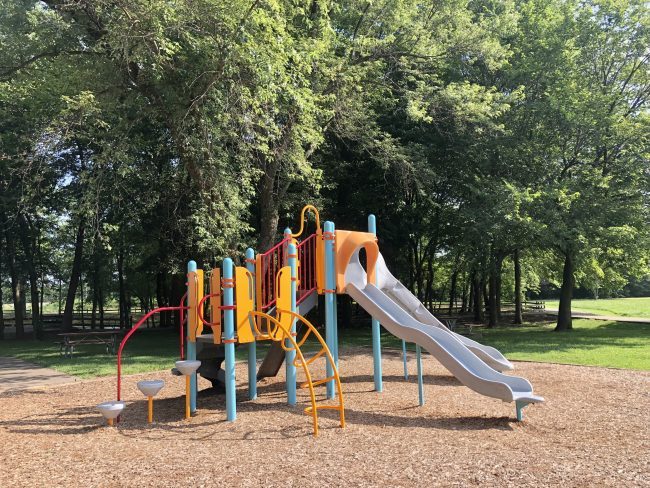 Park name: Cambridge Park
Location: 1400 N. 37th St. Rogers
How big is it? Fairly big at 13 acres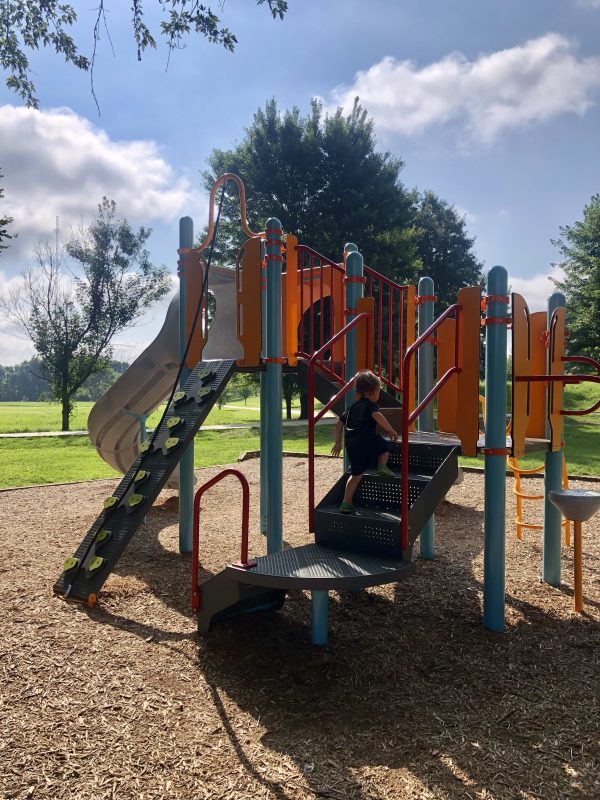 Main features: Two play structures, a flat walking trail, soccer field, benches, picnic tables, pavilion and a small structure with two benches and a table that rocks like a seesaw.
Stroller-friendly? Yes, Cambridge Park has sidewalks surrounding the pond and play structures. A walking trail that edges the entire park connects to Turtle Creek Trail.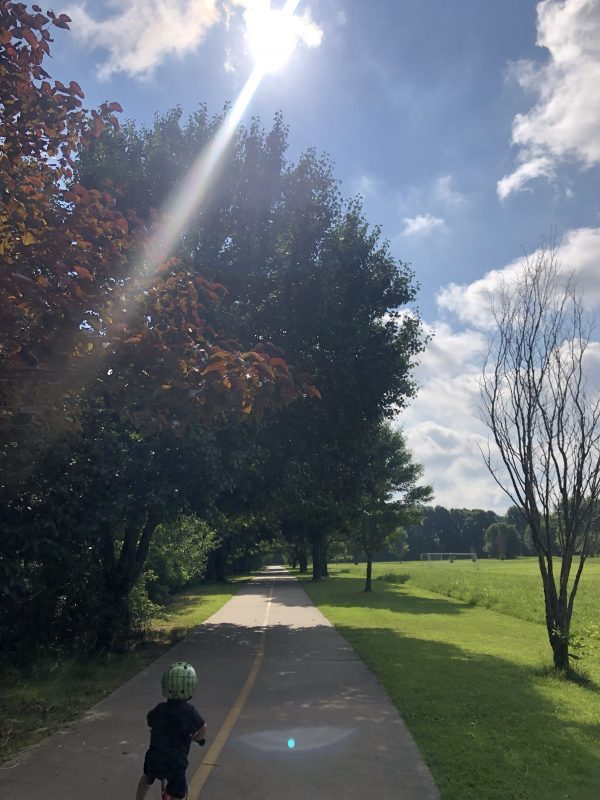 Covered areas for picnics? A pavilion near the toddler play structure covers 8 picnic tables. Half a dozen or more other picnic tables are scattered throughout the park and most are shaded by trees.
Shady areas? Plenty! This park is nestled at the edge of a couple of subdivisions, and has lots of leafy trees surrounding its structures and walking paths, including some pretty weeping willows.
Special needs features? None that I could tell.
Restrooms: The restrooms here are closest to the toddler play structure, but easily seen from the other one. Inside it's clean, but has no changing table or kids' stool.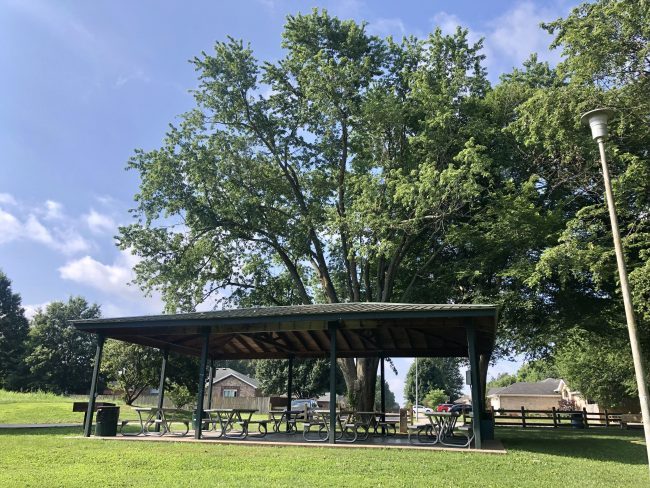 Notes from the Mom Park Correspondent:
Cambridge strikes me as a very well loved neighborhood park. Its parking lot is very small, which you drive into before you know it, kind of like a little cul de sac. You can just tell some people are regulars here, coming to the park every morning or so, but all the equipment looks brand new.
I visited this park with my youngest, Elliott (2), and lucked out because it was just right for this age! Although there are two play structures, he climbed and explored both easily. The smaller one was just his size, so he could manage the slide very well on his own. He loved being able to reach the top of it quickly and easily by himself and since it's short, he could whiz down it without any pause. The tunnel was a hit too. I especially appreciated all the little details of the small structure. It has ABCs etched into the wall supporting the slide, slats for little fingers to explore without getting pinched, a blocky sliding-shapes puzzle on an attached table and a side with drums, bells and spinning balls that put his fine motor skills to work.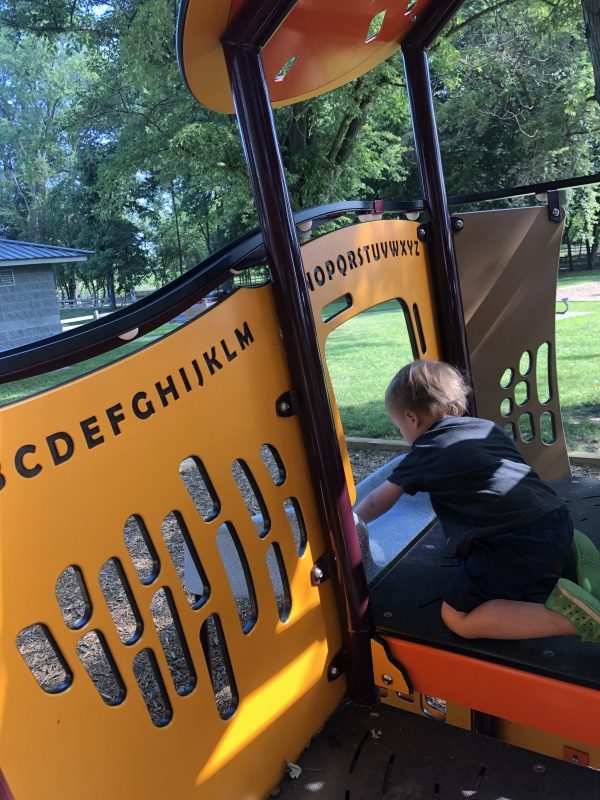 I thought he would take joy in the seesaw benches, but he was unsure of the seats that rock unsteadily, maybe since it was his first try. Another toddler mom there said it's her son's favorite part of the place and they can never leave without trying it.
The bigger kids structure gave Elliott some challenges, but he enjoyed the higher view, the longer slide and stepping stones just the same.
Most of all my bike-obsessed tot was excited to explore the grounds from two wheels on the trail that makes a loop around the place. It gave us a tour of the soccer field, pond and the option to go into the field beyond the park.
The pond is surrounded by a fence, but it's one of those little two-slat kinds that I know children easily slip under or climb over, and even has an opening to get down to the small stream/runoff coming from it. So when I bring my older kids here I'll definitely be conscious of where they are in relation to that water too. And while the connection to another trail is nice, that's just one extra element to be wary of if one of your kids happens to be a skilled escape artist.
Click HERE to see a list of other reviews of parks in Northwest Arkansas.