Review of Lake Atalanta Park in Rogers, Arkansas (reviewed by April Wallace, Early Childhood Editor for nwaMotherlode.com)
Park name: Lake Atalanta Park
Location: 500 E. Walnut St. Rogers
How big is it? Positively enormous, 236 acres
Main features: A variety of "natural setting" play structures, tree houses, walking and cycling trails and boardwalks, fishing piers, picnic areas and benches.
Stroller-friendly? It's very stroller friendly with roughly 3.5 miles of concrete/paved trails surrounding the lake area.
Covered areas for picnics? Yes, Clark Pavilion shelters six or more picnic tables next to the play structure designed for smaller children, while several other picnic tables are found in shaded areas across the street, close to the bigger kids' structures and lake.
Shady areas? Lake Atalanta is a lush area full of large, overhanging trees giving plenty of shade to play in.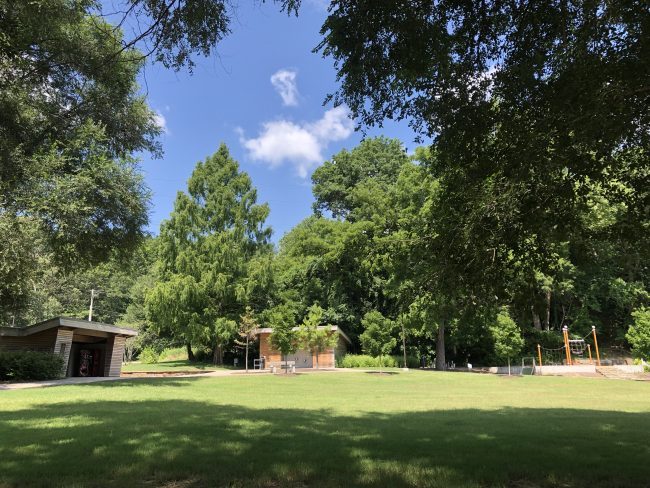 Special needs features? Not that I could tell, although the paved trails, boardwalks and wood truss bridges seem comfortably wide for wheelchair access.
Restrooms: There are a couple of restroom facilities. I didn't see a changing table in the Clark Pavilion restroom, but it was a clean space that is clearly visible from the playground. One frustration that we had was trying to reach the sink so the kids could clean their hands. There's no child-level sink or step stool, so we stuck with our trusty hand sanitizer that day.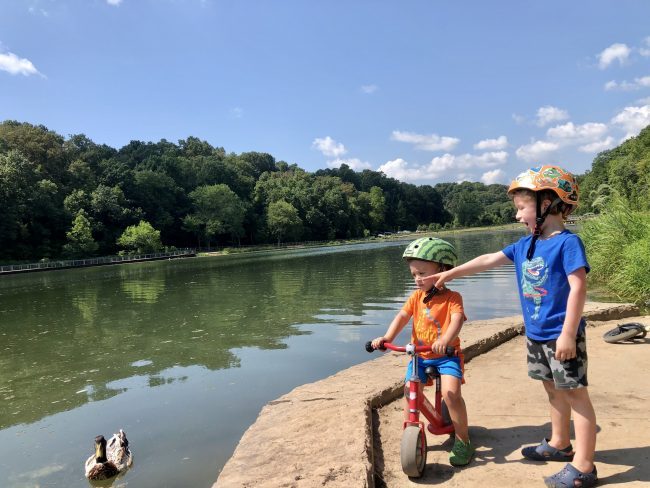 Notes from the Mom Park Correspondent:
We all enjoyed the diversity of activities that we found at this park. The play structure designed for small children is next to Clark Pavilion, but it has elements that challenge them and may have to be faced on return visits, like the rope bridge they'd have to very, very carefully balance on to cross. That didn't stop them from enjoying the slides or cave-like space underneath with animals and bugs etched into the structure.
We crossed the street on our bikes to the main park, where there were more unique things to play with. Several have climbing elements, so I appreciated that there were some lower to the ground and others that my 4- and 2-year-olds wouldn't be reaching that day. Seeing big kid structures a little out of reach made Henry and Elliott appreciate the toddler crowd favorites, like a log tunnel and stepping stone mushrooms.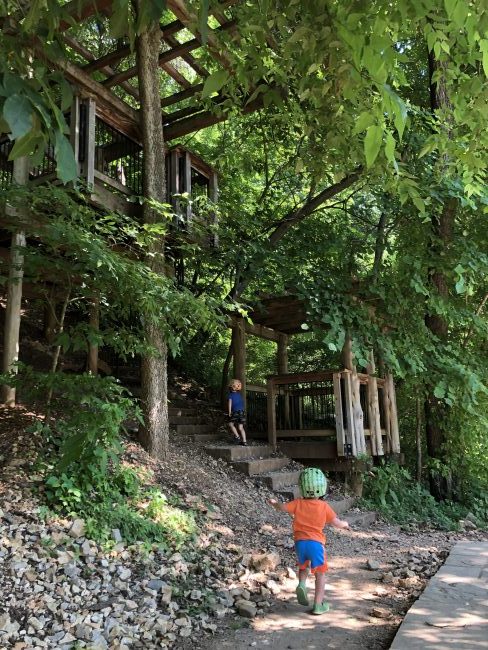 The treehouses charmed all three of us. They are accessible by way of easy enough steps, though you might want to watch small children more closely since there are no handrails along the stone steps. Once in the treehouse, we saw beautiful views of the lush, old park. I think my kids enjoyed it because they so rarely get glimpses from heights, especially ones that they were able to get to all by themselves. We took the woodsy trail at the top for a little extra view, but I regretted that a bit because the steps were taller and harder for my toddler to reach comfortably. I didn't let him go back down without help for fear he'd take a tumble.
Taking our bikes was a perfect way to see more of this park. Once they were done playing on the structures, we took a little ride along the lake and got up close with some wildlife. Mostly just ducks, turtles and a rogue deer were within short reach of us, but beware, mamas, it's not uncommon to see venomous snakes in this area! We liked the little overlook areas that let us peer straight into the water to see the fish, but they made this mama nervous not having any barriers or rails. I mostly kept my boys in hand there just in case. Also some points of the lake trail have steep, unguarded drop offs that could send you straight into the lake if you're not careful!
Click HERE to see a list of other reviews of parks in Northwest Arkansas.