It's almost time for the kids to go back to school, so time to get those bucket list items checked off is getting short!
We want to help you discover new, fun places for the kids to play, so nwaMotherlode writer April Wallace has been reviewing parks around Northwest Arkansas this summer with the help of her 1-year-old son, Henry, and friends.
Here's her latest on Mt. Kessler park:
Park name: Kessler Mountain Regional Park
Location: 2600 Wc 200, Fayetteville, AR 72701
How big is it? Very, very big.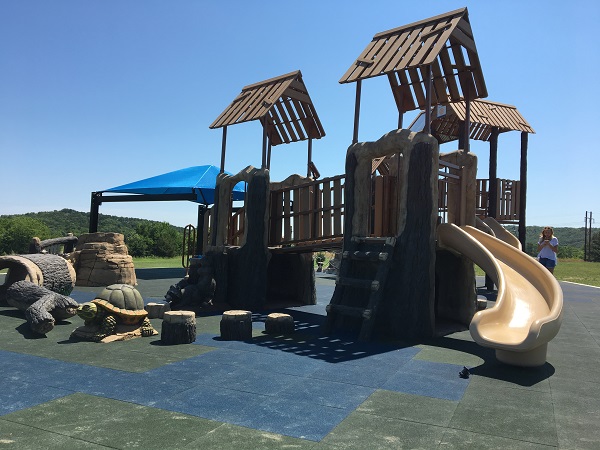 Main features: Mt. Kessler is known best for its trails, but it also has soccer and baseball fields, as well as a playground with a couple of play structures on it.
Stroller-friendly? Yes, and I would highly recommend bringing the stroller, even if you don't think you'll use it. Things are spread out at Mt. Kessler, so it's handy to have one just in case.
Covered areas for picnics? Not that I could see from the playground area.
Shady areas? There are a few benches under canvas umbrellas that make for a good station to set up your diaper bags, snacks, etc. The play structures also have some of these canvas umbrellas. The equipment is tall enough and has enough hollowed out areas to lend some shade for kiddos playing on the ground.
Special needs features? None made particularly for special needs, but the grounds and trails are nice and flat enough for a wheelchair.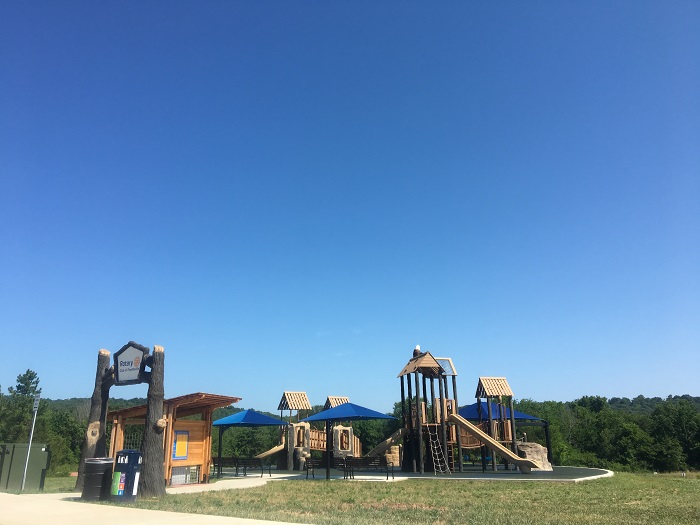 Restrooms: Warning!! My first visit to Mt. Kessler since having a baby was an eye opener. It was quite a hike to the nearest restroom. If you're standing on the playground, look off to the west and squint hard, you'll see a building with an oddly shaped roof (think angular, sticking in two different directions). That's the bathroom.
It took Henry and I nearly ten minutes to walk there one way. Once you're there, it rewards you with a very clean restroom and a very nice changing table that has a fully functioning belt (so rare!).
Notes from the Mom Park Correspondent:
Moms may want to beware that there is a pond on park property within sight of the playground, but it's downhill and a decent walk away—not easily gotten into.
Henry and his friend loved this park because there was so much to do on the toddler level. Woodland creatures are built into one of the structures on the far side, which I think keeps the tots out of the way of the bigger kids while also entertaining them. A sign lists all the woodland animals "hidden" in the playground, and we easily made a game out of finding each one.
Henry loved walking through the log tunnel and sitting on the giant caterpillar. Bigger kids can enjoy more typical playground activities like slides and climbing a rope ladder.
The playground was recently renovated, and it has this nice, soft, slightly spongy tile on the ground rather than concrete or mulch. It put my mind at ease that Henry would have an easy landing if he fell while walking, which he does often enough.
A friend of mine who met us there appreciated that the play structures were just challenging enough to seem fresh to her two-year-old, but none of them were too high to make her nervous about him if he accidentally fell off. This park is truly a hidden gem, we were the only ones there for the most part of two hours!
Click HERE to see a list of other reviews of parks in Northwest Arkansas.