Horsebarn Trailhead Park in Rogers, reviewed by April Wallace, Early Childhood Editor for nwaMotherlode.com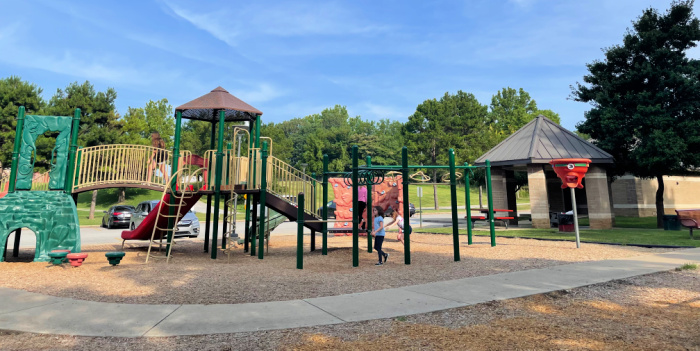 Park name: Horsebarn Trailhead Park
Location: 317-517 S 52nd St, Rogers
How big is it? 2.5 acres
Main features: Two large play structures, swings for both toddlers and big kids, a meandering creek, rain garden, half-court basketball, bike repair station, an exercise station, benches, picnic tables and miles of trails connected to the grounds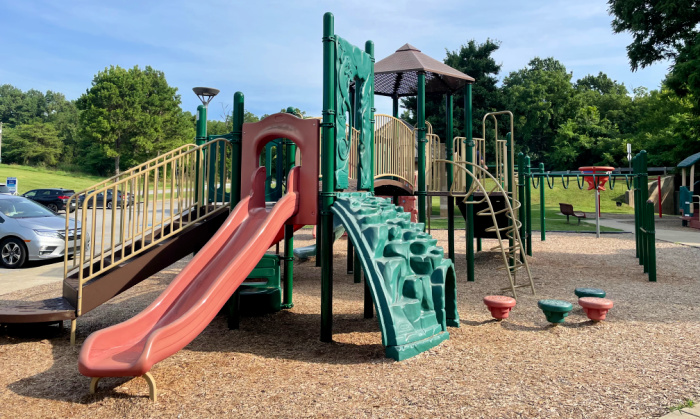 Stroller-friendly? Yes! There are paved sidewalks throughout the park that would allow a stroller to get around to the various play structures, benches and picnic tables.
Covered areas for picnics? Only one or two of the picnic tables are covered by a structure, but this park has plenty of tree shade that makes for a pleasant place to sit. There are maybe 4 picnic tables that I noticed, all of which are close to the play structures.
Shady areas? Both play structures are next to a variety of mature trees that give off lots of wonderful shade well into midmorning in the summertime.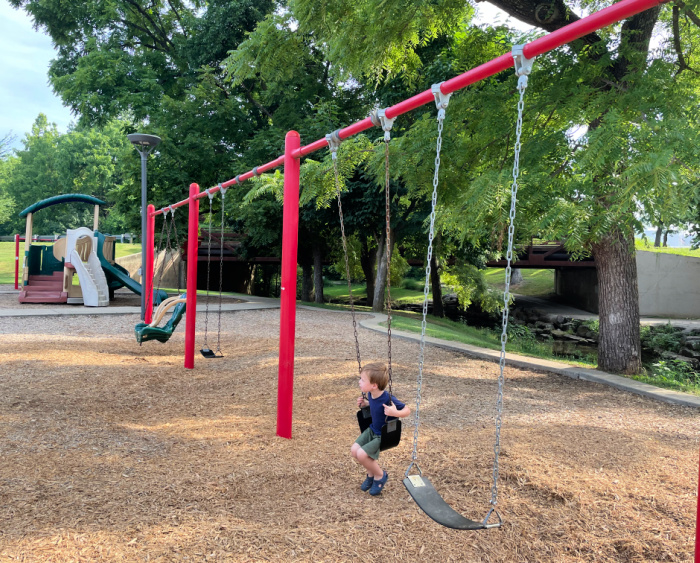 Special needs features? The big kids swing set has one swing designed specifically for children with disabilities. It's the green, chair-like one with a tan brace that goes over the front, not unlike what you would see on a roller coaster. Children may not understand that these swings are the only equipment that some kids will be able to play on, so you may have to recognize this equipment yourself and encourage them to do other activities on the playground if the swings are in high demand that day.
Restrooms: This restroom has no changing table, but it's clean enough and close to both main play areas.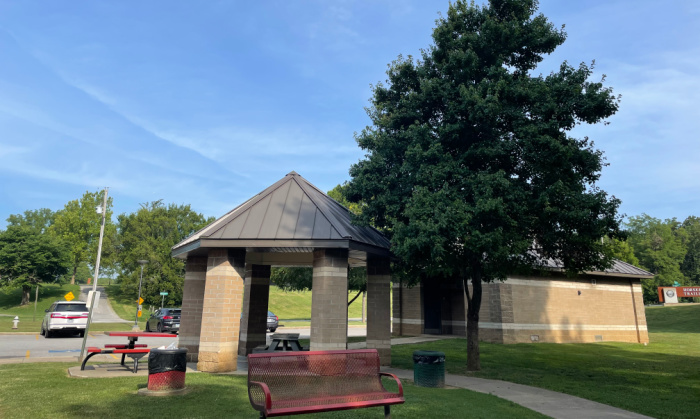 Notes from the Mom Park Correspondent:
This is a charming little park that a friend introduced us to and as soon as we left the first time, we made plans to return. The two acres fit just below a bridge on busy Horsebarn Road in between businesses and strip malls, so I hardly expected such a leafy green creekside location in this area of town. On early trips with our friends, we brought towels and extra clothes knowing all four boys would be wading into the creek or at the very least be splashed in the wake of throwing rocks down there. Sometimes that's all our boys want to do and they can spend hours doing it.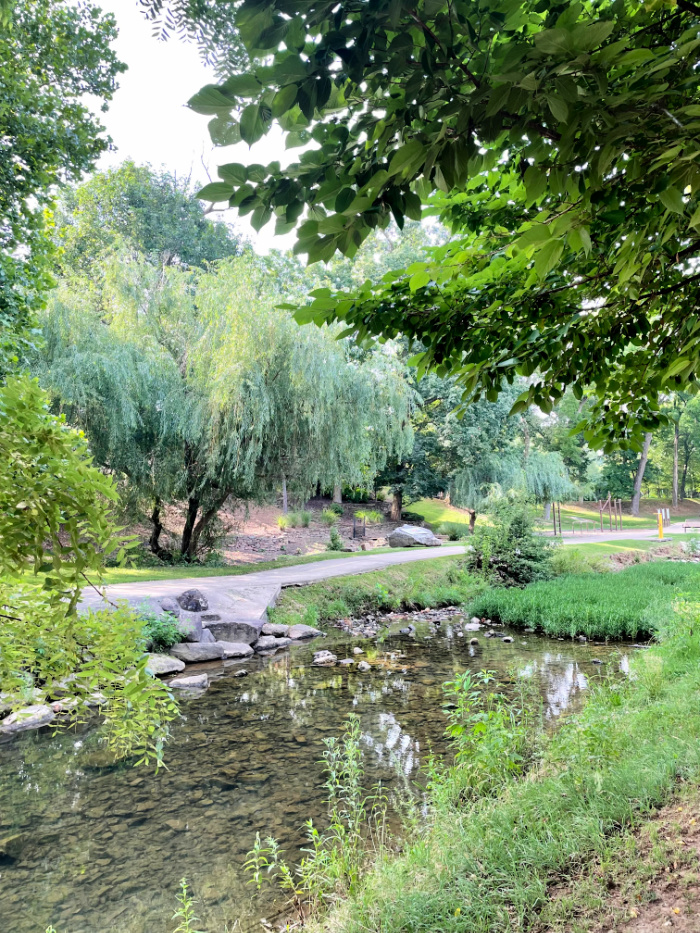 On our most recent excursion to Horsebarn Trailhead, I was impressed by how long the play structures held the attention of both of my boys, who are usually quick to move on to the trails.
The large structure had easy steps up to the slides (it has four slides total!), but also more challenging areas like two climbing walls of various skill levels. Elliott, my 2 year old, loved the elevated stepping stones he could balance on, and Henry, my 4 year old, was delighted by finding bats (molded into) the cave underneath the big play structure. It also has monkey bars and other things. While we were there a group of girls about ages 6-11 played here and had a blast alongside us—it was big enough and had such a variety of activities to make that possible.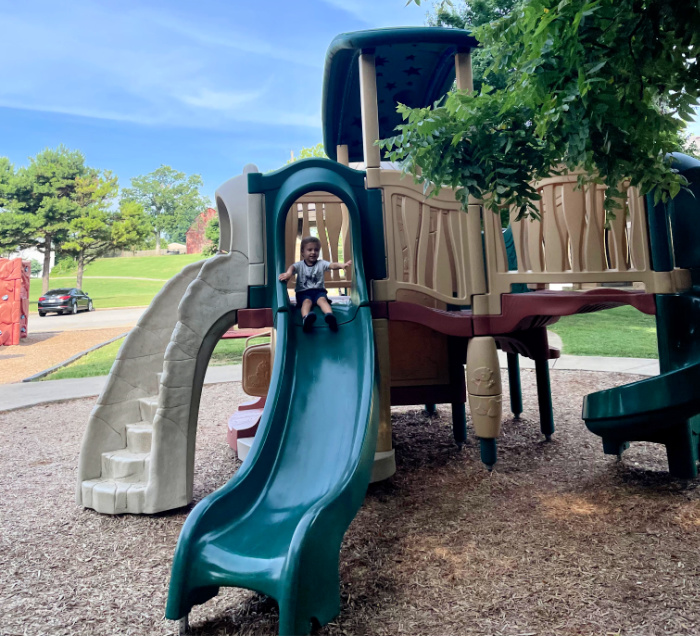 The little kids' structure kept them entertained for a long time too. It was one of those rare places where both my boys could find something to do within a short distance of each other, making my job as a mama/watchman much easier. They took their time admiring the construction equipment and animals etched into this play space, which did wonders for their imaginary play.
Once they'd climbed both structures a million times and been pushed on the swings sufficiently, we loaded up on our bikes and headed north on the connecting trail. It was less than half a mile to the orange Bike Tower Sculpture by Tylur French that signals the entrance of the Bentonville trail system. Somewhere between 60 and 90 bicycles were used to create this enormous sculpture, and it always draws our eyes from Walton Blvd. Henry and Elliott were in awe, seeing it up close, and enjoyed pretending to use the air pump at the base of it.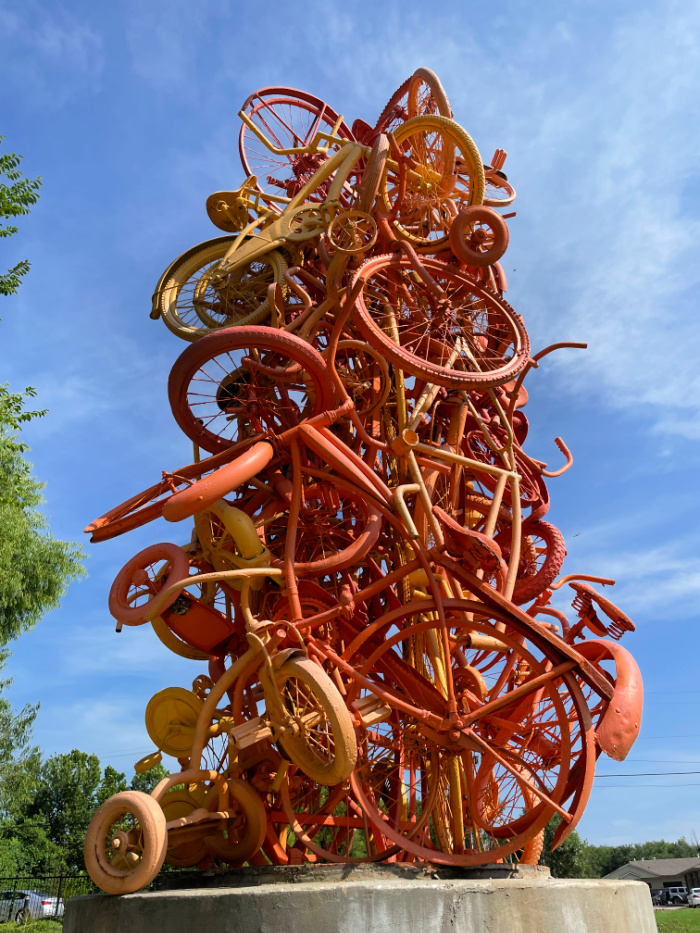 If you take this trail south, it follows Horsebarn Rd. down to Village on the Creeks and Pinnacle Hills Promenade beyond that. Being in a busy part of town, I would expect this ride would take plenty of vigilance. In our one mile rendezvous we had to cross one street, which thankfully had a crosswalk and wasn't too bad, but I was hyper conscious of my kids' positions at all times. Be aware that of the couple small creek bridges we went over, one of them was low enough that it lacked any railings or barriers to the water.