Autumn is the perfect time to find a new park for playing. One of the best-loved parks in Fayetteville is Gulley.
Today, April Wallace gives us the scoop on this family favorite:
Location: 1850 E. Township St. Fayetteville, AR. It's less than 2 miles from the Mission Boulevard and Crossover Road intersection.
How big is it? Super big! 27 acres gives little ones and family pets lots of room to run and play.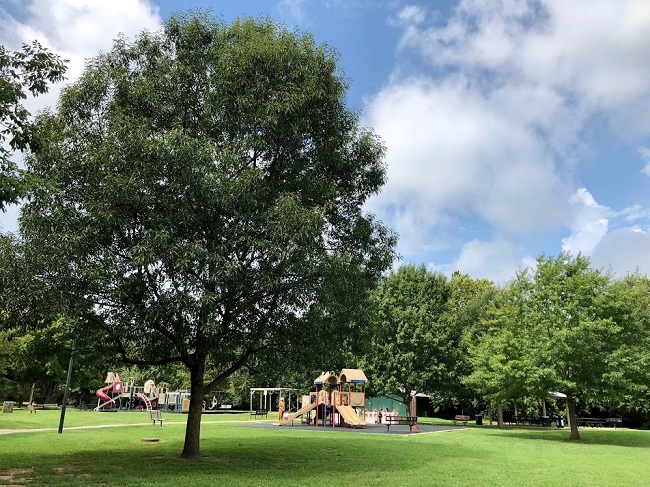 Main features:
Playground with two structures, gazebo, Picnic area, pavilion, 1.5 mile trail, sand volleyball and open green space. A pond and a creek are also a part of the property.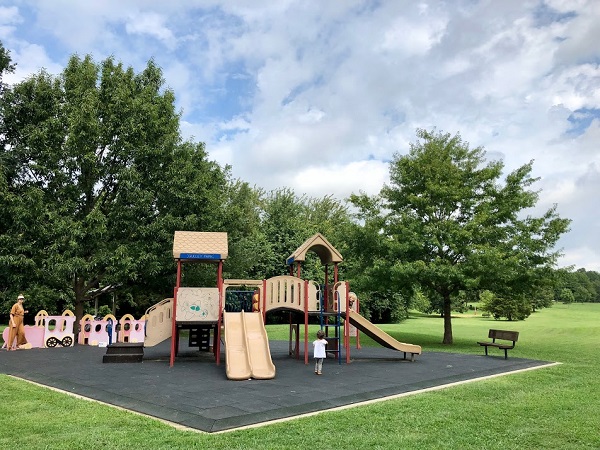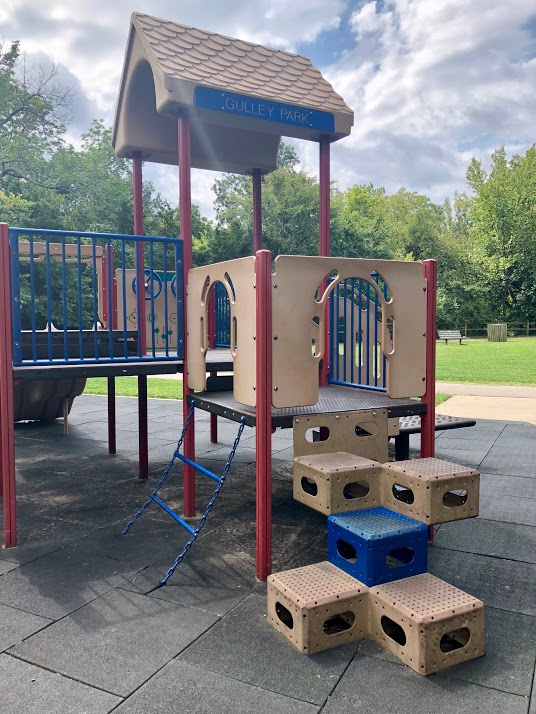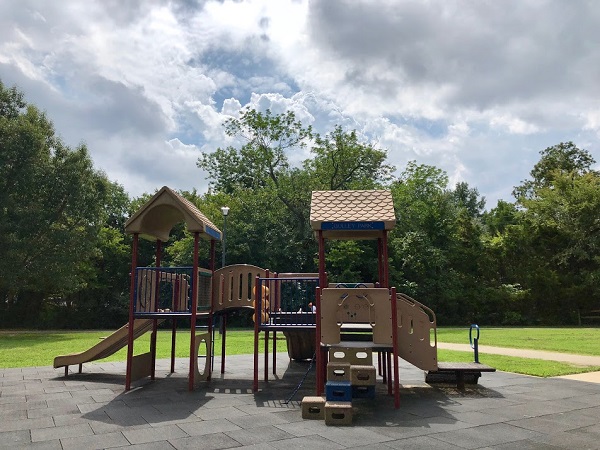 Stroller-friendly?
Yes, a nice and easy 1.5 mile paved trail circles the park.
Covered areas for picnics?
Gulley has several picnic areas, and a few are nearby the playground on the west side. A covered pavilion seats 30.
Shady areas?
Gulley Park is one of the city's most frequented parks, and I think its beautiful shaded pastures are a big reason for that. Each time I visit, there's usually at least one professional photographer following a family or an engaged couple to various pretty locations in this park. My own family had portraits taken here in the summer.

Special needs features?
It has one ADA Accessible swing. (If you're not sure what these look like, they're the thickest plastic swing on the set with a piece that pulls down in front to keep the child strapped in.)
What are the restrooms like?
The restrooms are directly in between both play structures, not far from the sandbox, which makes them quick to spot and easy to get to. No changing tables are available, but the stalls are fairly clean and decently lit. Like many other park restrooms in the area, it's a simple space without much in the way of a mirror or much trash can space.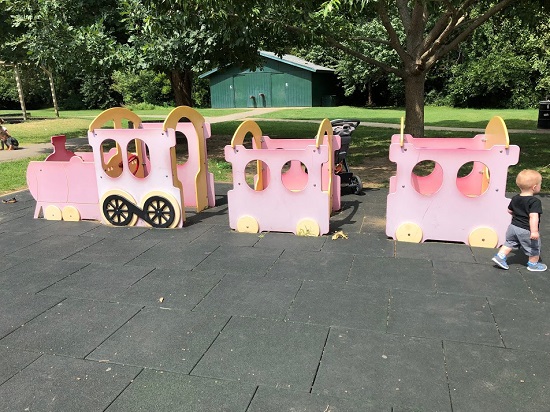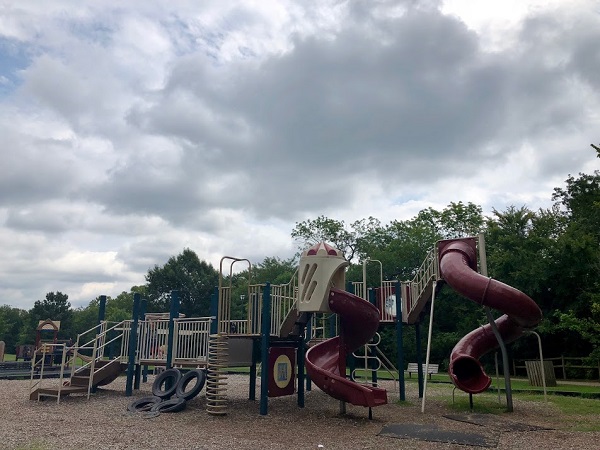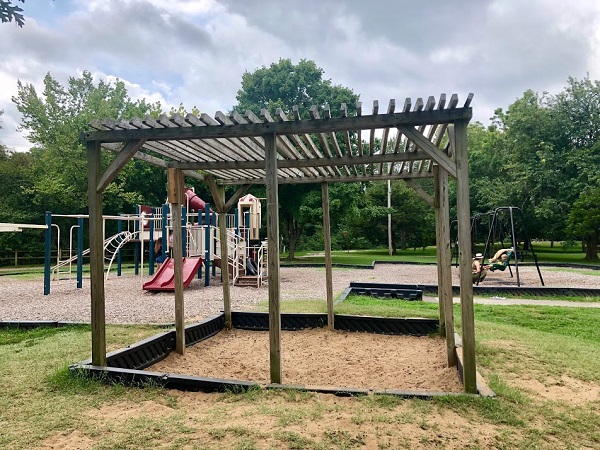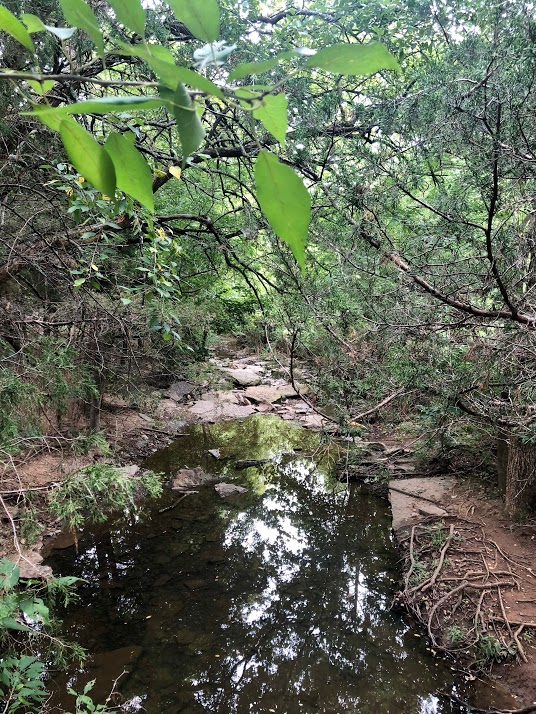 Notes from the Mom Park Correspondent:
We loved this park so much that after introducing Henry to it, we visited twice in one week!
And we're not alone in loving this park. It has a well-attended annual summer concert series and gets frequent visits from the Fayetteville Forest School, a playgroup that meets in local parks. This summer, the city released a master plan to expand the playground with treehouses, a splash pad and more.
On our first trip to Gulley Park with Henry, he easily made friends with other toddlers who were climbing the play structure meant for younger kids. He followed them to shenanigans in the sandbox and ran wildly in the grass. He loved watching all the activity in the pasture: lawnmowers going, dogs running, groups of friends walking together and pre-teens playing soccer.
On our second visit, we invited a couple of friends to join us. Henry's friend, who is 11 months old, was entertained by the tot-sized train, which was perfect for him to cruise along. It has a steering wheel in the front car, which they took turns at. Both boys enjoyed the baby swings, though Henry truly appreciated them for the front-row seat it gave him to watching the older children horsing around on the big kids' structure.
A fun thing about this space is that it's so big you can have a different experience with each visit.
Though the pond is not near the playground, you might be aware of the nearby creek, which has several unobstructed paths down to the water. Even if a child isn't trying to slide down to the water, it would be easy to trip and fall down toward it.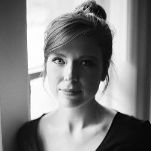 Click HERE to see a list of other reviews of parks in Northwest Arkansas.