Bentonville Bike Playground, reviewed by April Wallace, Early Childhood Editor for nwaMotherlode.com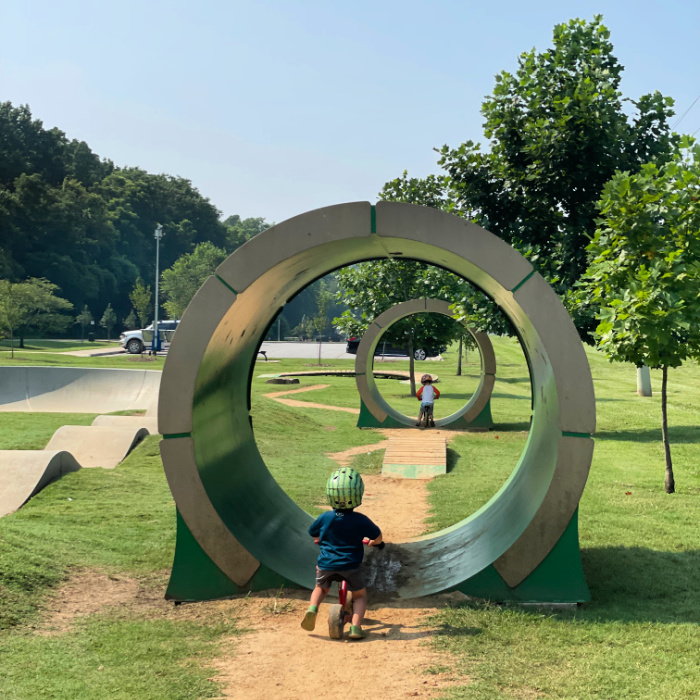 Park name: Bentonville Bike Playground
Location: 2400 N. Walton Blvd. Bentonville
How big is it? Not too big. I can see all of it from standing in one spot.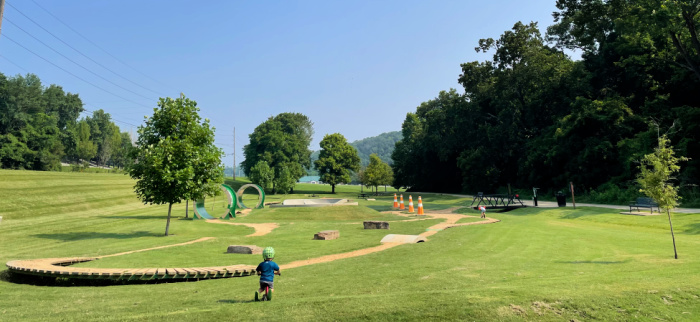 Main features: Tunnels, bridges and a pump track for cyclists to build their skills. The Bentonville Bark Park is right next to it, also.
Stroller-friendly? A nice, smooth walking trail could take your stroller from the parking lot to the bike playground, bark park and restrooms. The playground itself is not paved, but relatively flat.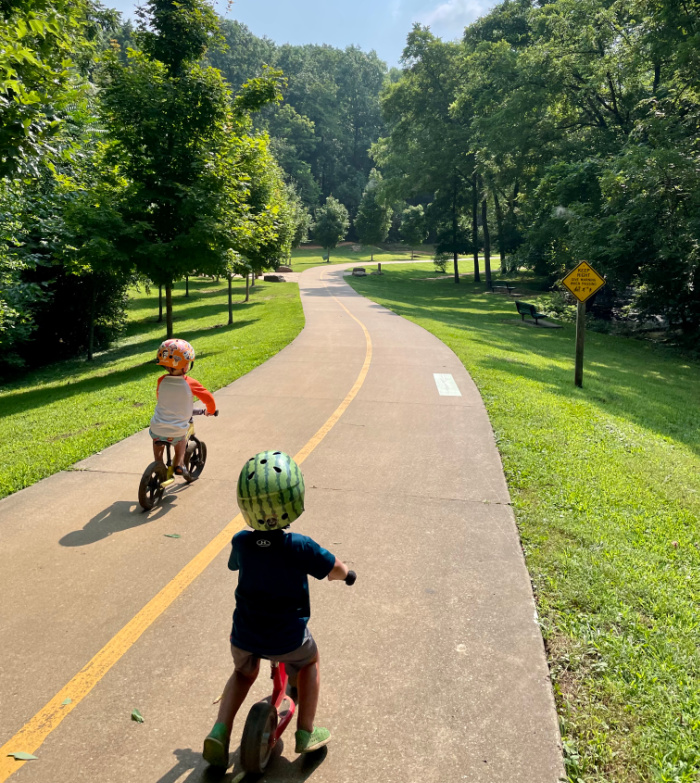 Covered areas for picnics? A few picnic tables are nearby, but none with pavilions or shelter.
Shady areas? Many beautiful trees line the trail that connects the playground to other areas, but the playground itself is in direct sunlight.
Special needs features? I don't think so.
Restrooms: It is difficult to see the restrooms from the bike playground, but they are the structure on the far side of the bark park—a bit of a walk. It has no changing table, and while it's clean in the sense that there's no trash on the floor, it's fragrant.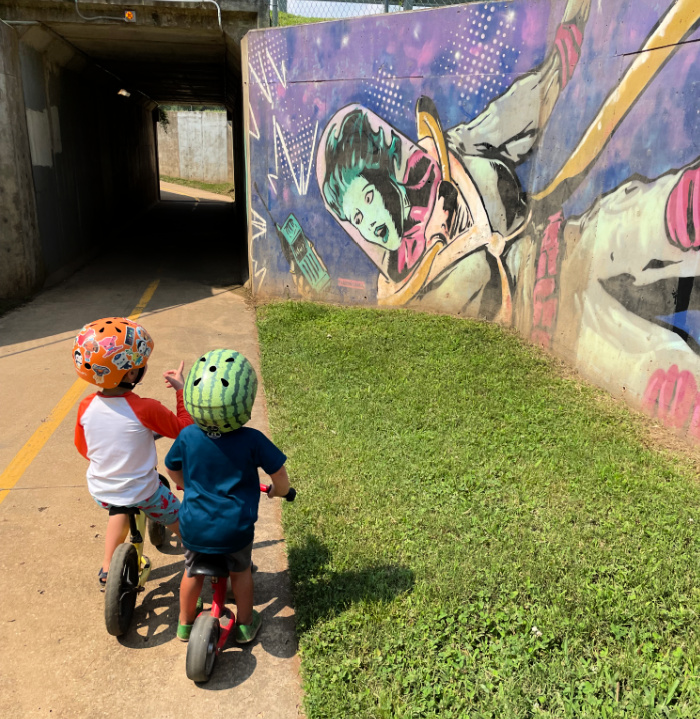 Notes from the Mom Park Correspondent:
My boys were happy to find this playground, which after experiencing Runway Bike Park and Railyard Bike Park, was frankly quite easy in terms of skill level. They both enjoyed the pump track, something they're very familiar with by now. Elliott, my 2-year-old, initially got stuck and needed help at the two highest points of the pump track, but in the course of a half hour or so he was able to do it on his own. Meanwhile Henry, my 4-year-old, didn't bat an eye.
The dirt path, bridges and tunnels were good fun and weaving through the construction cones was the highlight for them there. Overall they definitely spent more time on the pump track than anything else.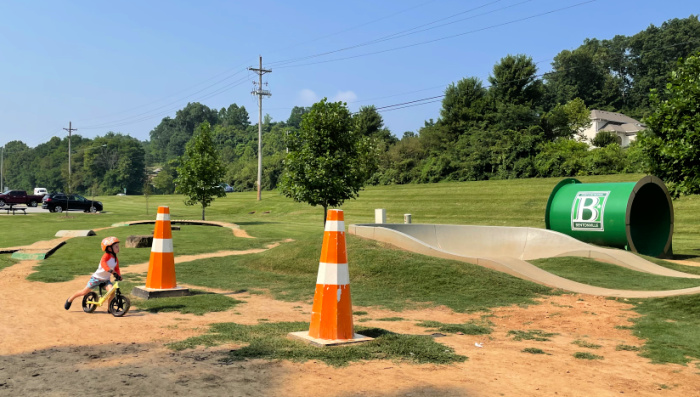 For my boys, who spend much of their day on their bikes, the skill level of this playground wasn't enough of a challenge. They wanted to do and see more, so we took the trail for an added adventure. If taken east, the trail leads you past plenty of lush green grass, along a line of trees, through a tunnel decorated with brightly colored murals and to a couple of sculptures.
If you take it far enough, you can cross a bridge and head just alongside the Slaughter Pen Trail, which was more entertaining for Henry and Elliott as they watched teenagers fly through the mountain bike trail faster and faster for their jumps and stunts.
We stopped for a short break to appreciate the nearby creek and found a nice bench to rest on, but I was still cautious of the very close, very steep creek bank that had no fence or railing up to it.
About half a mile from the bike playground we came upon a little exercise playground for adults, which Henry and Elliott enjoyed because they could climb on things, even if they couldn't use the equipment as it was intended.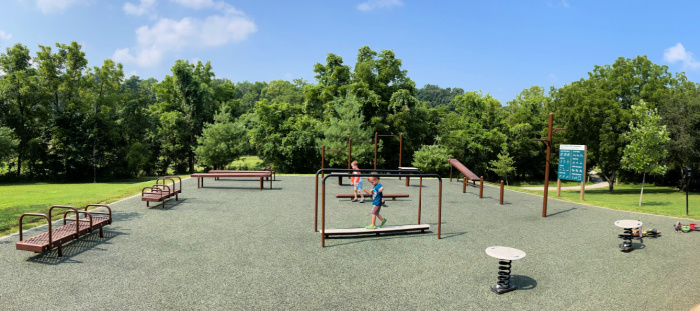 If your family members or older kids are really up for an extra challenge after the bike playground, you could take one of its connections or brave the nearby Slaughter Pen Trail together, which has a map on the trail showing the various phases and difficulty levels.
The big (trail) intersection right before Slaughter Pen is 1.5 miles from Lake Bella Vista, 2.5 miles from Crystal Bridges, 3 miles from downtown Bentonville and 3 miles from Blowing Springs in the other direction.
Click HERE to see a list of other reviews of parks in Northwest Arkansas.