Runway Bike Park in Springdale, Arkansas
Reviewed by April Wallace, Early Childhood Editor for nwaMotherlode.com
Park name: Runway Bike Park
Location: 922 E. Emma Ave. Springdale. It's on the same property as The Jones Center, so the two share a parking lot.
How big is it? Huge, just under 3 acres. Though it is right next to two busy roads, it is completely fenced in.

Main features: Bicycle playground, skills course and a pump track, which at 25,000 square feet was the largest asphalt pump track in the U.S. when it was built in 2018 (Kinetic Park in St. Louis was built since then and is longer by 5,000 square feet.) Its name comes from its location, just north of the Springdale Municipal Airport, which means kids can watch planes taxi, land or take off from their front row (bicycle) seats.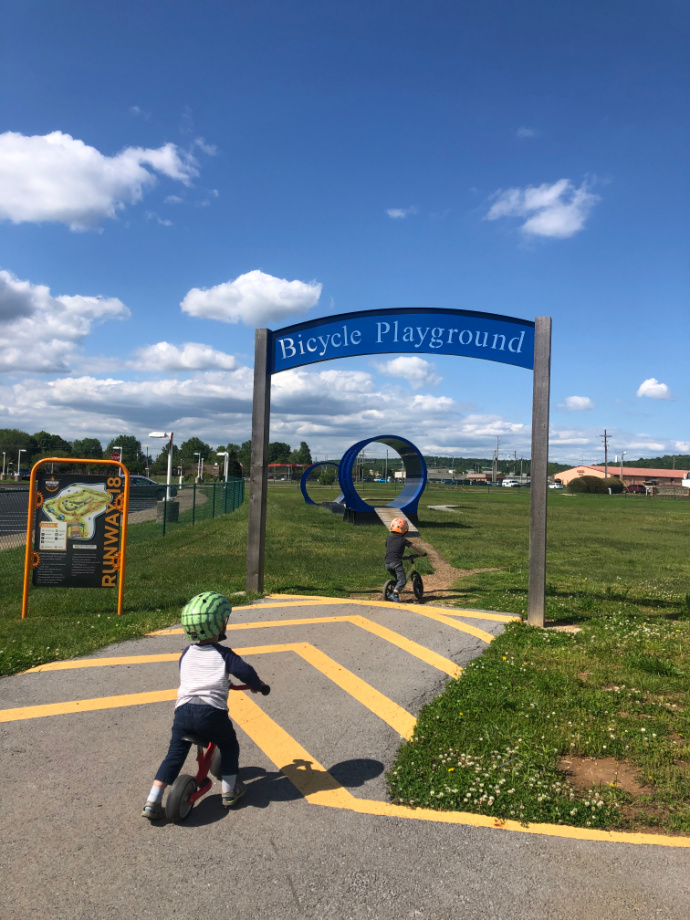 Stroller-friendly? Yes, to an extent. The entrance of the park that connects mainly to the pump track and the pavilion area is paved. But the tracks of the skills course are paved paths with boardwalk portions meant only for bicycles, so if you're headed to that area with a small baby and no backup person, I'd plan on bringing a baby carrier like an Ergo instead.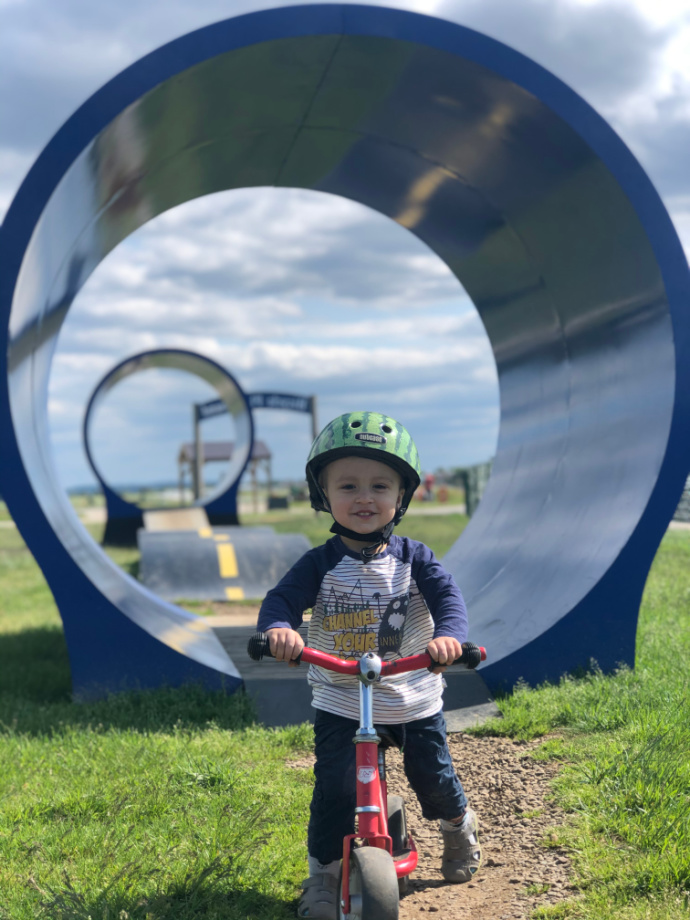 Covered areas for picnics? Runway has one covered structure with one picnic table under it, and it's in the center of the three features. This is such a high energy place that I never really plan for my boys to eat a meal there, though we have sat on the hatchback of our vehicle to snack after long hours of bike riding.
Shady areas? None. Bring your sunscreen and/or UV protective clothing. Also, helmets are required for entry!
Special needs features? None that I'm aware of.
Restrooms: The only restrooms here are inside the Jones Center, which are a bit of a hike from the park itself. To get there, you have to trek across the enormous parking lot (kind of like walking half a Walmart Supercenter's parking lot) and into the lobby. They are moderately clean, I usually see just some paper towels strewn here and there, and they do have changing tables, though I wouldn't count on the safety buckles working. It's enough work to get there that I usually plan our visit around potty times so that we don't have to go through the trouble.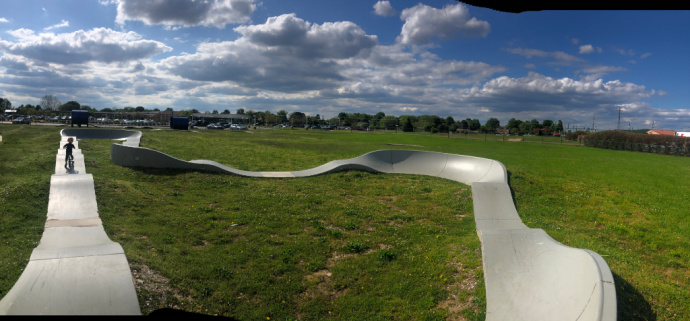 Notes from the Mom Park Correspondent:
My 2- and 3-year-old boys would live here if I'd let them. For real. What I love best about this park is that it feels like three parks in one. There's so much to experience that I get less pushback when it's time for us to leave because it feels like we've done so much.
We always start with the skills course. I think they love arriving at a starting point and having three choices (green circle, blue square, black diamond). They feel so big getting to choose which one they feel like doing that day. By now they are comfortable with all three paths, but I like how the park adopted ski symbols to show difficulty level. Each of these three paths will eventually take you under the army green helicopter. Even before Henry and Elliott were ready to go under the helicopter, which requires riding through a big dip, they absolutely loved to stand and admire it and walk around it.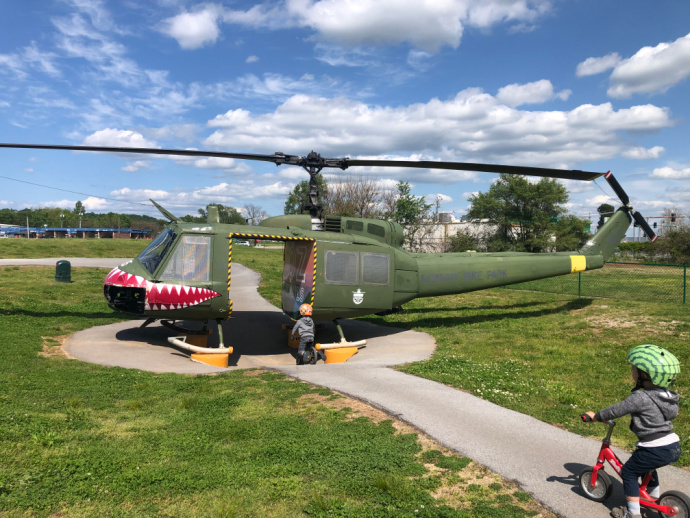 The pump track took some getting used to, but once my boys tried it, it became a non-negotiable part of our visit. Be aware that older kids and adults gravitate toward this part of the park. The way that it's built you can't always see them coming and they can't always see your tot until they're very close. If lots of big kids and teens are there, I like to take my little ones to the oval track. It's on the north side of the pump track and keeps them going in a circle out of everyone's way.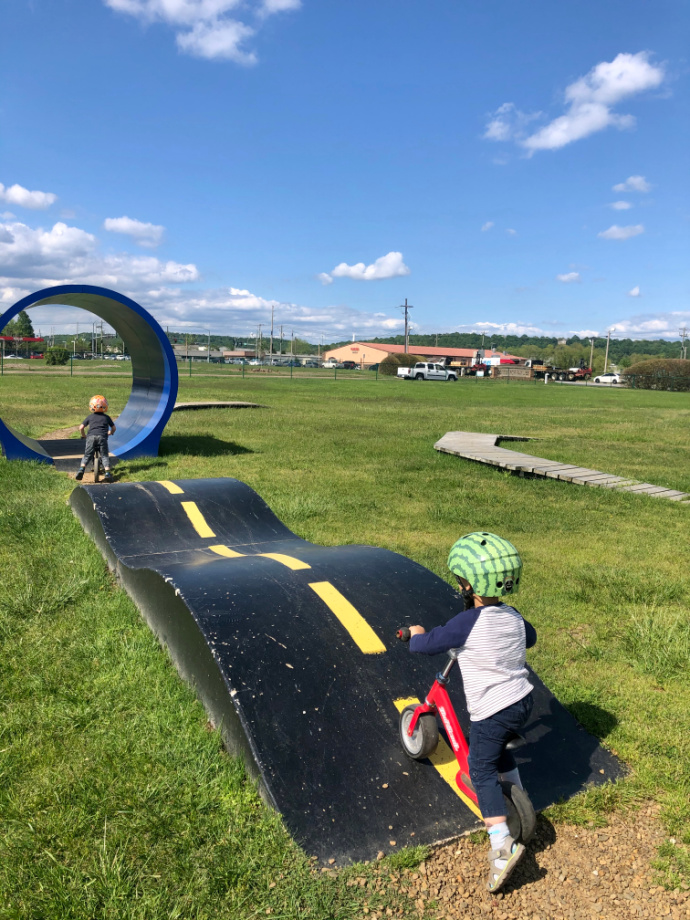 No trip is complete without riding through the tunnels of the bicycle playground. My boys love to stop for a game of peekaboo and some rampant yelling to test the acoustics. They enjoy the little gray concave course very much too. Unfortunately it doesn't take many kids for this one to feel overloaded, so I like to go there at non-peak times, or have my boys wait until the group ahead of us has moved on.
An unintended feature of this side of the park is that Henry and Elliott like to stop and do some vehicle watching or dandelion picking. If you visit this park after a good rain, just know there will be a few large puddles around (a.k.a. formal invitations to get messy). I've driven a couple of naked children home a time or two.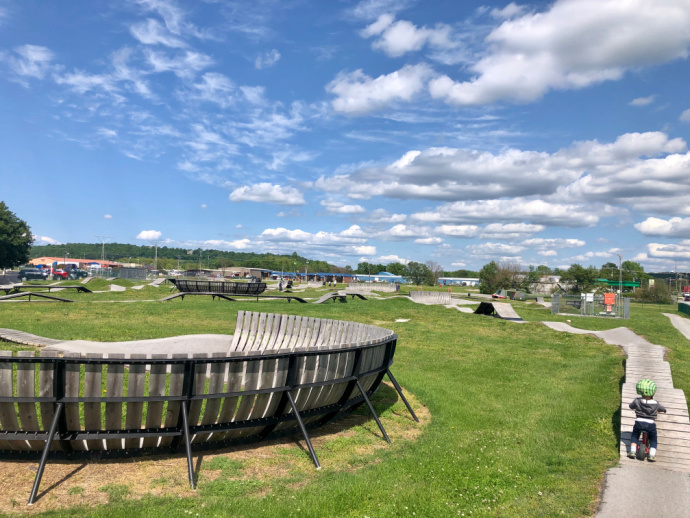 Here's some video footage taken at Runway Bike Park in Springdale, complete with a plane overhead that's coming in for a landing at the Springdale airport.
Click HERE to see a list of other reviews of parks in Northwest Arkansas.