Park Springs Park in Bentonville, Arkansas, reviewed by April Wallace, Early Childhood Editor for nwaMotherlode.com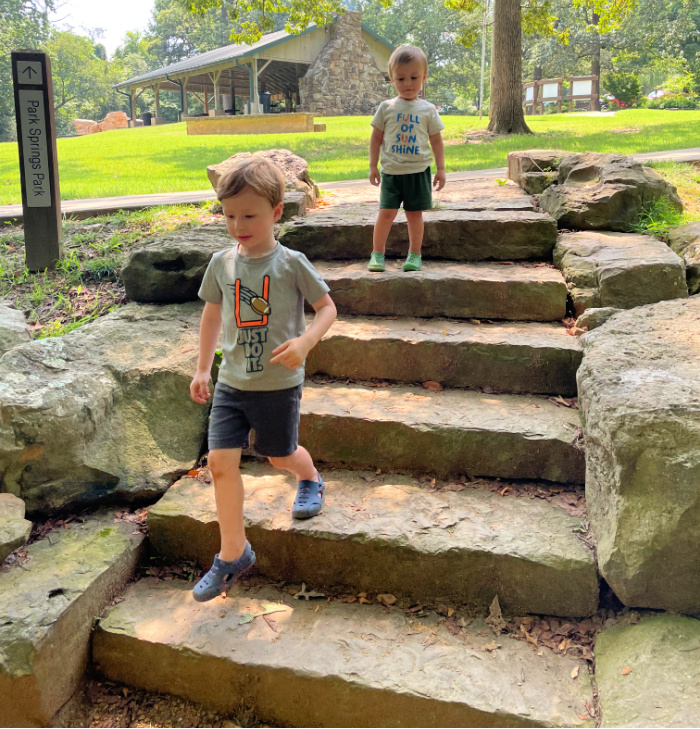 Park name: Park Springs Park
Location: 301 NW 10th St, Bentonville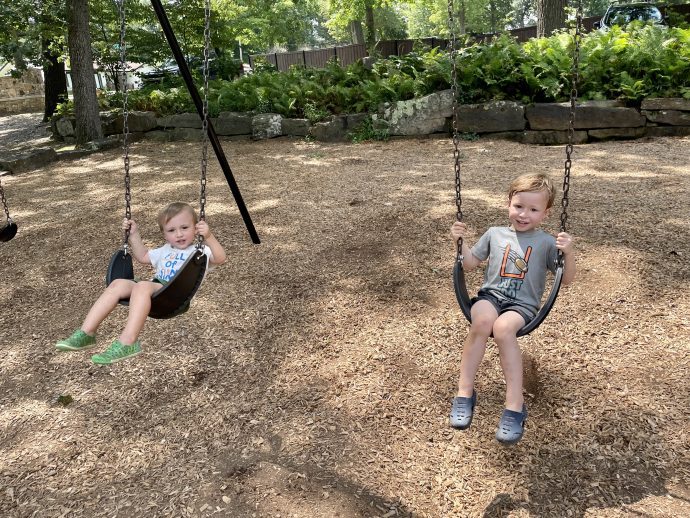 How big is it? The playground and pavilion area isn't too huge, but when you take in both trails and the arboretum, it's quite a bit.
Main features: Swings, natural play structure of stones to climb with "fossils" embedded, pavilion with picnic tables and fireplace, trails that lead to two natural springs and an arboretum
Stroller-friendly? Not really. There is one small paved path, but I would find it hard to maneuver to the real attractions with a stroller in tow. I'd recommend a baby carrier instead, especially if you plan to go on the trails.
Covered areas for picnics? One large pavilion with a number of picnic tables under it is next to the swings and natural playground.
Shady areas? The playground itself is not shaded, but the pavilion provides some relief from the sun, and both trails are heavily shaded by mature trees that make a beautiful, leafy canopy.
Special needs features? None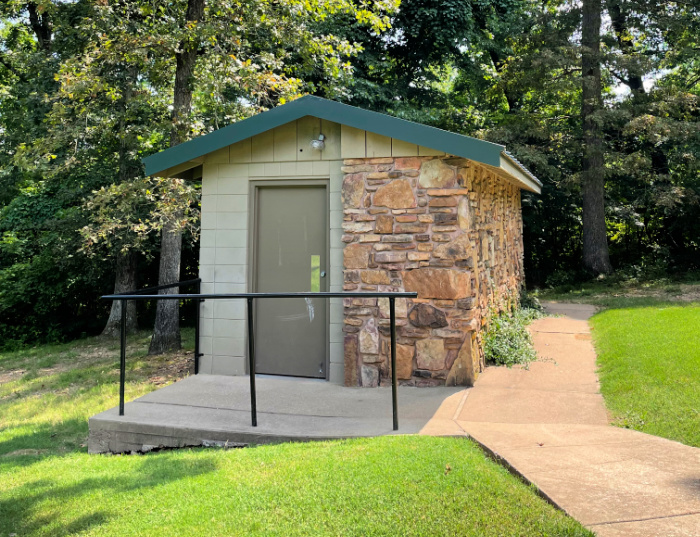 Restrooms: This was an odd one. The only structure I saw aside from the pavilion was this tiny little shed-like building with one door visible from the playground. It had no signs marking it as a restroom, and frankly when I pulled on the door I half expected it to be a maintenance closet. It turned out to be a single stall restroom, which was clean enough. It had no changing table, but plenty of space to lay a baby down while changing if you brought your own changing pad or blanket.
Notes from the Mom Park Correspondent:
Before visiting this park, I didn't know a thing about it, but the Bentonville Parks and Rec website tells me that Park Springs Park has been part of Bentonville since the 1890s. "Interest in building a park began when two therapeutic springs were discovered on the outskirts of town."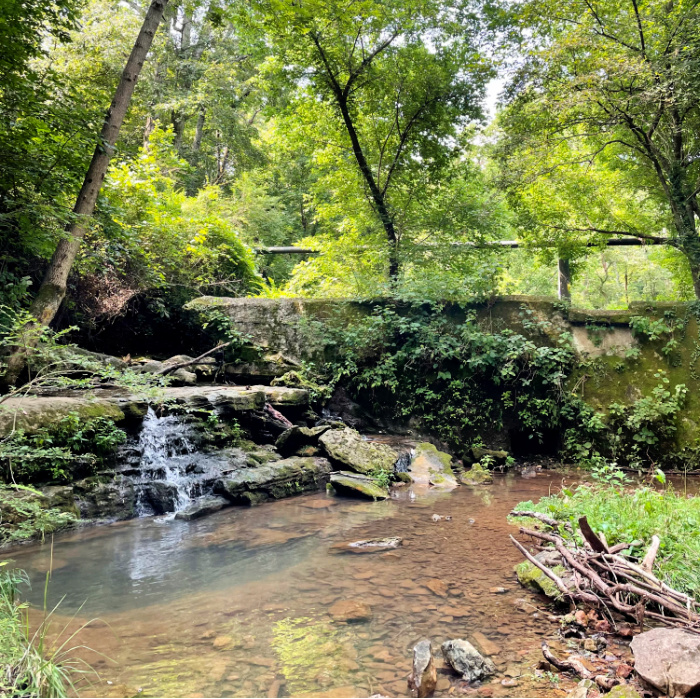 I made the mistake of thinking that an hour, more or less, would be enough to see this park. The photos I saw revealed the play equipment, which is not much, especially in comparison to many parks in the area. My boys did love the swings and trying to climb the large stones in the natural play area. They spent time studying them and identifying what animals the fossils were. But really, that part did not take much time.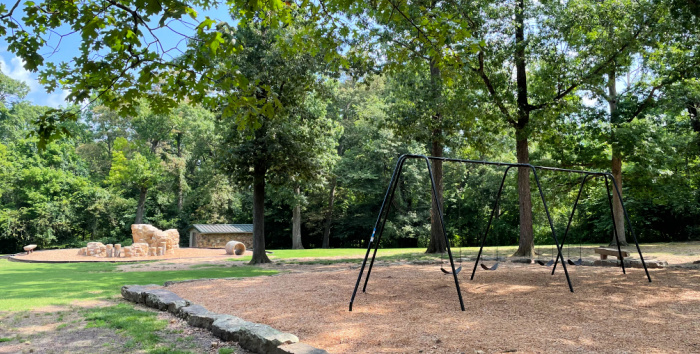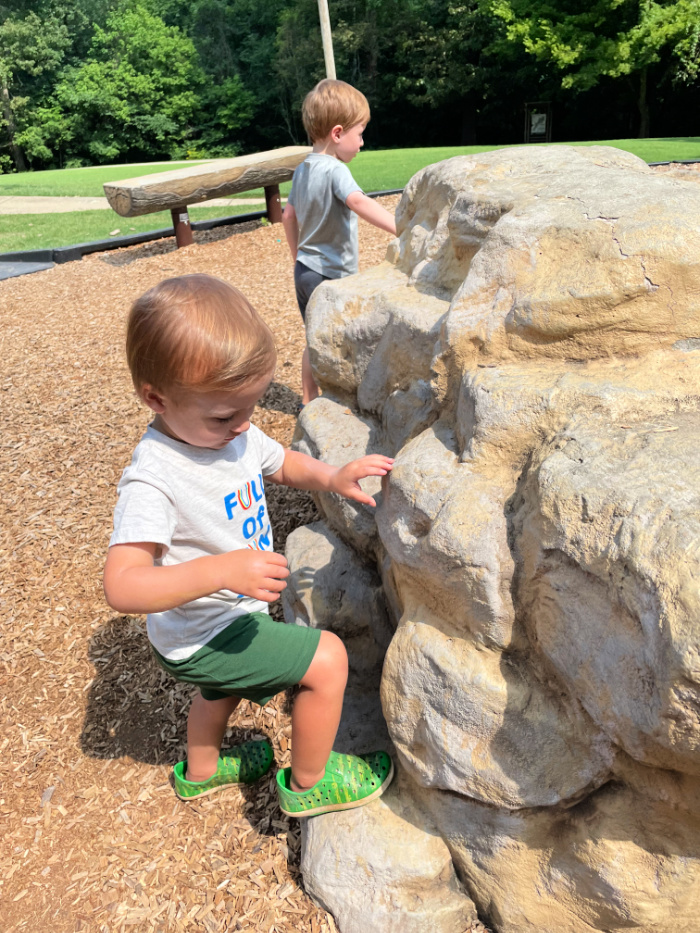 Once we got down to the trailhead we got sucked into the rabbit's hole. We hiked both trails to each natural spring, and I'm really glad we did. Each of them are gorgeous paths through the woods that lead to beautiful views in all directions.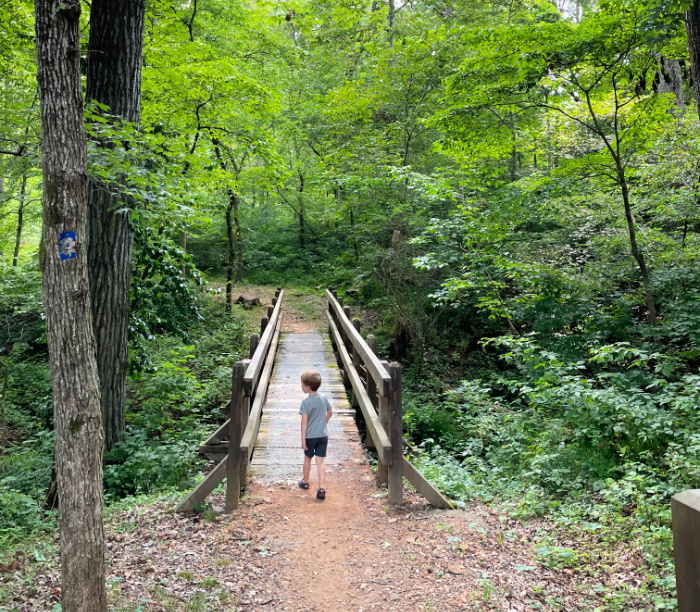 The trail that leads through the arboretum was the more intense of the two— a dirt path with stones and roots and all the things you'd expect on a nature trail. I had to constantly remind my preschooler to watch where he was stepping so we wouldn't have any trip-and-falls along steep areas, and we still had one or two. My toddler took one look at it and said "up," so into my arms he went. I felt justified carrying him especially while we crossed an old bridge and made sure to keep my 4-year-old close.
It was neat that some of the trees along this trail were labeled with their species, much like you would see at a botanical garden, and it was such a pleasant surprise to see little murals on the supports holding up a pipe through the woods.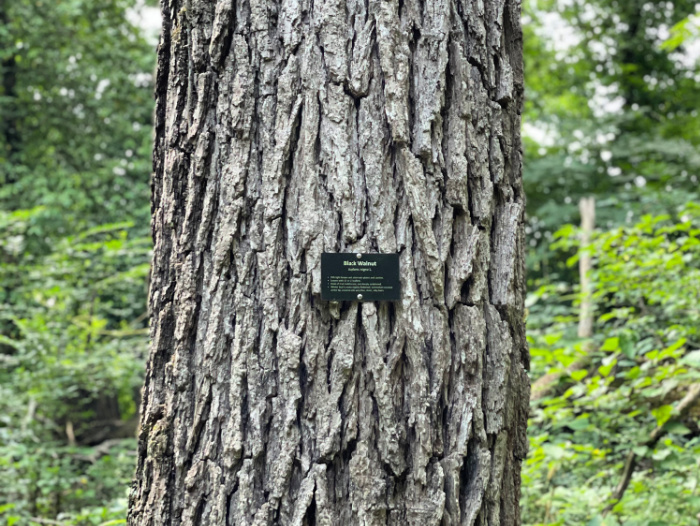 The natural spring on this path was only a quarter of a mile from the trailhead, and when we arrived I could see a sculpture that we passed on the way to the park entrance, so we were within a short walking distance from the road.
Both my boys had such a blast throwing rocks in the water that it was difficult to convince them to turn around and go back up the path.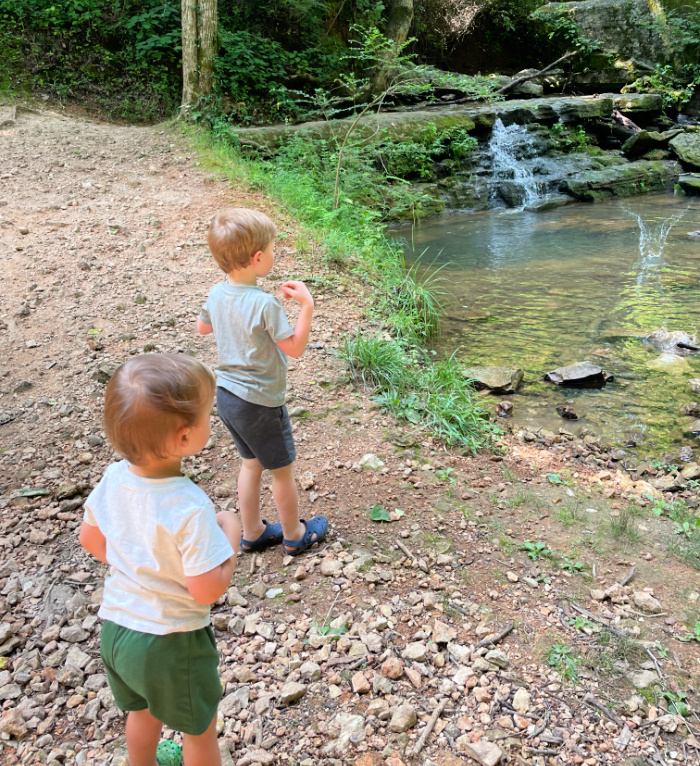 While we didn't see any wildlife on our visit, my mama senses were on full alert the whole hike, since I was sure we'd see at least one snake. With all the grown up vegetation, it's certainly a possibility!
The path to the natural spring on the west side was much shorter. When you start down the trail steps, you can see exactly where you're headed, which has a longer stretch of creek views. Both boys were able to walk down to the water by themselves, but I stayed close to my littlest one since the steps are a bit tall, have no railing and are made of stone.
We continued our rock throwing mission there, of course, and this mama will allot at least two hours for our Park Springs adventures next time! I may even bring swim clothes and a towel just in case we do a bit of splashing in the shallow water.