Luther George Park in Springdale, reviewed by April Wallace, Early Childhood Editor for nwaMotherlode.com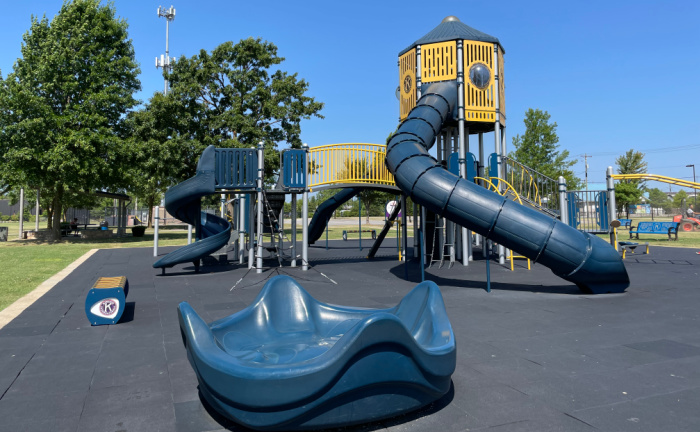 Park name: Luther George Grove Street Park
Location: 300 Park St. Springdale
How big is it? 10 acres!
Main features: 3 main play structures, 3 sets of swings, 2 merry-go-rounds (one with animals to ride, the other with wide, low and frankly safer seats), spring-loaded animal seats, several smaller play structures with wood-chip landing zones and a skate park with half-pipe, two quarter ramps and one centerpiece.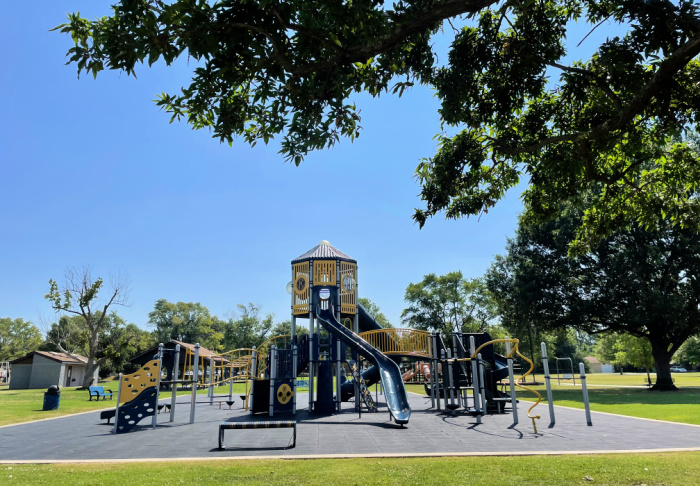 Stroller-friendly? A paved trail surrounds the park, and the main play structure has a flat, smooth tiled floor under it, but I wouldn't plan on bringing the stroller if you're trying to keep up with your bigger kids unless you're comfortable doing it with some distance. Most of the park is unpaved.
Covered areas for picnics? Two large pavilions and a couple of small structures shade picnic tables. Of the two pavilions, one shelters six picnic tables, while the other has four. Other picnic tables are near the beautiful, old trees on the lawn. Still more picnic tables (four or more) are next to the newest set of restrooms, although they aren't always in shade around lunchtime in the summer.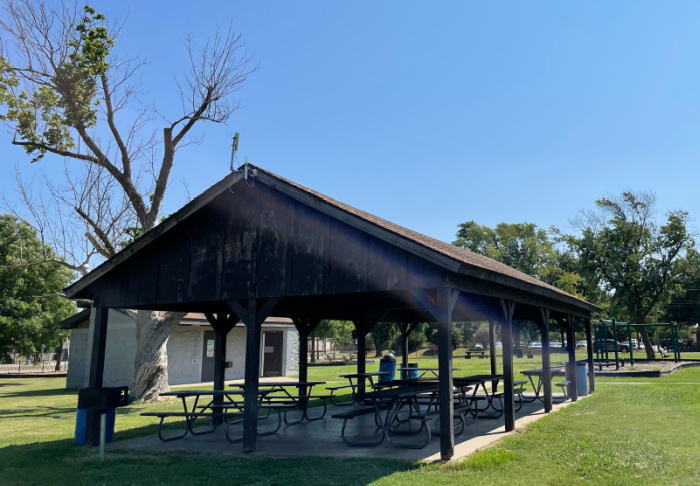 The pavilions are in between all the play structures, in the center of the park, and can be rented for $12.50 an hour, for a minimum of two hours. (Check with the Springdale Recreation Center at 1906 Cambridge St. for availability and rental.)
Shady areas? Luther George Grove Street Park was created in 1915 and the variety of mature trees on the property are evidence of its age. The trees line the edges of the property, along the quarter mile walking path and give off much needed shade.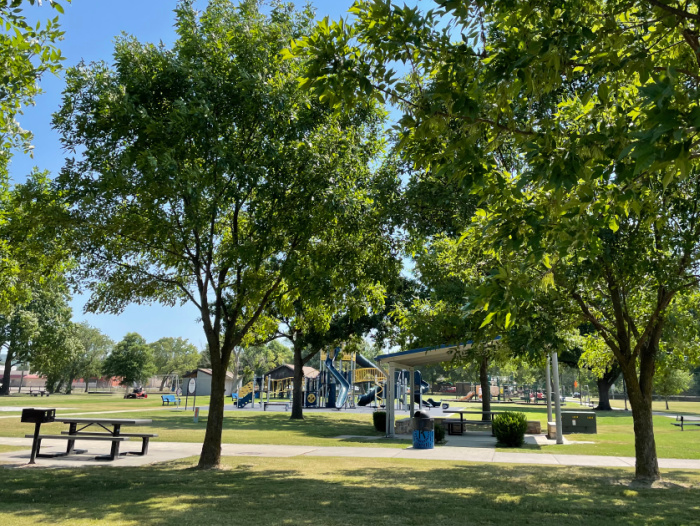 Special needs features? The newest swing set (the one in the center of the action) has two swings designed specifically for children with disabilities. They are the dark blue, chair-like ones with a tan brace that goes over the front of each, not unlike what you would see on a roller coaster. Children may not understand that these swings are the only equipment that some kids will be able to play on, so you may have to recognize this equipment yourself and encourage them to do other activities on the playground if the swings are in high demand that day.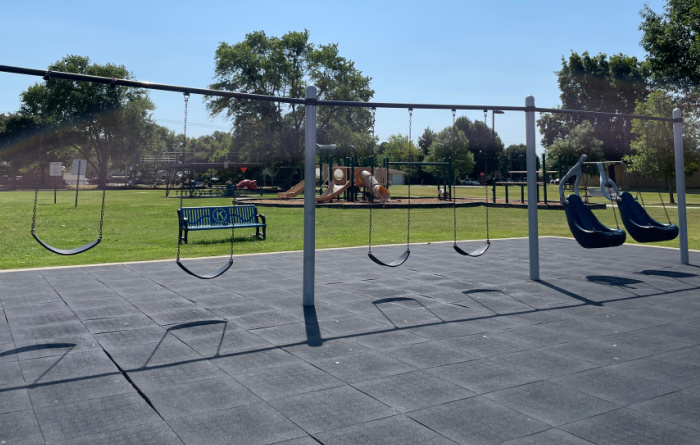 Restrooms: I have only ever been in the newest of the two restroom facilities. It has no changing table, and it doesn't strike me as particularly clean. It doesn't have trash lying around, but on our recent visit there were little puddles of water and the soap dispenser was broken off and unusable. I tend to avoid it, but it is near the biggest of the play structures and works fine. The older restroom facility is in the center of the park, among all the structures. I've not been brave enough to wander in just yet.
Notes from the Mom Park Correspondent:
We love this park for many reasons. At 106 years old, it's a fixture of downtown Springdale and our whole family has history with it—we used to bring my stepson to play here before our youngest boys were born.
When Jackson was 9 and 10 he was starting to outgrow playgrounds a bit, but he still enjoyed this one lots and still even got on the see-saws and merry-go-rounds. Then when he got into a skateboarding phase, my husband and I would grab our afternoon coffees and stand on the edge of its skate park, watching him while away the hours with his stunts and tricks.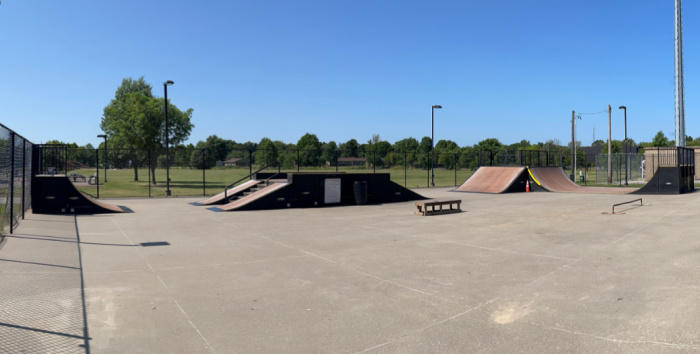 Now that my youngest boys go there to play, I've really appreciated this park for its versatility. We come here a lot because it can be used in so many ways, lending lots of different experiences and memories.
This summer Henry chose it as the site of his birthday party, where we picnicked and had hours of playtime with family. In the spring and fall especially we love to bring our bicycles and laze around the quarter mile trail, or saunter through the meadow that divides it from the Razorback Greenway and have a little ride after they've had their fill of playing on slides and such. This stretch of trail goes along the creek, where we can often see fish, turtles and a blue heron from the bridge. (Beware though, we've also seen snakes there!)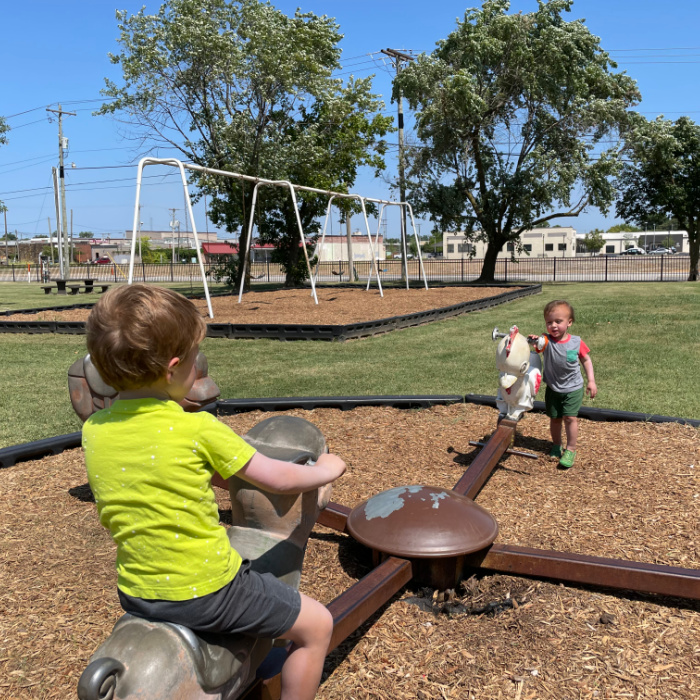 Both Henry (4) and Elliott (2) can spend oodles of time on the largest play structure, which I believe was added in 2015 as a part of a centennial celebration of the park, thanks to sponsors like Springdale Kiwanis, the Walton Family Foundation and many more. It has tons of things to climb, cross, slide and do. Some days when we come to Luther George, they spend all their time on only this structure. I like that it has enough space for several children to be on all at once because this is a popular spot, so it gives me some peace of mind that they're not crowding each other out while being so high off the ground. Speaking of, as a mama, I really like that it has soft tiles at the base just in case of any accidental falls.
Other days they get ambitious and want to do a little bit of everything, going from one play structure to the next, hitting up all the spring loaded animals and climbing all the things, which let me tell you, takes a minute. I usually allot no less than an hour and a half for a visit here, but it's so beloved that I have seen people use it as a quick lunchtime play session too.
Henry and Elliott seem to agree that the animal merry-go-round is the must-see attraction. We never leave without taking a few spins. Before they could climb very well, they delighted in scooting under the big red turtle and "riding" the T-rex.
They both love the animal seated see-saws even though the paint is wearing off and it doesn't work quite right. And the only equipment to give me pause is the tall double-slide structure at the far end of the park. It's old, enormous and even though it has railings, it just doesn't seem as safe to me as the more modern structures. Luckily there's so much to do here we often bypass it, but it's one thing I wouldn't let them do unattended.