Well, it was a tough call but the panel of judges has selected four finalists from the photos submitted in August. And here they are: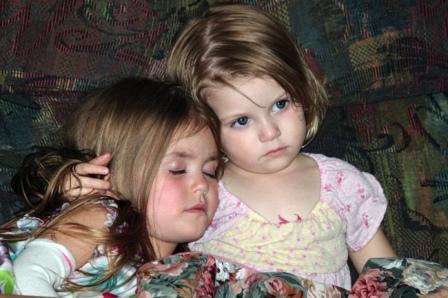 Sister comforting sister, who didn't feel so good that day… does it get any sweeter than that?
Just "hanging out" on a perch amongst the rocks…
There are actually two examples of "hanging out" in the photo above. The little boy is hanging out beside the blow-up pool in his yard, and the butterfly is hanging out on the boy!
It was too hot to hang out in the sun, so this smart baby chose to hang out and snooze in a sling next to mama!
Congrats to the four local moms who sent in the photos you see here! You're one step closer to the big grand prize, which is a free photo session with photographer Melinda Worthington of MJW Photography. (Click here to see examples of her work.) The winner will also get to choose a favorite shot from the photo session and will receive a huge wall print of that shot.
If you missed the articles published that announced photo finalists from the first two months of summer, click on the links below to check them out.
At the end of this month, we'll announce who the lucky grand prize winner is and display the winning snapshot. In the meantime, feel free to keep sending us cute pictures of your kids because we love to show them off in the photo gallery and in the Polaroid frame you see at the top of the page. Send snapshots to gwen@nwaMotherlode.com.
If you're interested in improving your photography skills, click over to the MJW Photography website and read about the classes she offers to moms with DLSR cameras who want to learn what all the buttons actually do! Shannon and I both took the class, and it is making a huge difference in the snapshots we're taking!