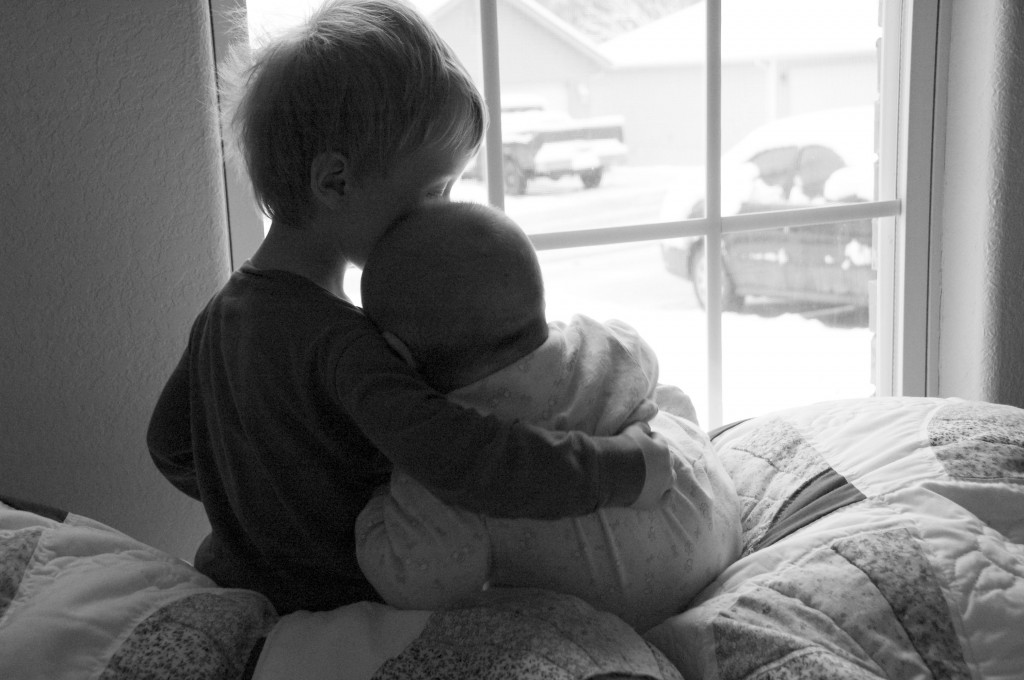 Congratulations to Jennifer Roberts! She snapped this photo of her little boy snuggled up next to his sweet baby brother, watching one of this winter's record snowfalls. This shot might have been snapped during freezing temperatures, but it sure does melt a mama's heart, doesn't it? Our panel of judges decided that this photo had the most emotional impact, so it has earned the grand prize — a  free photo session with Melinda Worthington of MJW Photography plus a huge 16×20 wall print of Jennifer's favorite shot from that photo session.
If your snapshot didn't snag the grand prize, we have some good news. You can get a photo session this spring with Melinda Worthington during one of her "spring mini-sessions". She's offering spring sessions this year to help benefit missionaries working for a charity called Thirst No More. So not only do you get great photos of your kids and help a wonderful charity, the cost is also tax deductible.
If you're interested, call asap because Mindy's photo sessions tend to book up quickly.
To schedule a mini-session with Mindy, you make a $200 tax-deductible donation to the Thirst No More house in Haiti. Here's what the mini-session includes:

Dates of mini-sessions: May 14th & 15th
Each photo shoot lasts 30 minutes and yields 15 final images in your gallery
You receive 1 high resolution image of your choice with unlimited printing
You receive 5% off any additional prints or products ordered

Call Mindy at 479-366-2702 to schedule a 30-minute time slot.
NEWS ABOUT PHOTO CLASSES:
You may remember that several months ago, nwaMotherlode hosted two photo classes taught by Melinda Worthington that were so popular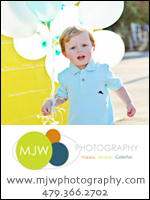 that they filled up in a matter of days. The photo classes are made up of small groups, and it's very "hands-on". That means Mindy will actually show you what all those buttons on your camera do, and you'll even learn how to shoot great pictures using manual settings instead of just "auto" mode. (Take it from someone who took the class — once you learn the secrets of manual settings, you'll never want to go back to "auto" mode.)
If you'd like more information on the photo classes, Mindy has a new website just for those interested in learning more about photography. It's called "Focus" by MJW Photography. Click HERE to check it out.
PHOTOSHOP AND PHOTOSHOP ELEMENTS CLASSES NOW AVAILABLE:
For those of you who have already taken Mindy's photo class or who are comfortable with the camera, you might be interested in her new Photoshop classes. She can teach you how to make a good shot even better using Photoshop. Click HERE for the details about the post-processing classes.