16 Thus says the LORD: "Stand in the ways and see, And ask for the old paths, where the good way is, And walk in it; Then you will find rest for your souls. But they said, 'We will not walk in it.'   ~ Jeremiah 6:16 (NKJV)
By Bro. John L. Cash, "Country Preacher Dad"
If you've been listening to the news lately, you've probably heard that last week was the 5th anniversary of Hurricane Katrina. My family and I will never forget those days because our lives were impacted by the storm. A recent report said that over 1,800 people lost their lives because of the storm and that over 300,000 were forced to relocate. You've seen the pictures, and the verdict is clear—Katrina was a tragedy that brought untold devastation and great suffering to the lives of so many. (Below is a photo of the twisted trees littering our backyard after the storm.)
We were fortunate enough to live far enough inland not to have our homes completely destroyed by the remnants of the storm. We didn't suffer like those who took a direct hit, but we were greatly
inconvenienced. For a time we were stranded at our rural home, unable to travel to town because of fallen trees that blocked all the roads and highways. When the roads were cleared, we didn't venture far away because we were unable to buy gasoline. We had to save what we had in our gas tanks in case of an emergency. For two weeks we lived in our house without running water, and for 3 weeks we did not have electricity—in the breeze less high heat and humidity of a Mississippi summer.
People around here often speak about the weeks following Hurricane Katrina. And surprisingly enough, most people have quite a few happy memories of the days following the disaster. No one could go anywhere, so we were forced to spend time with our family and friends. There was no electricity or cell phone service, so people weren't distracted by television, Facebook, or texting. Instead, we took time to visit.
In our family, our sons set up a tent in the backyard where they slept each night. They did this because it was cooler than sleeping inside the house. Our meals were picnics together, often eating sandwiches or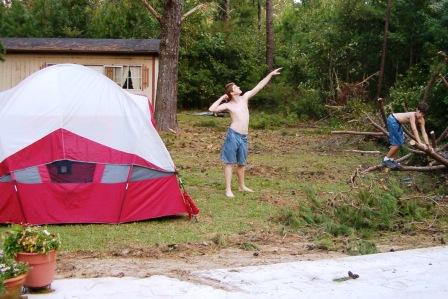 MRE's, like combat soldiers eat, courtesy of the National Guard (who kept us supplied in ice, drinking water, and food). When we felt exceptionally ambitious in the stifling heat, we fired up the grill and had a barbecue. Sometimes we'd read during the day until the daylight faded and we could no longer see. Each night we listened to our little radio that was powered by a crank on the back of the unit. When it ran out of "juice" after about a half-hour, somebody had to turn the crank for 2 minutes to recharge it. We played Scrabble by lantern light each night as we listened to music. A good time was had by all.
The majority of people braved the heat to go to church each Sunday, even though there was no air conditioning or amplification. People helped their neighbors. Most of the fallen trees were not cleared by professional road crews but by regular joes with chainsaws. When people got extra ice, water, or food, they shared it with neighbors—because you can't be rich alone. People slept soundly at night, even though the nights were muggy and there was no breeze. They slept soundly because they had worked hard during the day serving others.
It always surprises me when Susan or the boys reminisce about the good times we had in the days following the hurricane—days when we were bathing with a bucket of cold water. But I know what they're longing for. It's certainly not the tragedy or the inconvenience. What we're longing for is a time when everybody slows down to be together—time uninterrupted and undistracted by less important things.
Dear mamas, as we begin a new week, let's ask the Lord to help us to find ways that we can simplify and slow down. Let's ask God to open our eyes to the blessings amidst our difficulties—blessings that can draw us closer to Him and our families.

Dr. John L. Cash is the "Country Preacher Dad." He was raised in Stuttgart, Arkansas, and has spent the last 25 years being a country preacher in the piney woods five miles south of the little town of Hickory, Mississippi. (On week days he works at a public school.) He and his lovely wife, Susan, and his sons, Spencer (age 19) and Seth (age 16) live in the parsonage next door to the Antioch Christian Church (where the Preacher's wife made her sons saw off three tree limbs every day after Katrina—so they would sleep at night. See below.) He would love to hear from you in an email sent to extramailbox@juno.com.