By Melinda Worthington, owner MJW Photography
So you like to take pictures of your kids and want to know some good places?  Want to know all my secret places?  Well, sorry to disappoint you, but I don't have any 'secret' places.  No, I take pictures everywhere and anywhere from a yard to a park…even on the occasional boat.
Sometimes places that are so beautiful are often harder to take pictures at because it just distracts from your subject.  I am a faces photographer.  What that means is that I'm more concerned about your lovely expressions than where we are.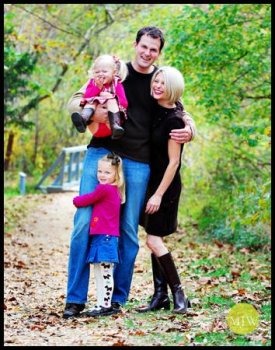 Take the above picture for instance.  This was shot at Tanyard Creek in Bella Vista at the beginning of the trail.  You can just make out the beginning of the light blue bridge behind them, but that isn't what you notice first is it?  This picture is one of my favorites because they are all snuggled together and cracking up with giggles.  It is very much who they are.
A lot of the time I shoot on a client's own property.  That may mean inside their home or on their land.  Anywhere outside that you can find some open shade will give you beautiful light.  Getting out of that bright mid-day sun is half the battle.
For the little ones (standing up through 6 yrs) I find that playgrounds are wonderful.  Not only do you get tons of interesting color, but your kids get to play.  When I shoot a session at a playground — depending on the age of a child — I may guide them to different areas of the playground, but then I just let them play and I follow.
When they don't feel like they are being forced to be still and pay attention the whole time, kids really enjoy having their picture taken.  These pictures below were taken at two different parks, but any park will do.  The park by Bentonville square is where the beauty on the left is from.  She is actually just beginning to climb up the steps to hit the slide.  Love her look of curiosity!  The totally squeezable man on the right was taken at the Highland Knolls subdivision playground on Pleasant Grove.  I love those wrought iron fences.  That park has fun, colorful play equipment as well.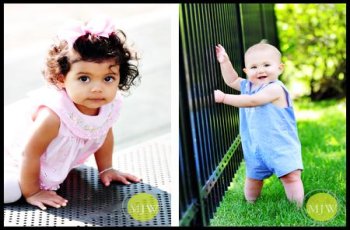 I'm always looking for new places when I'm out driving around.  I look for things that I can use, not necessarily a place.  The next picture was taken by Memorial Park in Bentonville.  It's just a simple chain link fence at the outskirts of the park, but really adds interest to the shot.  Imagine this picture for just a second without that fence…kind of boring huh?  My two favorite things are texture and color when finding new spots.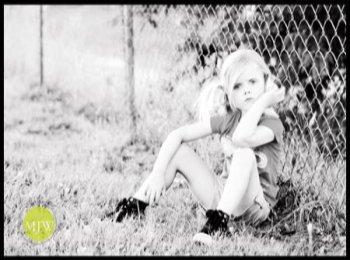 Now, I know that you're probably not going to drag your furniture outside to take a picture (though there will be that one courageous soul that will), but I want you to look at this last picture.  Just a reminder that it is you, your children, your family that make any picture you snap great — not where it's taken.  This family is a musical family.  It was taken on a simple plot of land, nothing fancy.  Yes, we have a piano outside…but would this picture be half as beautiful if they weren't all interacting and dancing, smiling?  I doubt it.  This beautiful family made this picture.  The rest was just bonus.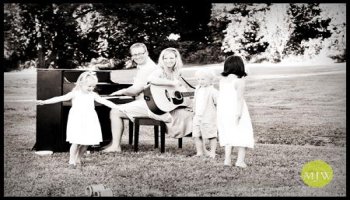 Let's get back to basics.  Remember why it is we are always snapping pictures of our children doing everything.  It is because we want the memory.  We want to remember forever how lovely our children are.  So when you start to take those pictures take a deep breath and remember that this is FUN!  🙂