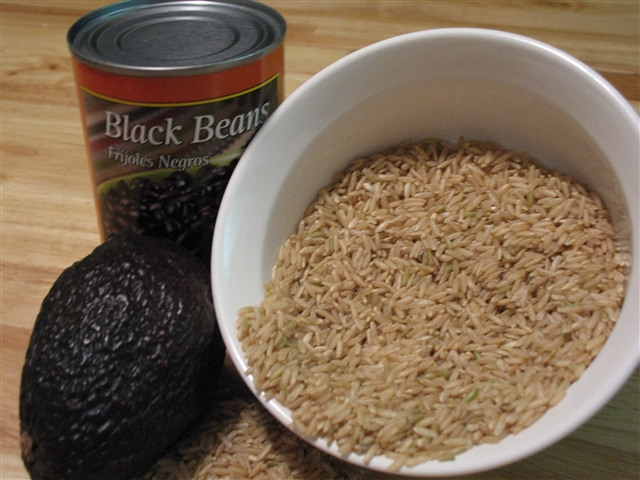 By Rhonda Franz, nwaMotherlode contributor
Consistently providing healthy meals for a family can be challenging. As moms, we have to multi-task. Why not expect the same from our food? Enjoy experimenting with these super healthy foods that can be used in a variety of ways.
Brown Rice
Brown rice is a whole grain that contains fiber, magnesium, iron, and vitamin B. When cooked, it can be used a number of ways.
Rice & Soup
* Make soups such as chicken noodle and vegetable thicker, easier and less messy for toddlers to eat by pouring it over, or mixing it with cooked rice.
Wrap
* Add a spoonful of brown rice to a flour tortilla along with 1/8 cup sliced veggies and/or 1/8 cup cooked chicken leftovers and roll to make a wrap
Breakfast
* Warm rice in a bowl. Add milk and a teaspoon of sugar and eat like cereal.
Avocados
Technically a fruit, avocados provide healthy amounts of potassium, vitamin K, and oleic acid (a monounsaturated fat – the good kind). Though not everyone fancies the taste, there are ways to add small amounts in foods.
Side dish
* If you and yours like guacamole, make it easily with store-bought or homemade salsa (also a healthy choice). Use 2-3 tablespoons of salsa per avocado and mash together with a fork.
* Chop up and add to lettuce salads, taco salads, and bean salad.
Main meal
* Mix with taco meat and cheese just before putting in taco shells
Snack
* Slice thin pieces or scoop out of the shell and place on multi-grain baked crackers with a slice of cheese
For babies
* When your baby is ready, fresh avocado is easily mashed with a fork – no cooking required. This is the best time to get your little one used to the taste and texture.
Leftover Chicken
Who doesn't need ideas for the ever-present, protein-filled, low-fat leftover chicken?
Boiled chicken sandwich
This chicken sandwich can be made with plain chicken, or those last bits of chicken casserole. Simply adjust ingredients as needed to suite your taste.
Cut up chicken in small pieces and reheat thoroughly in on stove top with a little water.
* Place about ¼ cup of the reheated chicken on a slice of toasted bread.
* Add mayo, a little mustard, pickles or relish, a dash of salt (if needed) and top with another slice of toast.
Chicken tortilla
* Place a small spoonful of reheated chicken in a warmed corn tortilla with a little salsa and shredded cheese.
Black Beans
Black beans are an excellent source of dietary fiber and are chock full of other nutrients including folate, iron, and phosphorus.
Spread/Appetizer/Snack
* Mix cooked black beans in your food processor, or mash by hand with a potato masher along with a little olive oil, salt, and grated cheddar or Mexican cheese. Spread on pita chips or crackers.
Salad
* Add cooked black beans to vegetable soups and taco salads
Black Bean Tacos- a tasty, healthy alternative to beef tacos.
Here's the recipe:
Drain one can of cooked black beans, reserving the liquid.
In a saucepan or skillet, sauté ½ cup chopped onion and two chopped or minced garlic cloves.
Add the black beans (without the liquid) and stir.
Add approximately 1 tsp salt and 1 tsp pepper. Keep the mixture at a medium-low heat.
Add approximately 2 tablespoons of the following herbs and spices to the bean mixture: chopped oregano, cilantro, chili powder, ground cumin.
Add one dash of cayenne (red pepper), more if you like your tacos spicy.
Mix the ingredients. (I mash some of the beans with a potato masher to help blend in all the spices).
Put a lid on the pan and heat on stove for about 10-12 minutes.
Pour in a little of the reserved black bean liquid – a few tablespoons at a time every few minutes. This helps keep the bean mixture moist, though you may not need to use it all.
Spoon the bean mixture into warmed taco shells.
Top with lettuce, cheese, tomatoes, avocado, or your favorite taco fixins.
* Black beans, like potatoes, are very dense. If the mixture is too bland for your tastes, double the herbs and spices or experiment with different amounts of each. I use at least 3 tablespoons of cumin when I make these tacos. It adds a lot of flavor without necessarily adding too much "hot" spice.
Dip
Refrigerate any leftover bean mixture. Mix with a little water or olive oil and reheat for a warm dip for tortilla chips.
Rhonda Franz lives in the woods with her family and blogs at http://coffeehousemom.wordpress.com. In preparation for this article, she fed her baby mashed avocado. He loved it. Now, if only she could grow it in Arkansas.