If you're trying to cut carbohydrates as part of a New Year's resolution, here are a few recipes from Better Homes and Gardens Biggest Book of Low-Carb Recipes to try. All of the recipes in this cookbook have 10 grams net carbs or fewer. The following have six grams each:
Hot & Sour Soup (4 servings, 6 g carb):
4 ounces fresh shiitake mushrooms, stems removed and caps thinly sliced
2 cloves garlic, minced
2 tsp peanut oil or cooking oil
2 14-ounce cans reduced-sodium chicken broth
2 T white vinegar or seasoned rice vinegar
2 T reduced-sodium soy sauce
1/2 tsp crushed red pepper or 1 tsp chile oil
1 cup shredded cooked chicken (about 5 ounces)
2 cups packaged shredded cabbage with carrot (coleslaw mix) or shredded napa cabbage
2 T cold water
2 T unbleached unbleached all-purpose flour
1 tsp toasted sesame oil
Sliced green onions (optional)
1. In a large saucepan cook mushrooms and garlic in hot oil for 4 minutes, stirring occasionally. Stir in broth, vinegar, soy sauce and red pepper; bring to boiling. Stir in chicken and coleslaw mix. Return to boiling; reduce heat. Simmer, uncovered, for 5 minutes.
2. In a small bowl stir together the cold water and flour. Stir into soup; simmer about 2 minutes or until slightly thickened. Remove from heat; stir in sesame oil. If desired, sprinkle with sliced green onions.
Cheesy Meatloaf (4 servings, 6 g carb):
1 slightly beaten egg
3/4 cup soft rye bread crumbs (1 slice)
3/4 cup shredded provolone or mozzarella cheese (3 ounces)
3 T beer, milk or water
2 T purchased basil pesto
1/4 tsp ground nutmeg
1/4 tsp black pepper
1 pound lean ground beef
Sliced provolone or mozz. cheese (optional)
1. In a large bowl stir together egg, bread crumbs, cheese, beer, pesto, nutmeg and pepper. Add ground beef; mix well. Form into a loaf; place in an 8 X 4 X 3-inch loaf pan.
2. Bake in a 350-degree oven for 45 to 50 minutes or until meat is done (160 F)
3. Transfer loaf to a platter. If desired, diagonally halve slices of provolone cheese. Place three cheese triangles on top of meat loaf. Let stand for 5 minutes before slicing.
Strawberry-Lime Ice (8 servings, 6 g net carb):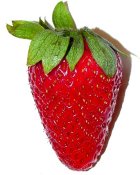 1 16-ounce package frozen unsweetened whole strawberries, thawed
1/2 cup water
1/4 cup lime juice
Sugar substitute to equal 1/2 cup sugar
1. In a blender or food processor, combine strawberries, water, lime juice, and sugar substitute. Cover and blend or process until smooth. Transfer mixture to a freezer container. Cover and freeze for 4 hours or until firm.
2. To serve, let stand at room temperature for 15 minutes. Use a large metal spoon or ice cream scoop to scrape ice into dessert dishes.