Editor's note: A few weeks ago, we asked Motherlode contributor Rhonda Franz to write a series of articles about "back pocket" recipes — you know the ones we all keep handy for those times when we need a dish that's a "sure bet" and always pleases the people who eat it. This is the second article in the "back pocket" series. You can see the others by clicking here or on the Mealtime Mama category on the right. If you have a great back pocket recipe you'd like to share with your fellow moms, e-mail us at mamas@nwaMotherlode.com.
By Rhonda Franz, nwaMotherlode contributor
Pat Prinsloo lives in Rogers and has called Northwest Arkansas home for 30 years. She is the mother of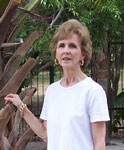 three grown children and always enjoyed cooking for others and for herself. Every year, when strawberries are in season, she loves to bake one of her favorite things: strawberry pie. Here's the recipe she has been using for 30 years!
French Strawberry Glace' Pie
Ingredients:
   1 quart fresh strawberries
   1 baked pie shell
   3 c water
   1 c sugar
   3 tablespoons cornstarch
   3-4 oz. cream cheese (optional)
Directions
1. Wash and hull l qt. strawberries
2, Simmer together 3 min: 1 cup berries, 2/3 cup water 3. Blend sugar, cornstarch, and 1/3 cup water. Add to simmering mixture. Boil one minute, then cool.
4. If desired, spread 3-4 oz. cream cheese in bottom of baked pie shell.
5. Pour strawberries in pie shell, reserving a few.
6. Cover with cooked mixture and garnish with reserved strawberries.
7. Refrigerate at least 2 hours. Serve with sweetened whipped cream. Enjoy!
Having spent several years living in South Africa with her family, Pat also picked up a few things in that part of the world that continue to influence some of the dishes she makes now. She writes about some of her experiences at atouchofafrica-pat.blogspot.com.
Pat reads a lot, and has an adventurous streak that surfaces every now and then. Her latest feats include parasailing, white water rafting, and floating the Buffalo River.
Rather than the traditional helping of potatoes, Pat often makes polenta as a side to chicken or steak meals and sometimes as a main dish. It's also a good alternative to pasta. She says it is best mixed with a good sauce (she likes an Italian-type meat sauce) for a delicious comfort food.
Polenta
Ingredients
2 cups broth
2 cups water
2 cups cornmeal
¼ cup butter
¼ cup parmesan cheese
2 cloves garlic, minced or chopped
Directions
Combine broth and water in a pan.
Bring to boil on the stove top.
Gradually add cornmeal, stirring vigorously.
Take pan off heat.
Stir with a whisk until mixture is fairly smooth.
Reduce heat, set pan back on the burner and simmer 20-30 minutes
Add butter, parmesan cheese and garlic. Mix well.
Rhonda Franz enjoys trying out new recipes but has never made polenta. By the time this piece is published, she hopes to have introduced it as a new dish to her family.
Too busy to cook tonight? No worries. Cuisines Gourmet To Go, which sponsors this feature, has great take-home evening meals that are ready to heat. We've tried them and they are awesome! Love their daily lunch specials, too. Call 479-631-2900 for more info or to order a meal!