We recently asked moms on our Facebook page to share the one dish that the whole family LOVES (and sings her praises over!) but is actually pretty easy.
DeeAnn Littrell said her cornbread salad is definitely that dish. We thought you might like the recipe, too. (We've  never heard of cornbread salad before!)
Here's her recipe:
Cornbread Salad
Make 2 boxes jiffy corn bread, prepared according to box. Set aside.
In a bowl, chop 2 bell peppers, 1 whole bundle of green onions. Set aside.
—
In a separate bowl, open, rinse, drain and combine …
1 can black beans
1 can chili beans
1 can light red kidney beans
1 can whole kernel corn
Set aside
—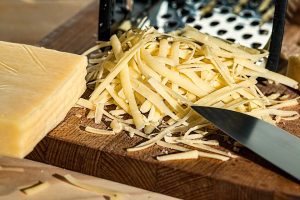 1 lb bacon cooked and crumbled… save for the top.
2 tomatoes diced.
1-2 cups shredded Colby Jack cheese.
—
1 package Hidden Valley Ranch dressing mix
1 cup mayo
24oz sour cream
—
1 disposable lasagna pan
—-
1. Half the corn bread and crumble in the bottom of your pan.
2. Place half of the bean mixture across the crumbled cornbread,
3. Next a layer of the chopped onion & green peppers.
4. Mix sour cream & mayo plus 1 pk hidden valley ranch dressing mix. Place half across the top…
5. Put down half of shredded Colby cheese.
6. Repeat steps.
Crumbled cornbread, beans, onions, dressing & cheese.
7. Top with crumbled bacon an chopped tomatoes.
.. Enjoy!