Mamas, here's an easy recipe that will put a little Southwestern spice into your week. Our thanks to Helen, founder of My Brother's Salsa, for the recipe and how-to video.
Ingredients:
4 Tostada Shells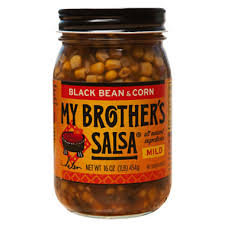 1 1/2 cups grilled chicken, cubed
1 1/2 cup Romaine Lettuce, chopped
1 cup My Brother's Black Bean & Corn Salsa
1/3 cup Caesar Salad Dressing
1 avocado, diced
Parmesan cheese, freshly grated
Directions:
In mixing bowl, combine the cubed chicken, lettuce, My Brother's Black Bean & Corn Salsa and avocado. Toss with Caesar salad dressing.
Make a beautiful mound on a tostada shell and garnish with freshly grated Parmesan cheese.
For more of Helen's great recipes, click HERE.