Remember when we told you the Rogers Public Library Foundation and The Friends of the Rogers Public Library  are hosting "high tea" with New York Times best-selling historical romance author Eloisa James?
Well, two of our readers get to attend for FREE! And you'll each get an Eloisa James book, too! It's going to be such a fun event. I mean, everyone's invited to wear big hats or fascinators, so we're pretty sure it will be like attending the royal wedding, right? 
The "Conversations" event will be on Saturday, Sept. 22nd, at John Q. Hammons Convention Center in Rogers from 4-6 p.m.  Tickets are $40 and the price includes a copy of Eloisa's latest book, which hit shelves earlier this month, called Born to be Wilde. Oh, and it also includes delicious and delectable pastries, sandwiches and tea.
Gwen and I will be there and we can't wait!
Click here to find out more and to grab a ticket if you don't want to take any chances!
ABOUT ELOISA:
After graduating from Harvard University, she earned an M.Phil. from Oxford University, a Ph.D. from Yale and eventually became a Shakespeare professor, publishing an academic book with Oxford University Press. She continues to teach at Fordham University and write books.
Eloisa's "double life" fascinates people. With degrees from Harvard, Oxford, and Yale, she's an acknowledged expert on almost every era of literature, from the Elizabethan Era to modern pop culture reads. In that capacity, she speaks to a wide variety of audiences, whether it be in front of a classroom, to media, to academics as part of the plenary panel at the Shakespeare Association of America conference, or to fellow authors, booksellers, librarians and readers as the keynote address at the Romance Writers of America convention.
Eloisa's latest book is in the "Wilde" series. This is what she said about these books on her website (and you can get a feel for her sense of humor in the description!):
"The Wildes of Lindow Castle follows the large, eccentric family of the Duke of Lindow, who live in a castle on the edge of a sprawling bog. You might think of the series as a cross between Modern Family and Downton Abbey. It's set in the Georgian period, when people wore big wigs and bigger skirts. England at this time saw the first real true blossoming of celebrity culture, driven largely by the printing press. Etchings of the Wildes travel throughout England on tinkers' carts, and are collected by everyone from dairymaids to duchesses."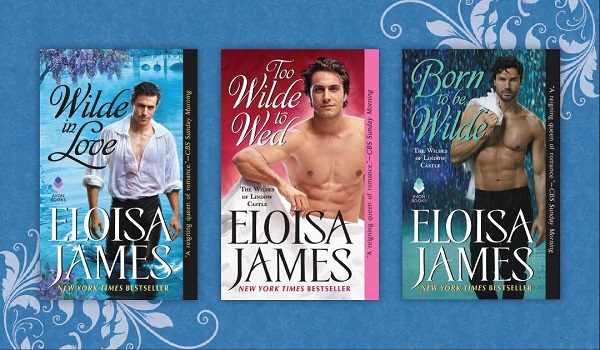 HOW TO ENTER:
If you'd love to win the 2 tickets to attend "Conversations" at John Q. Hammons, scroll down to the bottom of this post (and past the comments posted by other moms) until you see the words "Leave a Reply."
Then write a quick comment telling us about one of your favorite book characters — or tell us the name of a great book you've read recently. We're always looking for new reading material 🙂
You can also email your answer to us at giveaways@nwaMotherlode.com.
INCREASE YOUR ODDS OF WINNING:
Help us spread the word about this giveaway by emailing your friends and family about the giveaway. We'll give you an extra chance to win for every person you tell. Just be sure to put giveaways@nwaMotherlode.com on the CC line of your note so we can give you proper credit.
Our newsletter subscribers get access to the good stuff, including exclusive giveaways, information about local events, local mom interviews, recipes and more.
It's delivered straight to your inbox so you don't miss anything awesome. CLICK HERE to sign up. We won't fill your inbox with info, no worries. We only send out newsletters when there's something in it for you — and we know you'll be interested in hearing about it.

BE SOCIAL:
You can also earn extra chances to win by commenting on our Facebook page, following us on Twitter or following us on Pinterest. If you do any of those, just mention it in your comment or email so we can give you proper credit.
Good luck, fascinator mamas! We'll choose a winner on Friday afternoon, so watch your inbox! And remember, the Rogers Public Library Foundation is a non-profit organization with the mission to support and fund programming for the Rogers Public Library. When you buy a ticket to this event, you're not only gaining access to a fabulous afternoon, you're also helping a great Northwest Arkansas library.
CLICK HERE to get your ticket to attend Conversations with Eloisa James.