Note from the mamas: Congratulations to Angela Goodman, winner of Drumline tickets and dinner on Dickson!
Calling all my fellow band geeks! This is the show for us! (If you weren't a band geek but love good music and dancing, you should keep reading,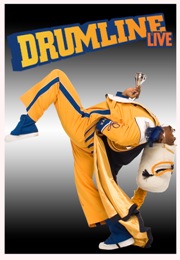 too.) This week we're giving away two tickets to see the show Drumline at the Walton Arts Center on January 29th at 8 p.m. This show came to the Walton Arts Center in 2009 and was so popular that they've brought it back. It was created by the same music team behind the hit movie "Drumline" which you may have seen on television. It brings the traditions of the American Marching Band to the theatrical stage.
If your kids are in band or your kids or husband likes to play the "air drums" when the radio is on, this is a show they will LOVE. It's very high-energy and includes speed, precision, choreography and popular music everyone will recognize. The show will run for about two hours.
As always, we like to send our ticket winners to the theater on a full stomach. So our friends at U.S. Pizza on Dickson Street have offered to drum up some dinner for you first. The ticket winner will get a gift certificate to have dinner before the show, which means you'll find out why some people won't have pizza anywhere but U.S. Pizza. There's something about the famous crust and sauce that has created a very loyal fan base of customers over the years. Their salads and sandwiches are amazing, too. Click here  or on the logo below to see their menu.
HOW TO ENTER: If you or your husband are former band members like me, (or you have kids in band), throw your name in the hat for this random drawing by clicking the "comment" button below and giving a shout-out to the band you were in and what instrument you played. If you weren't in band, then tell us what you love about drums or band music. I'll go first. I was in the Stuttgart High School Marching Band, where I played the clarinet and twirled a baton. (Go Birds!) And then I was in the Razorback Marching Band during college where I twirled baton with my fellow majorettes. (Go Hogs!) Now, it's your turn!
You can also email your entry to us at giveaways@nwaMotherlode.com.
HOW TO INCREASE YOUR ODDS: To increase your odds of winning the tickets and pizza, email your friends and family about this giveaway and be sure to put giveaways@nwaMotherlode.com on the CC line of your note. We'll give you an extra chance to win for every friend you tell.
Good luck! We'll pick a winner at random on Friday and send an email to the lucky mama!
To purchase tickets for Drumline, call 479-443-5600 or click here to order online. Be sure to tell the box office that you read about it here on nwaMotherlode!