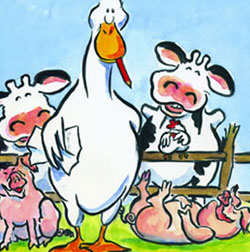 Do you know somebody short who loves to laugh? Well, this giveaway is sure to turn over their giggle box!
We're giving away two tickets to see Giggle, Giggle, Quack at Walton Arts Center on October 17th at 2 p.m. This giveaway package also includes lunch at Kosmos Greekafe on Dickson Street, just steps away from the theater. It's the perfect family outing for those of you with kids who love to see their favorite books come to life on stage.
Last year, I volunteered now and then to read picture books to my son's kindergarten class. The book Giggle, Giggle, Quack was one of their favorites, so rest assured this production is kid-approved.
About the show: The award-winning Dallas Children's Theater brings to life this funny and colorful musical based on a popular barnyard book series by Doreen Cronin.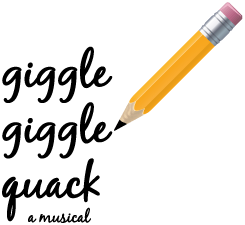 Children will recognize themes of cooperation, unexpected surprises, creative expression, and innocent mischief. They will also learn that adults like to have fun, too. Grown-ups will definitely "giggle" along!
Lively songs help forward the story, provide an in-depth look at each character and bring the barnyard to life with showbiz pizzazz. In this show, Duck's typewriter is replaced by a pencil, which becomes a metaphor for the endless possibilities of imagination ("Golden Pencil"). A show stopper number ("Pizza Baby"), a sweet cream lullaby ("Nothin's Gonna Hurt You") and a lyrical bubble bath ballet ("Pretty Little Pig") allows each animal to take the stage for a moment to shine.
How to enter: To throw your name in the hat for the free tickets and lunch at Kosmos, click the comment button below and tell us what makes your kids or grandkids giggle! You can also e-mail your comments to us at giveaways@nwaMotherlode.com.
To increase your odds: Send a note about this giveaway to your friends, and we'll give you an extra chance to win for each person you tell. Just be sure to put giveaways@nwaMotherlode.com on the CC line of your note so we can give you proper credit.
Click here for more ticket information from the Walton Arts Center website or call 479-443-5600.