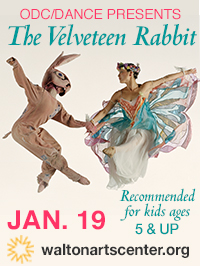 Note from the mams: Congratulations to Riana Thomas, winner of the Velveteen Rabbit tickets!

Who doesn't love the classic tale of a well-worn nursery rabbit that becomes real? The Velveteen Rabbit has always been one of our favorite books and we can't wait to see how the Oberlin Dance Collective brings the storybook to life on the Walton Arts Center stage!
We have FOUR TICKETS to give away for this amazing show, which is Saturday, Jan. 19, at 2 p.m.
ABOUT THE SHOW: The show, which celebrates the unique relationship between a little boy and his stuffed rabbit, is recommended for children 5 years and up. Brimming with wit, festive costumes and madcap characters, The San Francisco Chronicle called this production "A bright testament to the transformative powers of love." Oberlin Dance Collective – one of America's most exciting and acclaimed contemporary dance companies – is thrilled to present their 25th season of this beloved production in Northwest Arkansas.
HOW TO ENTER: For a chance to win four tickets to see The Velveteen Rabbit, just click on the orange comment button at the bottom of this post, and tell us about your child's favorite "lovey". You know, the one you would immediately drive back to the restaurant to look for — or possibly a different state. That toy or blankie that you live (or lived, if your child is older) in fear of losing.
You can also enter the giveaway by emailing your answer to giveaways@nwaMotherlode.com.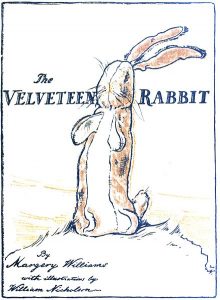 HOW TO INCREASE YOUR ODDS: Help us spread the word about the giveaway and we'll give you extra chances to win. Send an email to your friends about the giveaway and be sure to put giveaways@nwaMotherlode.com on the CC line of your note. We'll give you an extra chance to win for every person you tell.
BE SOCIAL: Spread the word via social media and we'll give you extra chances as well. Just share the giveaway with your friends on Facebook (click here to go see the post on our Facebook and share from there) or share about the giveaway on Twitterto increase your odds of winning. If you do either of these things, just let us know in your posted comment or send us an email so we can give you proper credit.
To guarantee your tickets for this show, call or go to the Walton Arts Center website to purchase tickets. That phone number is 479-443-5600.