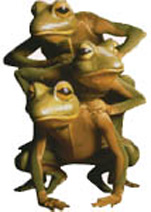 Note from the mamas: Congratulations to Andrea Poplin, mama to six and winner of the ZooZoo tickets. She can't wait to take her three youngest children to see this. Have fun, Poplins!
Last year's Artosphere Festival was so much fun, Walton Arts Center is bringing it back again! The six-week festival celebrates artists who are inspired by nature.
Including music, theater, visual arts, lectures and more, Artosphere features dozens of arts events presented in both traditional (on stages) and unusual (on a nature trail or in a chapel) locations in April and May. One of the  great kid shows during kick-off week is Imago Theater's ZooZoo and today we're giving away a FOUR-PACK of these tickets!
The show will be on Saturday, April 23, at 11 a.m. Read this funny snippet about the show: The rabbits are big enough to drive cars. The polar bears are little enough to curl up in your lap. The hippos might not weigh thousands of pounds, but their bed still doesn't seem big enough for both of them. Welcome to the world of Imago Theater!
HOW TO ENTER: If you'd like to win FOUR tickets to see ZooZoo, just click on the comment button below and answer this question: If your kid could bring home an animal from the zoo, what would it be? My daughter LOVES horses, so she'd probably go for a zebra. She always takes lots of pictures of the big cats, too.
You can also email your comments to us at giveaways@nwaMotherlode.com.
HOW TO INCREASE YOUR ODDS OF WINNING: If you'd like to increase your odds of winning, simply send an email to your friends/family about this giveaway and help us spread the word about the awesome giveaway. We'll give you an extra chance to win for every person you tell. Just be sure to put giveaways@nwaMotherlode.com on the CC line of your note so we can give you proper credit.
New this year, you can buy an Artosphere Festival pass. For just $79, the festival pass offers an exclusive all-access Artosphere experience, including VIP Seating, free admission to more than 20 Artosphere events, Artosphere gifts at each event, special access to rehearsals and more. Artosphere Festival Passes can be purchased by calling the Walton Arts Center Box Office at 479.443.5600 or by visiting artospherefestival.org or waltonartscenter.org.
"Artosphere was inspired by the natural beauty of our state and regional focus on sustainability. We're proud that last year more than 20,000 people experienced nature, the environment and sustainability through a different lens with more than 80 arts and nature programs and events. This year, we hope to reach more audiences to make a bigger artistic and economic impact on the region," said Peter Lane, Walton Arts Center president/CEO.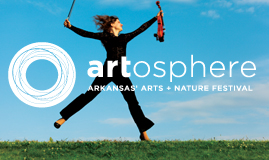 Passholders receive free admission to over dozens of Artosphere events and a host of Pass Perks, which include free gifts, VIP Seating, access to open rehearsals and Creative Conversations with artists. Seats are guaranteed only with reservations; otherwise, admission will be on a first-come first served basis.
Passholders get access to the entire Artosphere Festival 2011 lineup. Here are some of the exciting events included to look forward to:
Performances by the Artosphere Festival Orchestra, conducted by Corrado Rovaris, exploring how American and Italian composers have used nature as inspiration
The Nature of Strings Chamber Music series: intimate string ensemble performances in stunning chapel locations throughout Northwest Arkansas **
The Artosphere Trail Mix Concert Tour:  Bike or walk along the trails at Lake Fayetteville and hear five different bands performing acoustic or solar/pedal-powered music
Artosphere Children's Theater: Theater companies from Canada, Italy and the United States explore nature and the environment in innovative, entertaining ways
The National Geographic Live Speakers Series, featuring photographer Joe Sartore, chef and conservationist Barton Seaver, and photographer Annie Griffiths
and many more!
**limited capacity, reservations recommended
For more information about these performance or others, contact the Walton Arts Center Box Office by calling 479.443.5600 or by visiting waltonartscenter.org.
Click on the orange button below to leave a comment and possibly win those great ZooZoo tickets!