Mamas, don't you just love these two stories as much as your kids?
We're so excited that these two classics will be coming to the stage at Walton Arts Center on Feb. 21st at 2 p.m. If you'd love to take your kids, this giveaway is for you! Two mamas will each win 4 tickets to take their family to the show!
Tickets are only $8 for this show, so if you don't want to risk missing out on seeing it, CLICK HERE to grab your tickets now.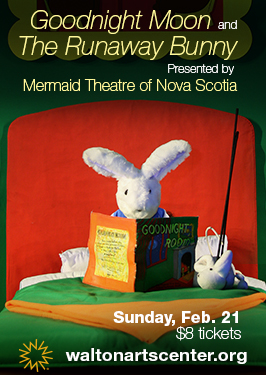 ABOUT THE SHOW: Mermaid Theatre presents two of the most enduring and beloved children books of all time, incorporating innovative puppetry, striking scenic effects and evocative original music!
Attuned to the concerns and emotions of childhood, Goodnight Moon is a celebration of familiar nighttime rituals, while The Runaway Bunny's pretend tale of leaving home evokes reassuring responses from loving parents.
Both tales feature endearing rabbit characters, with the soothing rhythms of bunny banter and dream-like imagery that will enchant your children.
HOW TO ENTER: To throw your name in the online hat to win tickets to see this show, click on the words "post a comment" below and tell us about your favorite bedtime ritual with your kids. Is it reading a good book, then lights out? Do you have a special phrase you say to each other? Is there something you (or your kids) have to do or they just can't quite go to sleep?
You can also email your answer to us at giveaways@nwaMotherlode.com.
INCREASE YOUR ODDS OF WINNING: Help us spread the word about this giveaway by emailing your friends and family about the giveaway. We'll give you an extra chance to win for every person you tell. Just be sure to put giveaways@nwaMotherlode.com on the CC line of your note so we can give you proper credit.
You can also earn an extra chance to win by signing up to receive the free email newsletter we send once a week.
Our newsletter subscribers get access to the good stuff, including exclusive giveaways (like this one), information about local events, local mom interviews, recipes and more. It's delivered straight to your inbox so you don't miss anything awesome. CLICK HERE to sign up. We won't fill your inbox with info, no worries. We only send out newsletters when there's something in it for you — and we know you'll be interested in hearing about it.
BE SOCIAL: You can also earn extra chances to win by commenting on our Facebook page, following us on Twitter or following us on Pinterest. If you do any of those, just mention it in your comment or email so we can give you proper credit.
Remember, tickets for this show are only $8 each, so CLICK HERE if you want to buy tickets now. We'll choose the two winners on Friday. Good luck!